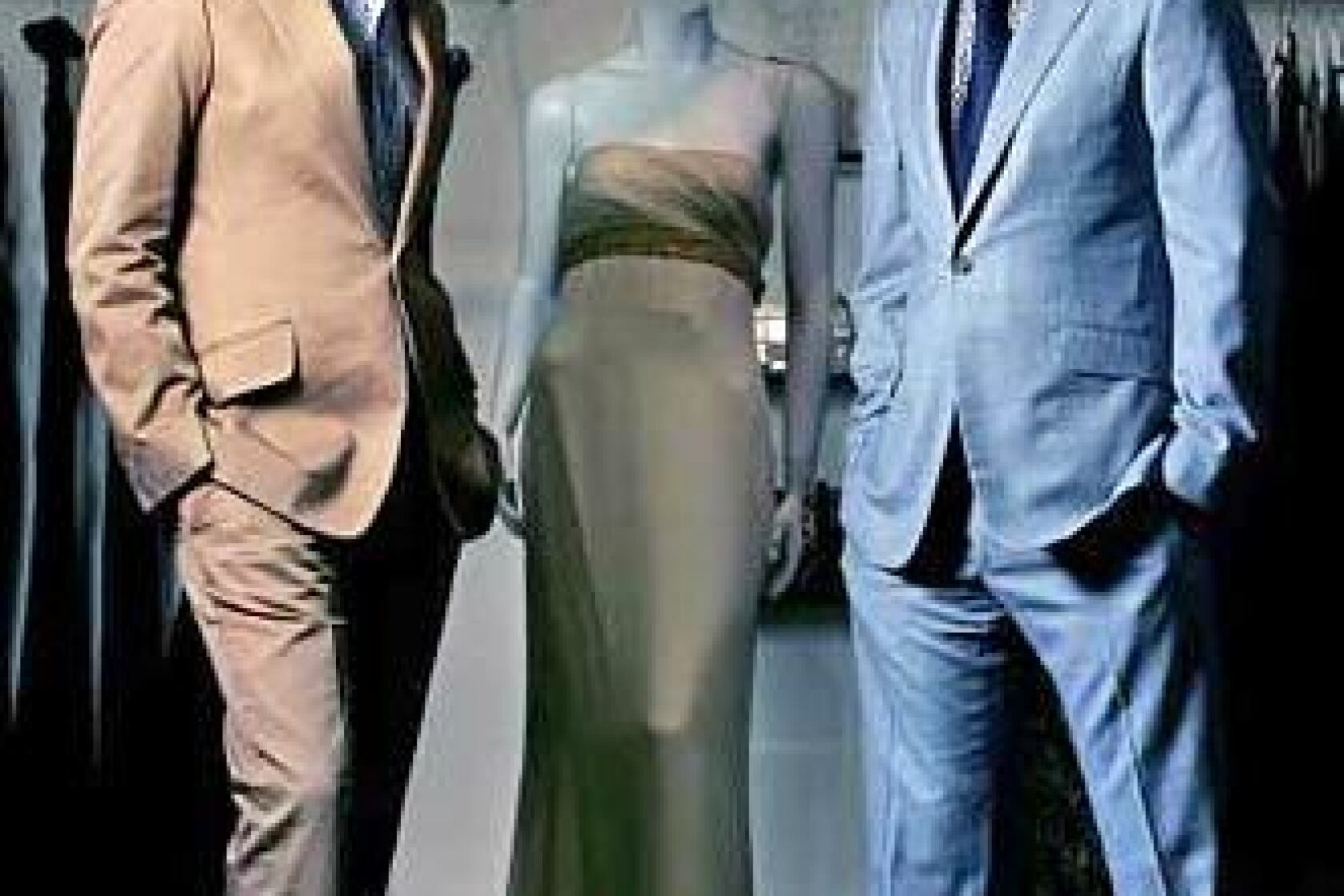 Cameron Silver, left, and Christos Garkinos at their designer resale store in Los Angeles.
(Christina House / For The Times)
Garkinos searches the closet of a Santa Monica art collector for items for his store.
(Christina House / For The Times)
Of the 65,000 pieces of designer goods the DecadesTwo crew considered for consignment last year, some 12,000 items were accepted.
(Christina House / For The Times)
Garkinos and actress Natasha Gregson Wagner go through her closet.
(Christina House / For The Times)
Inside Decades Two on Melrose Avenue.
(Christina House / For The Times)
"HALSTON made this for Ali McGraw for the premiere of 'Love Story,' and she gave it to me a very long time ago. It's so cool, right?"
Cool is an understatement. Nevermind its history. The eggplant-colored coat that Natasha Gregson Wagner has just extracted from her walk-in closet is sublime. The tie-dye rings splashed on the silk velvet predate Prada's take by more than a lifetime. Yet the pristine coat couldn't look more contemporary.
It is an overdue spring cleaning at the Mulholland Drive home of the tiny actress, a regular on the USA network's "The 4400." Directing the closet operation is Christos Garkinos, who co-owns the designer resale store DecadesTwo with vintage guru Cameron Silver. Garkinos is making one of his regular house calls to shop the bulging wardrobes of dedicated clotheshorses, some famous, many just well-off.
And, as is usually the case during these unglamorous chores, forgotten gems are as bountiful as the "what was I thinking?" lumps of coal taking up valuable room, even in a closet as long and spacious as this one. It turns out unearthing a Halston now couldn't be better timing.
"Everything about it is right for fall -- the color, the velvet," Garkinos says. "Even the fact that it's Halston, particularly important now as the house edges for yet another comeback.
Garkinos and Silver don't always take what they want. If they recognize a client is not ready to let go of a piece, and it still works in her life, they will help her reimagine an entirely new way of wearing it. "Sometimes it just takes another perspective to realize what you have," says Garkinos, who instructs Wagner to keep the Halston. Case made, again, when he advises her to ditch an emerald green Prada dress.
"You're more mod. But this is very 'Maude,' " he says. "Get rid of it." So, too, the chocolate brown tweed Chanel bag she deems "too lady" and hasn't used more than twice. He quickly pulls a set of bronze ballerina flats from the shelf and points to her stack of jeans. In the end, the bag stays.
Garkinos and Silver have made shopping closets an art form. So much so, they've just expanded Decades Two, which specialized in better designer clothes and accessories from the last decade. The Melrose Avenue shop doubled its size to 3,000 square feet last month. Upstairs, Decades, which Silver opened 10 years ago this fall, sells couture vintage, mostly from the 1960s through 1980s, to a worldwide clientele.
Although Silver and Garkinos continue to hop on planes to shop closets as far-flung as a Texas socialite's, a Dubai princess' or, say, Catherine Deneuve's in Paris, the Decades duo are hardly the only game in a town that has become the world-class leader in vintage. Fashion designers and celebrity stylists hit Decades stores, along with Resurrection and The Way We Wore. Nor are Garkinos and Silver the first to put it on the red carpet -- L.A.'s Paper Bag Princess and Lily et Cie can claim that honor.
But Decades and DecadesTwo are the vintage shops of the moment. Of the 65,000 pieces of designer goods the DecadesTwo crew considered for consignment last year, some 12,000 items were accepted. Their handpicked selection of gowns, heels, totes and bangles look as fresh as anything new in the marketplace.
From Wagner's closet, Garkinos bags a blush Prada slip dress ("It's a great basic alone or under a dress"), a lilac Marni coat ("The gray-lavender palette is key this fall, and the label always sells"), a deep purple velvet Martine Sitbon dress ("A rare label with a fervent following, and velvet is a fall trend"), a Missoni shift ("It wasn't right for Natasha's height and coloring") and a floral beaded Fendi bag. ("She was done with it, and I have collectors who would love it.")
A pair of crocodile Christian Louboutin heels make the pile. Despite forking out $1,200 for the pair, Wagner sheepishly confesses she hasn't worn them much. They turn up a day later on the store shelf for $600. Ditto a pair of Vivienne Westwood pirate boots, scarcely worn yet very much in demand by Kate Moss fans worldwide. "We got a call yesterday from a woman with 50 pairs of Dolce & Gabbana pumps, all new from 2007, that she wants to sell. So don't feel bad." Garkinos has learned all too well through the years that a woman's closet is more than just storage. It also holds her dreams, her memories, her obsessions, her sins and her missteps.
The visit also nets Wagner a tidy sum, which she excitedly says she will apply toward her fall wardrobe.
Don't tell their husbands
These house calls, Garkinos and Silver like to joke, come with the aura of carrying on an affair. "A client will say, 'You have a three-hour window while my husband's away. I can't let him know I'm selling things. I don't want him to know there's space in my closet.' "
Garkinos, thankfully, elaborates: "They don't want their husbands to notice any change, that stuff is going and then coming too."
Which leads to the next house call, to be known here only as Consignor No. 653, a Westside gallery owner. Mr. 653 is still at work. The kids are in school. This is good because Garkinos is surveying the younger son's closet, where Mommy has stored her castoffs.
A raspberry Marc Jacobs bag? "Too loved," notes Garkinos. "And Marc doesn't resell very well. It's too available everywhere. People come to us for something special, so that means we can't keep in stock anything we get from Chloé-- the Phoebe Philo or Stella McCartney era, Rick Owens or Rochas, which won't exist anymore before long."
He pulls out a black Martin Margiela coat. "The minimalism of Margiela is timeless, plus puffy anoraks are big for fall." The price tag is still dangling from the label. The original $880 price is crossed out in red ink and re-marked $520. "We can sell this for $370," he says. No. 653 nods her head and recalls a snowy Prada coat her husband bought her for a birthday that she then consigned to Decades. Not a week passed when her husband asked about it. Too late. Sold. "Thank God, I found it a month later in New York," she laughs, "at another resale store!"
rose.apodaca@latimes.com
--
WHAT'S IN YOUR CLOSET?
Wear or sell now
1980s to early 1990s runway stars are having a renaissance: Christian Lacroix, Azzedine Alaia, Thierry Mugler, Chanel evening and Dior during the Gianfranco Ferre years.
Bohemian rhapsody: Fluid, romantic tops look chic again. But think Park Avenue lady, Silver says.
Abstract prints: "Like the Mondrian flourishes Stefano Pilati gave YSL this fall," says Garinkos, who's desperately seeking a sweater from the collection for a client. "Maybe Chloe Sevigny can wear them, but most people can't get away with it."
Halston anything: Or anything that looks like Halston, especially the jersey. With the house readying for yet another comeback, the old stuff is back on top.
Wide-leg trousers: Think Lauren Hutton, or Brian Ferry a la Roxy Music.
Anything in grays or purples: Key colors this season.
Chanel bags: "They look new again," Silver says.
Metallics that move: "Think fabrics that are fluid, or metal earrings that are articulated," Silver says.
Toss (That is, donate to a good cause, say the guys)
Skinny jeans and cropped leggings: "Played out."
Baby-doll silhouettes: "If you're not pregnant or 5," says Silver, "why dress like you are?"
Anything that doesn't fit: "Unless you plan on bequeathing it to a daughter, why are you really holding on to it?" asks Silver.
Those extra LBDs: Pare down to your best three, and pitch the rest.
Anything still tagged after a year: Let go.
"Disposable clothes": Are just that.
---