L.A. Affairs: No fear on that freeway of love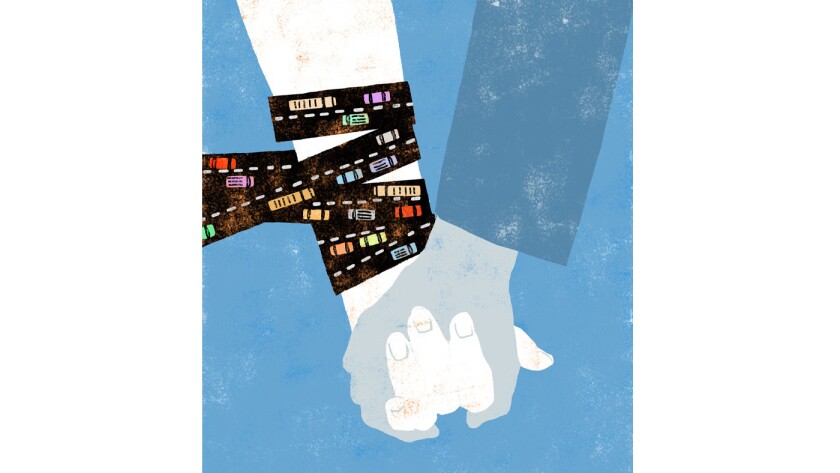 I was single and terrified of relationships. I limited myself to meeting men in cyberspace. The Internet may have wires, but it doesn't have strings. Online chatting was a good way for me to flirt and practice my social skills without fear of getting hurt.
When I first started chatting with Andy, I didn't believe we would ever meet. He lived in San Diego, and I lived in L.A. I liked his picture with his sad eyes and warm smile. He seemed like a nice guy, but I wasn't interested in a long-distance romance.
And then I decided to drive to San Jose on what would become a life-changing Fourth of July weekend. I packed up my Honda Civic and got on U.S. 101. The weather seemed a little windy, but besides that, the day was perfect with clear and sunny skies.
I'm not what you'd call a natural driver. I didn't get my driver's license until I was 30, and I mostly reserved my road trips for visiting family and friends in the Bay Area.
I had been driving about an hour when I started feeling nervous. There were a lot of large trucks on the road. Every time a big rig would pass me, my car would swerve one way and the wind would push it back the other way. My little car was being jostled by monster trucks, and I was beginning to panic.
My heart was pounding and my breathing was shallow. I gripped the steering wheel tightly as my body reacted to what I would later learn was a panic attack. I no longer felt in control of my actions, and I started to decelerate. If I didn't get off the freeway — and fast — I was going to cause an accident.
I made it to the next exit and parked the car on a side street. As I sat there gasping for breath, I tried to calm down. I didn't understand why this was happening. I was an experienced freeway driver.
I willed myself back onto the highway going south to L.A. When I finally pulled into my driveway, I knew that in the space of a couple of hours I had gone from being a competent freeway driver to being one with a freeway phobia. My days of highway driving were over.
But now I had a holiday weekend with nothing to do. I spoke to Andy, who suggested that we meet. He liked road trips and didn't mind driving 120 miles for a coffee date.
I invited him to come to my house. It would be safe, as my roommate Kurt would be there. I didn't feel my usual nervousness upon meeting a potential love interest. I had exhausted all my fear out there on the highway. Besides, how could I ever ask someone to love me now that I had a fear of freeway driving — in Los Angeles, the capital of freeway driving?
When I opened the door to Andy, I felt any relationship apprehension start to melt. We talked for hours and found ourselves hungry for dinner, and decided to cook a meal together. Afterward, we watched a movie and had our first kiss. Our connection had developed as quickly as my phobia.
Andy started to come to L.A. twice a week. We still had the problem of a major highway that stretched out between us. It didn't seem fair that he had to do all the driving, but I couldn't drive surface streets all the way to San Diego. I needed help for my fear, so I signed up for a phobia class at a local hospital.
A month after meeting Andy, I found myself sitting in a stark room with about 10 other phobia sufferers, all of us hoping for a cure.
At first, the leader took the group through a relaxation exercise. Then he told us to close our eyes and visualize a situation in which we usually experienced our phobia.
I pictured the Arroyo Seco Parkway — an old, small freeway that even without my freeway fear had always made me feel uneasy driving on it. When we had a good picture in our heads, the therapist had us take a number of deep breaths in rapid succession and hyperventilate. He wanted us to see that, although we were experiencing anxiety and mimicking the symptoms of a panic attack, we would survive, just as we would if we faced our fears head-on.
There was no way I was going to put my body through that. I picked up my purse, left the phobia class and never returned.
Now, 13 years after our initial meeting, Andy and I are happily living in Glendale. Whenever we go on trips, Andy does all our highway driving. I still have my freeway phobia, but I no longer have my phobia of love.
Schoenwald is a writer who lives in Glendale.
Past columns and submission guidelines are at latimes.com/laaffairs. If you have comments to share or a story to tell, write us at home@latimes.com.
---
The essential weekly guide to enjoying the outdoors in Southern California. Insider tips on the best of our beaches, trails, parks, deserts, forests and mountains.
You may occasionally receive promotional content from the Los Angeles Times.