L.A. Affairs: I wanted a life that defied convention. Then I met Pumpkin Pie Guy.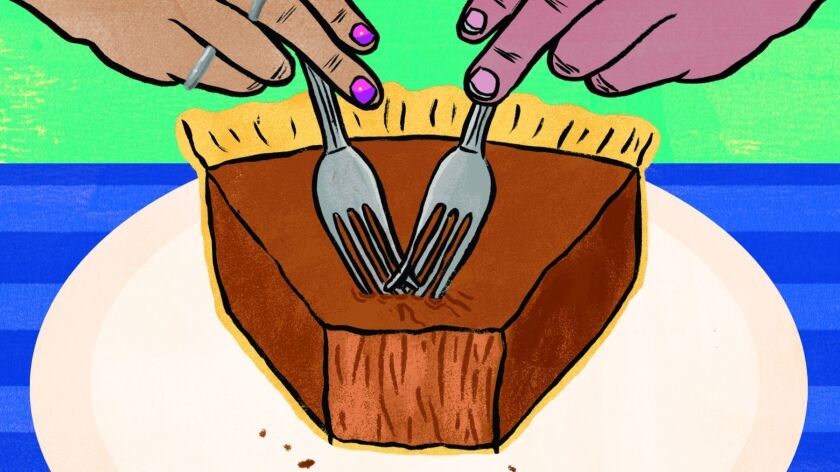 Alone has always been my preferred state of being. Alone has never felt lonely to me. The running joke among my family and friends is that I could go a month without seeing or speaking to another soul and I'd be perfectly happy. I love solitude, and for the longest time, I thought I needed it.
I moved to Los Angeles in October 2015. I had just graduated from law school and a master's program in Minnesota. I broke up with a great guy who was willing to apply for residency programs in SoCal in order to be with me, and I turned down a fancy law-firm job in Minneapolis in order to move to sunny Southern California — alone.
I had a personal life plan: Save as much money as possible, focus on professional development, start aggressive investing, freeze eggs at age 32, reach place of financial and professional stability. Have child with a sperm donor and work (a lot). Raise remarkable wunderkind to be president, or a tech mogul or a rocket scientist, and a generally kind and compassionate human being.
Are you a veteran of L.A.'s current dating scene? We want to publish your story
I saw it all as a brazen act of defiance against the type of South Asian convention I was brought up in, and a fantastic and challenging adventure.
Of course, I willfully ignored whether I could do any of this without feeling completely overwhelmed, or whether any of it was economically or politically feasible (read: limited paid family leave, rising costs of living, high cost of child care, lack of flexible workplace policies, rising cost of college, braces, soccer camp, etc.).
I found that dating in Minnesota when you are a brown woman is not easy. And dating in the Midwest when you are a highly educated and ambitious brown woman is even dicier.
In my experience, the men of the Midwest either aggressively exoticized us or treated us as virtually invisible, and it was worse if you were seen as being off-putting and intimidating. Though not without its foibles, dating in Los Angeles was refreshing by comparison. In L.A., I could meet gentlemen from every shade of the ethnic rainbow, including my own. In L.A., I didn't feel like a freak of nature for not getting married and having children right out of college. In L.A., I could share a romantic meal of Burmese food.
About a month after moving to Hancock Park, I decided to dive into the dating world. I wasn't expecting much, but I was in a new city with no friends, so this was a way to explore and meet new people. I joined OK Cupid and quickly quit OK Cupid after receiving disgusting messages. Then I joined Coffee Meets Bagel (despite the ridiculous name).
Someone I'll call Pumpkin Pie Guy was the second person I matched with. As soon as we'd matched, I had to leave town for three months. We agreed to meet up when I returned. We exchanged a handful of polite text messages (one was a picture of the pumpkin pie he made for Thanksgiving, hence the nickname) while I was gone, but that was it.
I returned to L.A. and started casually dating two guys I'd met on CMB. One was a comedian and the other a physician at USC. They were both smart, nice, fun and good kissers. Our dates were intentionally light and fun. As they each became emotionally uninhibited, I listened, empathized and soothed but never felt comfortable reciprocating.
Meanwhile, inside, I was completely raw. A close friend had just passed away. She had reached out to talk to me on the phone to catch up on life and her cancer treatments, but I was in the midst of taking the bar exam and asked for a brief rain check. Saaniya died before I could return her call. I failed the bar exam. I'd lost a great job opportunity in San Diego because I'd failed. I was struggling with living in a new city where I didn't know anyone and being so far away from my aging parents, one of whom had early dementia.
I was consumed with loss, regret, immense guilt and fear.
After months of intermittent back-and-forth messages, pumpkin pie guy and I finally made plans to meet. The afternoon of our first date I found myself at work, thinking of Saaniya. I was hiding in my office and the tears were free-flowing. I texted him and asked if we could reschedule and explained why I couldn't stop crying. Pumpkin Pie Guy, of course, understood.
The fact that I felt so comfortable telling him about my grief before ever even meeting him tipped me off. This man was different. He was significant. We met at Sassafras in Hollywood for our first date and the chemistry was instant. He had dreamy eyes and a laugh I wanted to hear again and again. He was the embodiment of comfort and warmth and I was one smitten kitten.
For our second date he took me to a driving range in K-Town and didn't blink when my nine iron and I outshined him. We talked about our respective experiences as the children of Indian immigrants. By our third date I'd ended things with the comedian and physician.
We've been together for well over a year now. I have faced more personal challenges in the last year than I have my whole life, including retaking the bar exam, a traumatic medical episode, the end of my parents' marriage and more death. Throughout it all, he has been my unflappable comrade.
He talks too much during movies, he likes absurdly fancy hipster coffee and skincare products, and he is nearly impossible when he gets "hangry." He is also warm, nurturing, whip-smart and totally solid. I feel compelled to be the best version of myself while feeling safe enough to be broken and scared when I flounder.
Sometimes in life, things fall apart and it takes a bit of time to put them together again. Pumpkin Pie Guy is giving me ample space as I learn to be part of a couple. I'm starting to see a vivid future with us standing side by side. I've never smiled so much. I still love solitude, but I don't need as much because he feels right. He has always felt just right.
The author is an attorney and public-interest advocate living in central Los Angeles.
L.A. Affairs chronicles the current dating scene in and around Los Angeles. If you have comments or a true story to tell, email us at LAAffairs@latimes.com.
MORE L.A. LOVE STORIES …
Why I always fall for the 'bad boy'
How we hid our steamy love affair from co-workers
---
The essential weekly guide to enjoying the outdoors in Southern California. Insider tips on the best of our beaches, trails, parks, deserts, forests and mountains.
You may occasionally receive promotional content from the Los Angeles Times.