Valentine's Day: What you do above Vegas -- even making whoopee at 5,280 feet -- stays above Vegas
Picture this: You in a private plane above Las Vegas with a comfy bed -- and your Valentine. If this is your idea of romance, you're ready for the Love Cloud.
The highflying tour offers lovers a chance to use the main cabin of a twin-engine Cessna, which has been tricked out with a bed topped with a red blanket and plenty of heart-patterned pillows.
The pilot is on the other side of a locked door wearing noise-canceling headphones. He announces when the plane has reached its cruising altitude of 5,280 feet.
Yep, that's one mile up.
During the day, passengers who make time to look out the windows will see sights such as the aptly named Red Rock Canyon and Hoover Dam. After dark, the flight focuses on the bright lights along the Strip.
You can bring your own music to play on the aircraft's sound system or create a playlist from Love Cloud's collection.
Prices range from $799 for a 30-minute flight to $1,399 for 90 minutes. That's per flight, not per person.
Travel website Vegas.com is currently offering discounts of $25 to $75 for flights booked on its website.
Info: The Love Cloud, (702) 267-7499
Some other Valentine's Day ideas: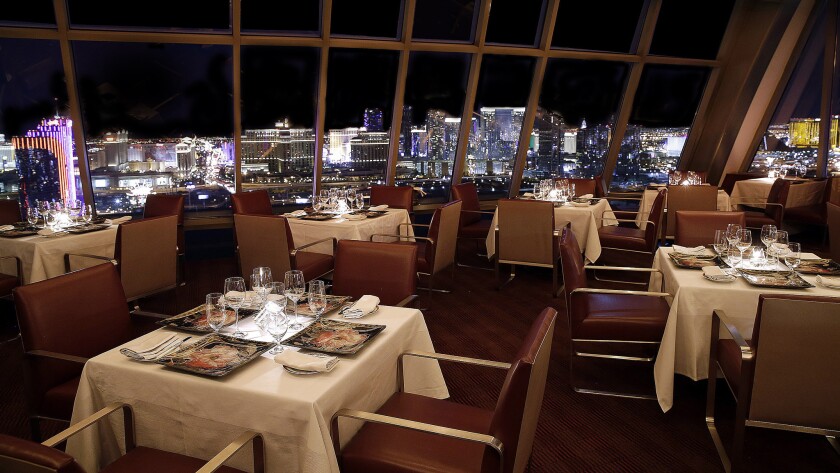 You won't be quite as high up, but you'll still have great views from 56 floors above the Strip while enjoying a Valentine's Day dinner at Alizé atop the Palms Casino-Resort. It recently made OpenTable's list of the 100 most romantic restaurants in the U.S.
On Sunday only, the Michelin-starred French restaurant will be serving a five-course menu from 5:30 to 10 p.m.
Among the taste-tempters are a foie gras terrine appetizer made with duck confit, bacon jam crepe and candied pecans; a veal Wellington main course; and for dessert, strawberry and rose sorbet with Champagne bubbles.
The price is $165 per person.
Info and reservations: Alizé, (702) 951-7000.
It seems fitting to sip on Love Potion No. 9, before or after dinner or a Love Cloud flight. It will be served Sunday only at Trevi in the Forum Shops at Caesars Palace.
The drink – a blend of Sobieski Citron, raspberry Torani, sweet and sour and pomegranate juice – will cost $9.
The Italian restaurant will also serve a special, three-course dinner priced at $39. The entrée selections include heart-shaped ravioli.
Info: Trevi, (702) 735-4663
ALSO
Valentine's Day: 100 most romantic restaurants in America, including 15 in California and 4 in Las Vegas
Chinese New Year: Las Vegas' dazzling displays for Year of the Monkey
Massive Lego garden sculptures are coming (and you don't have to go to Legoland to see them)
Hawaii: If Maui seems more crowded than usual, it is. Here's why.
---
Get inspired to get away.
Explore California, the West and beyond with the weekly Escapes newsletter.
You may occasionally receive promotional content from the Los Angeles Times.