Saturday is National Passport Day: Here's where you can apply for or renew passports without an appointment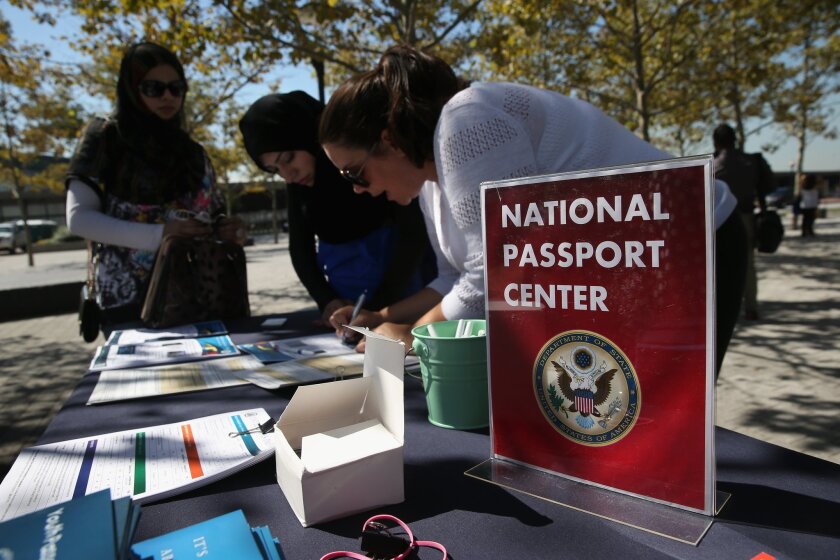 Saturday is National Passport Day, and that means seven passport office locations, including one in Los Angeles, across the United States will open so that travelers may apply for or renew passports without an appointment.
Earlier this month, the U.S. State Department urged Americans to make their passport requests now for quicker turnaround during the quiet period between September and November. The agency says it's expecting a flood of renewals starting in January.
Last year it processed more than 14 million passports, so you may want to apply or renew now to avoid a backlog delay.
RELATED: Why now is the best time to get (or renew) a passport
The L.A. Passport Agency (West L.A. Federal Building, 11000 Wilshire Blvd., Suite 1000) will open from 7:30 to 11:30 a.m. Saturday. No appointment is necessary, and you may opt for routine or expedited service.
The San Francisco Passport Agency also will be open 9 a.m. to 2 p.m. Saturday too.
Other offices with extended Saturday hours include Boston, Chicago, El Paso and the Western Passport Center in Tucson.
U.S. post offices and city clerk offices also accept passport applications. Use your ZIP Code here to find locations near you.
To apply for a passport, you need to:
--Fill out a passport application in print form or online.
--Bring the application in person to a passport location.
--Present proof of citizenship and have a photo ID.
--Bring photocopies, front and back, of your identification documents.
--Submit one passport photo.
--Pay the passport fee. Adult passports cost $110.
If you apply now, you'll receive a passport in four to six weeks. For an extra $60, you can expedite the process and receive your passport in three weeks.
ALSO
Passport to trouble? Be safe, get a Chinese visa
Picking up at John Wayne Airport? Now you can wait in a new cellphone lot
Why your next trip to LAX may take even longer than usual
Looking for US Airways at John Wayne Airport? It changed terminals -- and will vanish in October
---
Get inspired to get away.
Explore California, the West and beyond with the weekly Escapes newsletter.
You may occasionally receive promotional content from the Los Angeles Times.