Cruise lines are changing some eastern Caribbean ports of call and heading to Cozumel, Mexico, and alternate ports of call in the wake of Hurricane Irma's destructive path.
More than 50 cruise ships have canceled or changed itineraries in the last few days because of Irma, which smacked some of the most popular cruise destinations in the world.
Common stops in the Caribbean such as the British Virgin Islands and the French-Dutch island St. Martin/St. Maarten were heavily damaged and continue to assess their losses. It's unknown when these islands may be ready for cruise ships.
In Cuba, Irma damaged "nearly every region of the island nation," staff writer Kate Linthicum wrote in this L.A. Times story.
Which is why, if you were planning to sail the eastern Caribbean in late September and even into October, you may find yourself in Cozumel instead.
"Cozumel already is one of the biggest cruise ports in the Caribbean," said Chris Gray Faust, senior editor at Cruise Critic who has been writing about Irma and its effect on cruising.
"Cozumel has already had up to five mega-ships in port in one day, she said. "It has several different piers ships can dock at, and ships can tender there if they need to."
When Port Everglades in Fort Lauderdale, Fla., reopened to cruise ships Tuesday, the Carnival Conquest, which had been delayed from a scheduled departure Saturday, was expected to be sent on a four-day cruise to Cozumel.
Norwegian Escape, it was announced earlier, will abandon its eastern Caribbean itineraries through November and instead send passengers to Cozumel and Costa Maya in Mexico, as well as Honduras and Belize.
If you wind up in Cozumel, what's there to do?
You can check out the Señor Frog bar scene, hang out at Playa del Carmen or visit ancient temples in Tulum, Gray Faust said.
"Last time I was there I did a chocolate and wine pairing," she said.
But note that the U.S. State Department recently beefed up its travel warning to Mexico to include Cozumel, Playa del Carmen, Tulum and other areas in Mexico's Quintana Roo state. The warning says violence related to a number of killings, usually because of turf battles among organized crime groups, has spilled over and harmed or killed "innocent bystanders."
What if you don't want to go to Cozumel and other ports instead of wherever your cruise was supposed to take you?
"Cruise lines have clauses written into the terms of contracts that allow them to change ports for any reason, not just hurricane and storm damage," Gray Faust wrote in an online story.
"Technically, if the cruise isn't outright canceled, the cruise line doesn't owe the passengers anything if they decide to cancel."
That's where travel insurance comes in, if you purchased the type that allows you to cancel for any reason.
Other than that, Gray Faust said, put things in perspective. "Figuring out what island you're going to is a luxury," she said. "[Some] islands are trying to come back from devastation."
Gray Faust answers more cruise-related questions in her story "What to expect: cruising in the Caribbean after Hurricane Irma."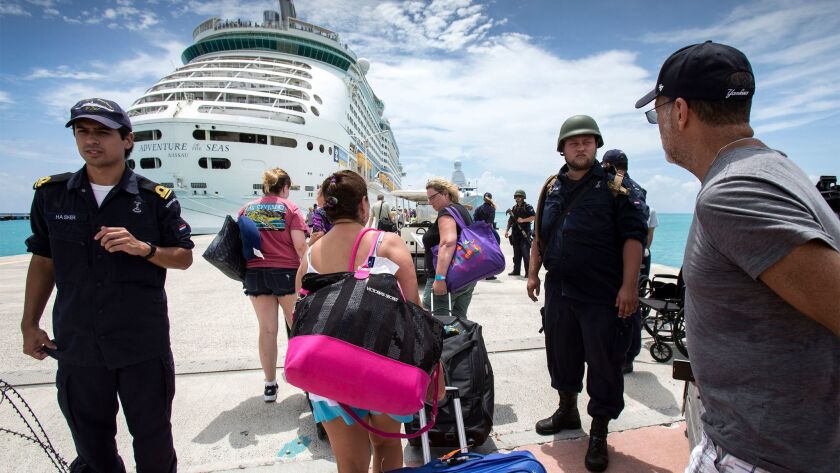 Twitter: @latimestravel
To read the article in Spanish, click here
ALSO
Highway 1 south of Big Sur now won't be completely reopened until late summer 2018
Who needs a cruise to eat well? Food festival comes to San Diego's port
Do you have enough time to make that connecting flight? Maybe, but don't count on it
Cruise lines cancel sailings, send ships to help Caribbean islands hit hard by Hurricane Irma
---