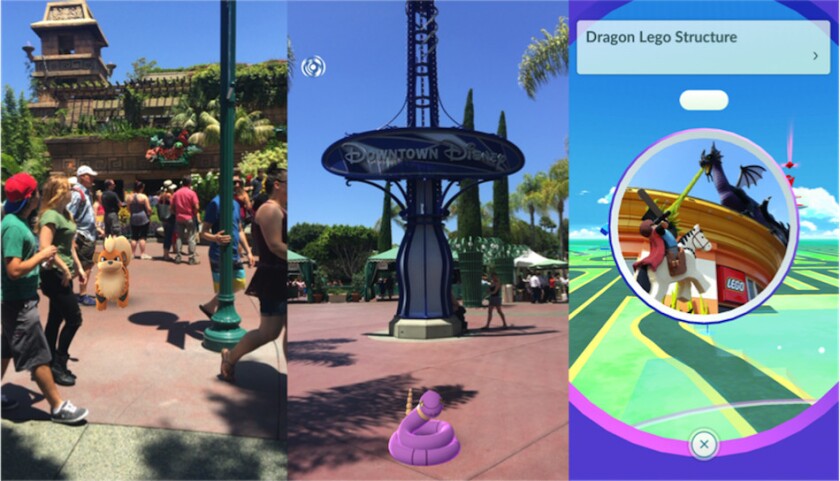 California has an edge over the 2016 Summer Olympic city of Rio de Janeiro in one big pop-culture way: Pokemon Go opportunities. Olympic athlete and U.S. diver Abby Johnston of Upper Arlington, Ohio, last month tweeted:
Want to know the worst thing about the Olympic village? No @PokemonGoApp. Otherwise, it's incredible.

— Abby Johnston (@AbbyLJohnston) July 26, 2016
Too bad, because the app's Poke Stops (where you get Poke balls, potions, etc.) and Gyms (where captive Pokemon fight) are a good way to introduce travelers to local parks, historic sights, museums and public art.
And Pokemon Go's Augmented Reality feature lets you include characters in your vacation photos.
Although many cities in California are teeming with Pokemon stops and creatures, these five spots are red hot. Here's where to start hunting.
Anaheim: Places to go include Disneyland and California Adventure (which have more than 60 Poke Stops collectively, by one count), Downtown Disney District, Knott's Berry Farm, Anaheim Convention Center, Anaheim Packing District and Center Street in downtown Anaheim.
Los Angeles area: Discover Los Angeles has blogged about Pokémon Go discounts and sightings along the Metro Expo Line. Key attractions are Walt Disney Concert Hall, Grand Central Market, the Museum of Contemporary Art, USC, downtown Culver City, Skirball Cultural Center, the Getty (see Pokemon entry in its FAQ) and the Santa Monica Pier, four blocks from the end of the Expo Line.
San Diego: San Diego Tourism recommends Balboa Park (with 17 museums and 15 gardens), the downtown Embarcadero with Seaport Village and the Navy Pier, Point Loma Peninsula, Legoland California in nearby Carlsbad, and Old Town San Diego.
Santa Barbara: In Santa Barbara, Pokemon haunts include Old Mission Santa Barbara, Santa Barbara County Courthouse, Santa Barbara Museum of Natural History, Santa Barbara Museum of Art, Alice Keck Park Memorial Gardens and Butterfly Beach.
Oakland: Frances Wong of Visit Oakland said in an email that "Oakland has a high concentration of Poke Stops and gyms within city limits, which is why players from across the [San Francisco] Bay Area flock to Oakland to play."
Popular Poké Stops include Jack London Square, Redwood Regional Park, Lincoln Square in Oakland Chinatown, Bicycle Coffee and Cerrutti Cellars. Gyms include Paramount Theatre, Pacific Coast Brewing Co., Chabot Space & Science Center, Alice Street Mural Project and the Oakland Zoo.
The free Pokemon Go app for iOS and Android launched in early July. Since then, millions of players in more than 30 countries are going outside and walking to hunt down Pokemon monsters — and hopefully avoiding real-world hazards like potholes, traffic, cliffs, etc.
MORE
8 cool Pokemon hangouts in San Diego
Bring the kids and save some cash by shopping for available cruise deals
Century Boulevard pothole fixes and repaving could thwart your next trip to LAX — starting now
---