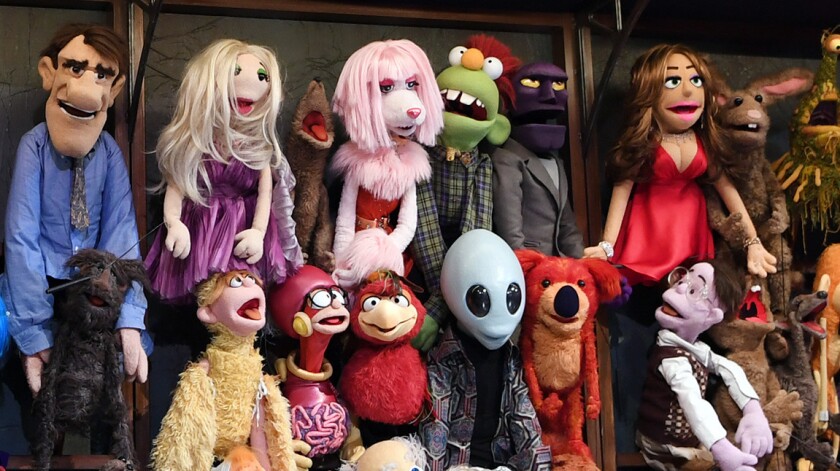 The cuddly Muppets we loved as kids have grown up and morphed into outrageous characters that like to talk trash.
We have Brian Henson, son of Muppets creator Jim Henson, to thank for "Puppet Up! Uncensored," an adult-themed show that opened in late July in the Sands Showroom at the Venetian.
Story lines vary each evening. According to a news release, the cast of more than 60 unruly puppets sings songs and acts out scenes based on suggestions from the audience.
Kermit the Frog and Fozzie Bear are nowhere to be found. There is also no Miss Piggy, but Gorgeous Girl has a familiar look to her.
The menagerie is brought to life by six rotating puppeteers who are also improv comedians.
It is scheduled to run through Dec. 18. Tickets range from $69 to $109. It is recommended that guests be at least 14.
Each of the performers was selected by Henson, who is now chairman of the Jim Henson Co. In 1983, the then-20-year-old first collaborated with his father during the making of "The Muppets Take Manhattan" movie.
Jim Henson died in 1990 at age 53.
Info: "Puppet Up! Uncensored" at the Venetian
MORE
A kind of psychedelic Stonehenge in the desert near Las Vegas
Las Vegas: That second tower at the defunct Riviera resort? It's boom time!
As Caesars Palace celebrates 50 years in Vegas, it looks to its past, present and future
'Hell's Kitchen' winner claims her prize: Head chef at Las Vegas' BLT Steak
---
UPDATES:
3 p.m. Sept. 12: "Puppet Up! Uncensored" has been cut short. The show's last performance will be Sept. 17.
This article was originally published Aug. 9. at 4:56 p.m.
---