Summer in gear: Stuff you need for easing your way on down the road
With summer travel in full swing, you may be in need of summer gear. But it has to earn its keep. You can make your leisure easier with travel products and accessories designed to bring more fun and function to your travels. Here are a few of our favorite things.
Park it
The apparel and accessories from the Parks Project connect consumers with conservancies. Purchases directly fund habitat restoration, animal conservation and other initiatives at American parks. Yosemite T-shirts aid trail restoration; Grand Canyon shirts support historical and cultural programs.
Info: Parks Project apparel and accessories $32 to $40.
Beach blanket bonanza
The unassuming looking swath of synthetic fabric is, in fact, a fast-drying, antibacterial, super-wicking, lightweight towel that doesn't have to step into a phone booth to change into a sand-shedding, UV-blocking beach towel, airplane blanket and superhero cape.
Info: Discovery Trekking's 9-ounce large towel is 34 by 58 inches and costs $35.
Happy feet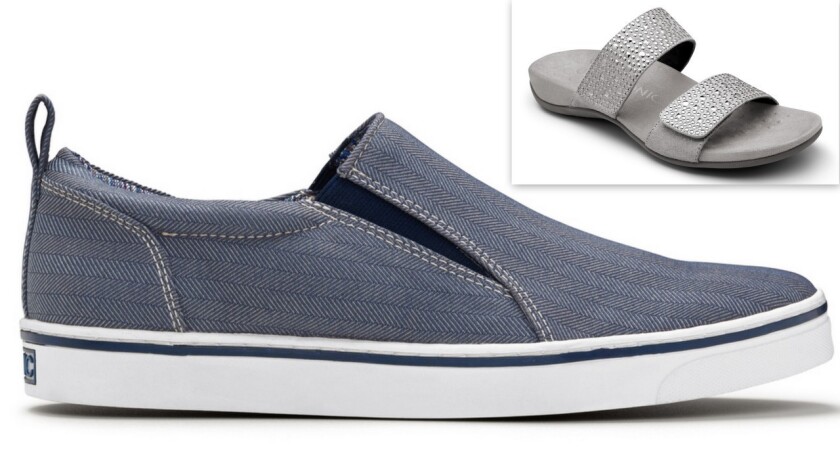 If your feet aren't happy, you're not happy, no matter whether you're smiling back at the Mona Lisa or basking in a Hawaiian sunset. Engineered by biomechanics experts, Vionic shoes and sandals promise balanced, flexible and cushy support that will keep you moving through every landmark on your vacation checklist.
Info: Vionic men's and women's shoes and sandals, from $60. (Shown: Women's pewter Samoa slide, $90; men's navy Conner slip-on, $90.)
Tunes afloat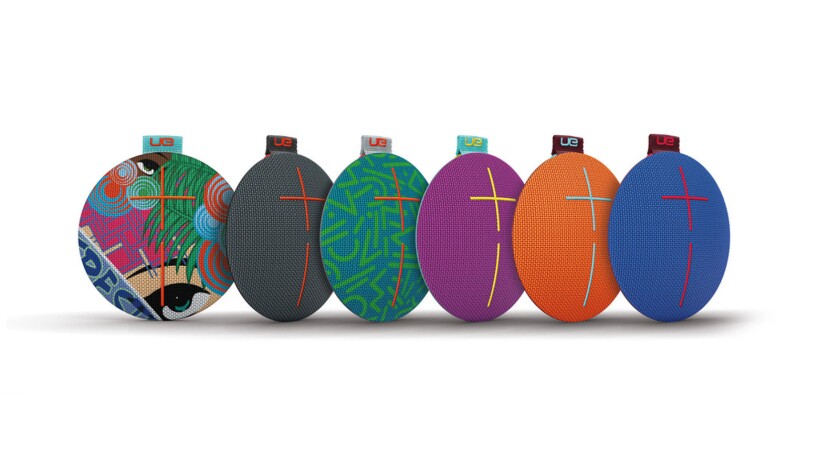 The second-generation UE Roll 2 waterproof Bluetooth speaker is such a party animal that each one comes with its own little floatie to let it bob alongside you in the pool. It's been upgraded this year to offer 15% more sound and an extended 100-foot range. The new model comes in six colors and prints. A bungee-cord loop attaches it to practically anything, including your swimming suit.
Info: Ultimate Ears UE Roll 2 costs $99.
No-stick sand
The princess may have had her pea, but the rest of us have sand and skip the beach because of it. The Sandusa cotton beach towel is soft and fluffy on top, slightly slick on bottom, so sand doesn't stick to the waterproof backing. It's also useful for lining your car seats against damp dogs or wrapping your soggy beach togs and toting them home — leaving the beach at the beach.
Info: Sandusa's towel costs $50.
When inflation is fun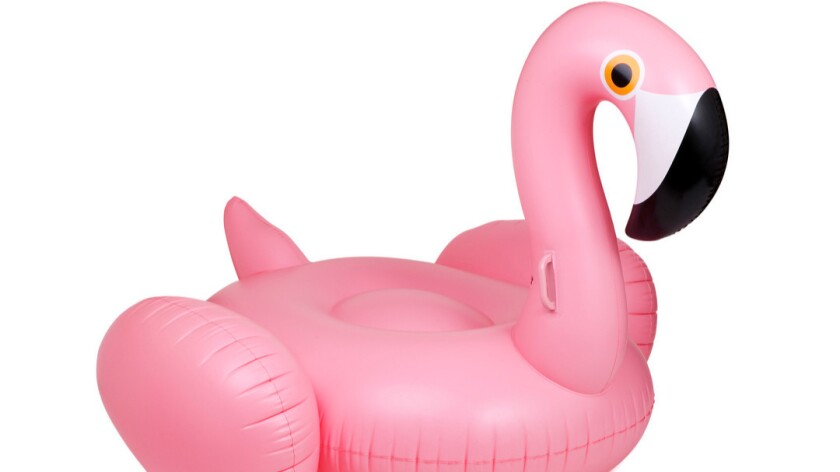 It began with one enormous rubber ducky pool float. Now summer gear company Sunnylife of Sydney, Australia, has unleashed a swarm of giant floaties, including a swan, flamingo, whale, pineapple, toucan and oversized life ring. The attention-getting inflatables compress into a packable, 5 pounds of PVC, but you should leave room for an air pump too.
Info: Sunnylife's inflatable duck costs $60; swan, toucan and flamingo, $70; Moby Dick, $99. They'll also be available at and pop-up stores at L.A. malls this summer.
Hot and cold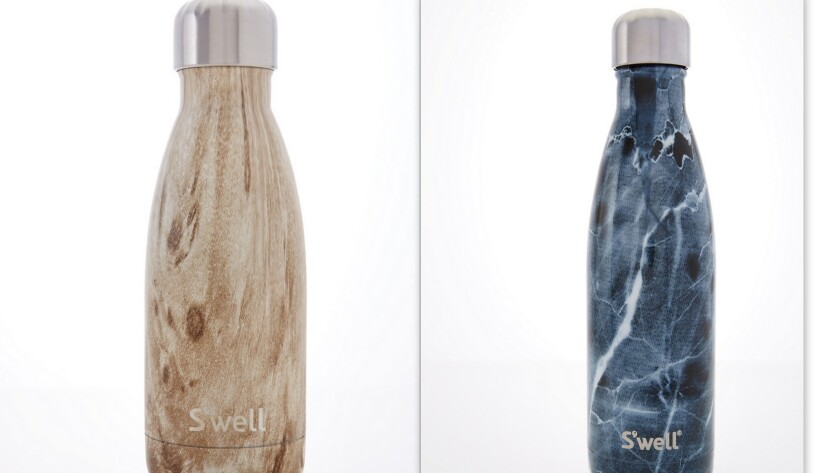 Among a certain fashionable set, the insulated S'well bottle is reaching near ubiquity, and not just because it keeps liquids cold for 24 hours and hot for 12, but also because it looks cool. Shiny, bright colors and hyper-realistic patterns of granite, marble, teak, birch and even python keep the bottles au courant. Sales also support good causes, like forest preservation and clean water, while reducing the use of plastic in bottles.
Info: S'well bottle costs $25 to $45 for 9-, 17- and 25-ounce bottles.
Travel bingo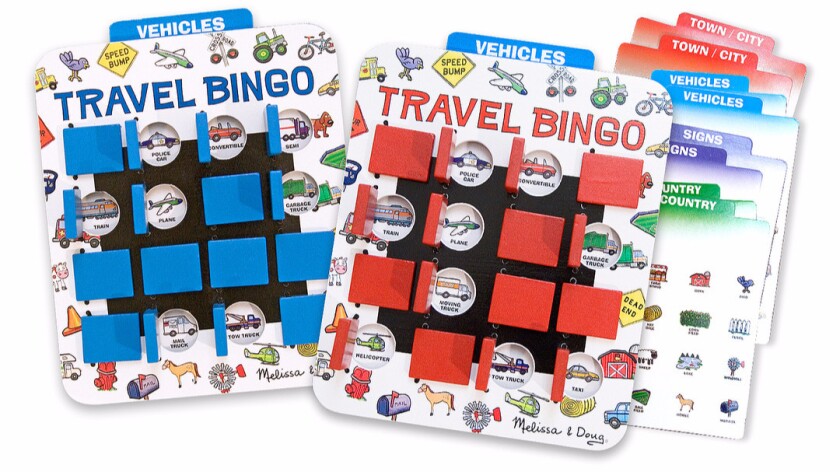 Don't make Dad turn this car around. Keep the peace and the kids engaged with something other than a screen. The Travel Bingo game from Melissa & Doug is time-tested and self-contained (hallelujah for no loose pieces) and comes with interchangeable, themed cards keep the little ones scouring the landscape until they can call "Bingo!"
Info: Flip to Win Travel Bingo Game costs $19.99
ALSO:
The Weekend Escape: Yurting on the Oregon Coast
Road trips: Where to go and what to know
Swing during the wee hours at a new high-tech golf complex in Las Vegas
---
Get inspired to get away.
Explore California, the West and beyond with the weekly Escapes newsletter.
You may occasionally receive promotional content from the Los Angeles Times.