Yosemite's back gate, Tioga Pass, is still snowed under--and that just might complicate your Memorial Day trip
The reopening of Tioga Pass, the key east entrance to Yosemite, is a sign of the coming summer as sure as baseball returning to Chavez Ravine, or the swallows returning to Capistrano. Typically it occurs in time for the Memorial Day rush.
This year, the still-snowed-under Tioga Pass may not open till almost July 4.
Crews continue to carve away at mountains of snow three stories high, the bulldozers working from top to bottom, one layer at a time, till the snow is thin enough to allow rotary plows to move in and scrape away the rest.
Current snowpack in parts of the central eastern Sierra is 220% of average for this date.
Adding to the challenge are avalanches, boulders and fallen trees. Situations become particularly precarious around noon each day, when thawing hillsides begin to tumble. Crews are also stalled by occasional late-spring blizzards, during which they are called away to keep other roads passable. When all goes well, crews clear about a mile a day.
Current snowpack in parts of the central eastern Sierra is 220% of average for this date.
When Tioga is closed, visitors cannot drive to Tuolumne Meadows or enter Yosemite National Park from the east.
Fortunately, other park entrances are open, including those along Highway 120 from the west, Hetch Hetchy, Highway 140, and Highway 41.
For Yosemite visitors heading up for the holiday weekend, here are some get-arounds:
Central: Monitor Pass (California 89) is open.
North: Carson Pass (California 88) or Luther Pass (California 89) are both open via U.S. 50 and California 4.
South: Via Bakersfield (California 99/California 58/ U.S. 395)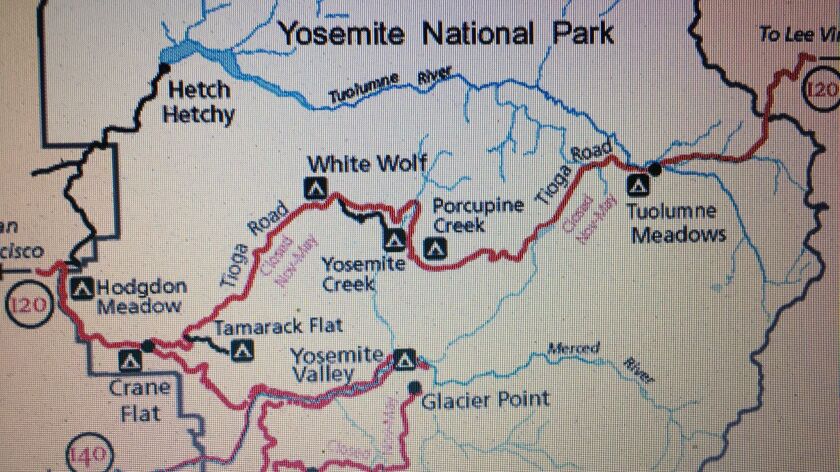 Most years, Tioga closes due to snow in November, and the big dig-out begins in mid-April, taking up to two months to complete, except in the seasons with heaviest snow accumulations.
Past opening dates in years of heavy snow:
1998 — July 1
2010 — June 5
2011 — June 18
For more information on routes between Yosemite Valley and U.S. 395, including Mono Lake, the ghost town of Bodie and Devils Postpile, contact Mammoth Lakes Tourism or Mono County Tourism.
ALSO
Save $500 on an REI Adventures camping trip to Rocky Mountain National Park
Too many places to see and too little time? Asian cruises open the world
A diver's delight in the Cayman Islands
Relive San Francisco's Summer of Love (don't forget the flowers in your hair)
---
Get inspired to get away.
Explore California, the West and beyond with the weekly Escapes newsletter.
You may occasionally receive promotional content from the Los Angeles Times.