The evolution-revolution in Uber and Lyft service at LAX has taken another step forward. Drivers who are dropping off passengers can now pick up arriving passengers while there, a move LAX officials see as helping reduce chronic congestion in the horseshoe-shaped terminal area.
Finally.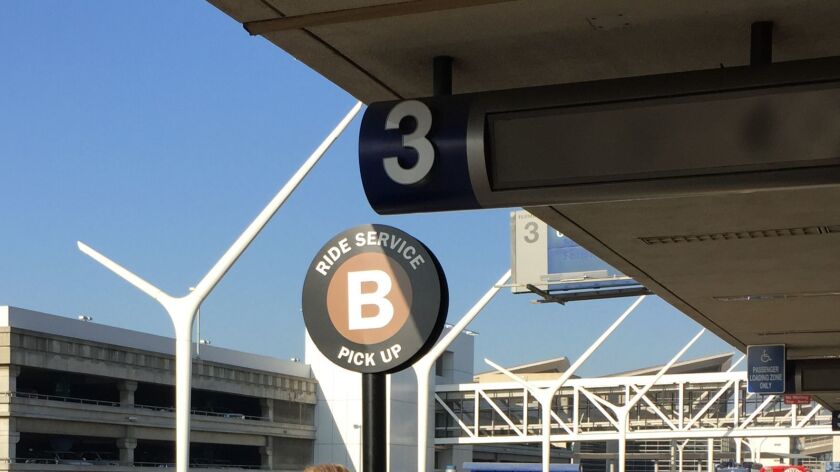 The new policy does not change how arriving passengers order or find their rides. Uber and Lyft pickup spots are still in five locations on the upper Departures Level marked by round signs with the letters A through E. Apps will still give you a choice of the closest location.
Besides relieving congestion, the new rules mean customers may be picked up faster. Drivers will already be near pickup points so they won't have to fight traffic after they're summoned from holding areas outside the terminal.
At first reluctant to accept ride-share services, LAX introduced them in late 2015, initially limiting service. Lyft and Uber service expanded over time, but ride service drivers who were taking passengers to the airport were still prohibited from picking up arriving travelers on the same trip.
Lyft and Uber pay a $4 fee for each pick-up or drop-off at the airport, which goes toward roadway maintenance and other traffic reduction measures around LAX. The fees can amount to hundreds of thousands of dollars per day.
LAX, the world's fourth-businest airport, has long-struggled with access to mass transit.
Substantial improvements won't be seen until a multibillion-dollar rail project, scheduled to open in 2023, is finally complete. At that point, a light rail station connected to a people-mover system will link the terminal area to a consolidated car-rental facility and a ground transportation hub.
Info: LAX ground transportation
ALSO
Here's what should be in your child's wallet when studying abroad
Cruising into stormy weather? Five ways to offset the risks of sailing during hurricane season
In San Francisco, you simply don't need a car on Market Street and the waterfront. In fact, you'll be happier without one
---