Knott's Berry Farm offers line-cutting pass for popular rides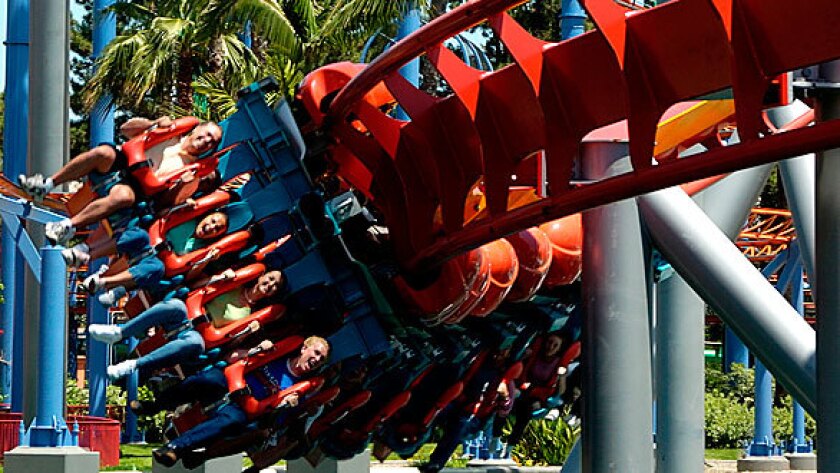 Los Angeles Times Staff Writer
Knott's Berry Farm has quietly begun offering a fee-based, line-cutting pass for some of its most popular roller coasters and thrill rides.
The $40 Hate to Wait front-of-line pass made its debut in early December after a test run during the Buena Park theme park's Halloween Haunt event in October, officials said.
Sold at a kiosk just inside the main entrance, the optional line-cutting pass more doubles the $35 cost of admission to Knott's (for advance tickets purchased online).
Hate to Wait allows front-of-the-line access to five roller coasters (Silver Bullet, GhostRider, Pony Express, Sierra Sidewinder and Boomerang), the Supreme Scream drop tower, the Timber Mountain Log Ride and the Screamin' Swing (covering the extra fee to ride Screamin' Swing, normally $5).
The transferable pass provides one-time-only, front-of-the-line privileges for each of the eight rides. That means you can ride Silver Bullet once and your friend can then jump on GhostRider, but neither of you can ride Silver Bullet or GhostRider again with a single pass.
Knott's officials said the park will sell the Hate to Wait passes only on peak attendance days – and then only in limited quantities. Those peak periods are likely to include weekends, holidays and long stretches during the summer months.
The pass is decidedly low-tech, with employees marking off the Hate to Wait card each time a visitor boards a ride.
Curiously, Hate to Wait leaves out three coasters (Xcelerator, Jaguar and Montezooma's Revenge), two thrill rides (Rip Tide and La Revolucion), two water rides (Bigfoot Rapids and Perilous Plunge), the Calico Mine Ride and all the Camp Snoopy kiddie rides. Of those rides, Xcelerator and Bigfoot Rapids can experience hour-plus waits during the busy summer months.
Knott's officials said the eight Hate to Wait rides typically have the longest lines, noting that the pass may be updated to include additional rides if traffic patterns change.
It's too soon to say if the WindSeeker thrill ride, which will open at Knott's in the summer, will become part of the Hate to Wait program, officials said.
So far, none of Knott's sister parks in the Cedar Fair amusement park chain has announced plans for a similar front-of-the-line pass.
Knott's is late to the line-cutting game.
Universal Studios offers a Gate A front-of-the-line pass for an additional $45 at its Hollywood theme park and a similar Express Pass at its Orlando parks that costs $20 to $70 depending on the time of year.
Six Flags parks sell a Flash Pass that holds a virtual place in line for riders. The cost, which typically starts around $30 or $40 and rises with the perks, varies at each Six Flags park.
At Legoland California, the Premium Play Pass, for an additional $69, provides front-of-the-line ride privileges and reserved show seats.
Busch Gardens offers a Quick Queue pass that runs $30 to $45.
Disney pioneered the line-cutting trend at theme parks with its free FastPass ride reservation system – which allows visitors to return at a designated time and enter through a shorter line.
---
Get inspired to get away.
Explore California, the West and beyond with the weekly Escapes newsletter.
You may occasionally receive promotional content from the Los Angeles Times.