Whose face would you add to Mt. Rushmore? FDR leads the pack, poll says
Ever think about adding another granite face to Mt. Rushmore? Expedia says some of you have, and Franklin D. Roosevelt would be your top choice.
The online travel company conducted a poll that says Americans picked John F. Kennedy and Ronald Reagan as second and third for the chiseled faces they would like to see join George Washington, Thomas Jefferson, Teddy Roosevelt and Abraham Lincoln on the South Dakota landmark.
Among non-presidents, Martin Luther King Jr. took the top spot followed by Benjamin Franklin and Albert Einstein.
(Expedia's poll also shows Jesus tied with GOP presidential candidate Donald Trump at just 2% to take fourth and fifth place; Mickey Mouse came in sixth.)
Expedia's National Park Index also found that roughly half of Americans have visited a national park, and that 38% had been to a national park in the last year.
Favorite parks, not surprisingly, are Yellowstone (which also happens to be America's first national park) and the Grand Canyon followed by Great Smoky Mountains, Rocky Mountain and Yosemite national parks.
The number of annual visitors confirms the popularity of these parks. Of the record-setting 307.2 million people who visited national parks in 2015, more than 10 million went to the Great Smoky Mountains.
The next four most-visited parts (in order) are Grand Canyon, Rocky Mountain, Yosemite and Yellowstone.
And at which park would visitors most like to take a selfie?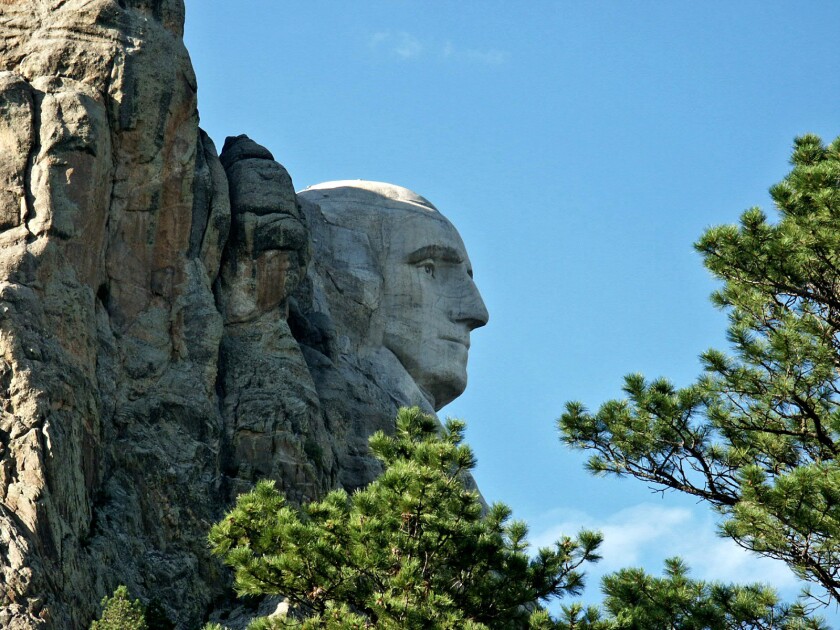 This brings us back to Mt. Rushmore (No. 1), followed by the Grand Canyon, the Old Faithful geyser at Yellowstone, the Lincoln Memorial in Washington and the Great Smoky Mountains.
Mt. Rushmore National Memorial, by the way, received almost 2.5 million visitors last year. Sculptor Gutzon Borglum began carving the presidents in 1927 and continued until his death in March 1941. His son took over the project, and carving ended seven months later.
For the data above, Expedia created the index by polling a sample of 1,039 adults in the U.S. online between Feb. 26 and 29.
MORE
Flood-damaged Scotty's Castle in Death Valley won't reopen to visitors until at least 2019
Bucket list for loos? Guide to the world's most amazing toilets
Deal: Entry to national parks will be free during National Park Week
Deal: Road trips made easy with $7.99 one-way rental cars from Arizona to L.A.
---
Get inspired to get away.
Explore California, the West and beyond with the weekly Escapes newsletter.
You may occasionally receive promotional content from the Los Angeles Times.