Flood-damaged Scotty's Castle in Death Valley won't reopen to visitors until at least 2019
Work is planned on fixing up Scotty's Castle, the storied landmark in Death Valley National Park that's been shut since flash floods last year damaged the circa 1922 ranch house and surrounding roads.
The National Park Service estimates that the castle nicknamed for gold prospector and con man Walter E. Scott may be ready for visitors in 2019.
Flood control berms are needed, as well as repairs to the electrical, water and sewer systems and the building itself, a recent report from the agency says.
On Oct. 18, 2015, heavy rains swept through the desert park and forced the evacuation of its Mesquite Springs Campground. Over the following few weeks, more rain fell. Scotty's Castle received 4 inches of rain in two days -- an amount it usually receives in a year.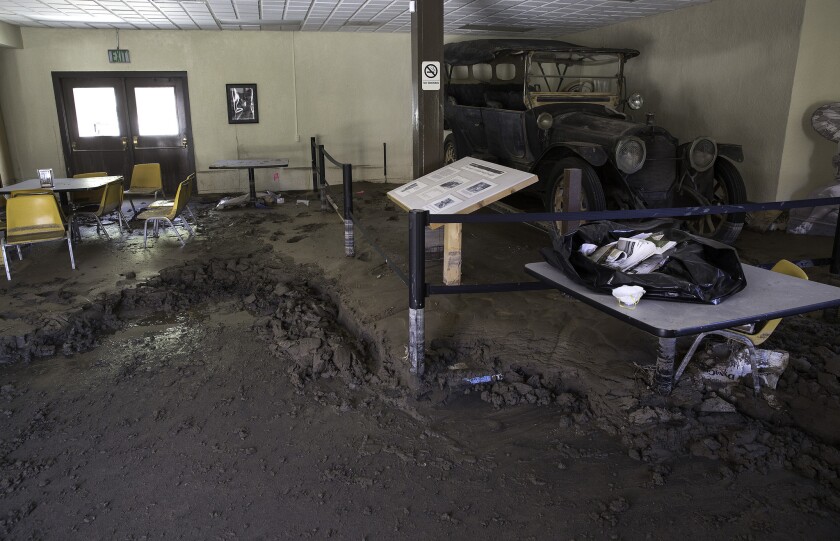 Mud and debris from the downpours -- 4 feet thick in some areas -- ruined roads, the Scotty's Castle visitor center and some of the museum's artifacts.
Most roads have been cleared, and repairs to Scotty's Castle Road are expected to begin later this year. Badwater Road (closed through Jubilee Pass to Shoshone, Calif.) are to be fixed starting this month.
The unusually heavy rains brought something else to Death Valley this spring: a wildflower bloom that made finding a room in the park and nearby areas nearly impossible. Goldfields and primrose put on a show in what was called a "super-bloom" year.
By the way, Scotty, as he was called, never owned or lived in the building. He persuaded Albert Johnson and his wife, Bessie, of Chicago, to build the Spanish-style vacation home and invest in his prospecting.
They did, but it never panned out, though the place took Scotty's name. After the Johnsons died in the 1940s, the house became a hotel and was later sold to the Park Service.
Info: Death Valley National Park, (760) 786-3200
ALSO
Deal: Entry to national parks will be free during National Park Week
Celebrating our national parks
Olympic and Everglades national parks: Their survival affects ours
National parks celebrate 100 years: Readers share their memories
---
Get inspired to get away.
Explore California, the West and beyond with the weekly Escapes newsletter.
You may occasionally receive promotional content from the Los Angeles Times.