The lighter side of Robin Williams, now at National Portrait Gallery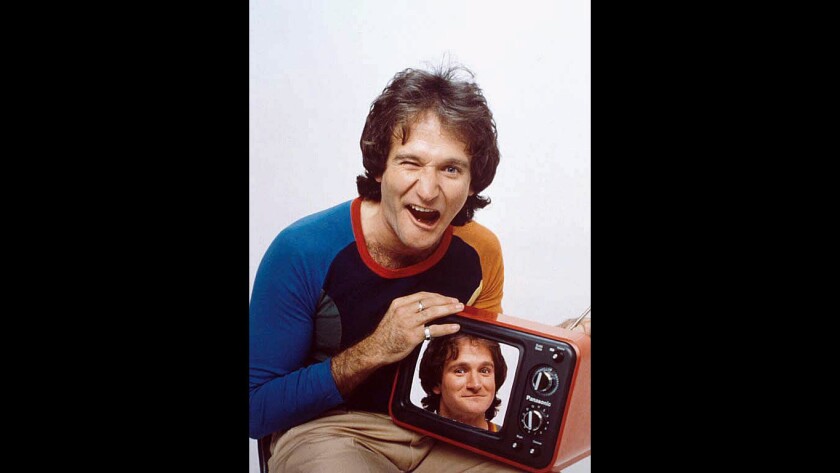 It's good to be reminded of the silly side of Robin Williams, and to have a place to gather and remember. Visitors at the National Portrait Gallery in Washington, D.C., can visit a portrait of the Oscar-winning actor and comedian that was taken for a Time magazine cover in 1979.
The museum on Tuesday installed the work by Michael Dressler under the words "In Memorium." Williams died Monday at his home in Tiburon, Calif., of an apparent suicide. He was 63.
The portrait shows Williams at 27 years old, after the success of his "Mork & Mindy" TV show. It captures his different sides: the funnyman mugging for the camera, and a sweet, more thoughtful pose that appears on a small TV he holds in his hands.
"It was just as he made his breakthrough from stand-up to TV and then movies," David Ward, senior historian at the gallery, says in an article on Smithsonian.com.
Among his many films, Williams appeared as Teddy Roosevelt in "Night at the Museum: Battle of the Smithsonian" (2009), which was partly shot at a Smithsonian site in Washington, D.C.
The portrait is on display in the museum's first-floor gallery, and fans have already come by to pay their respects. It will be on display through Labor Day, a spokeswoman said.
---
Get inspired to get away.
Explore California, the West and beyond with the weekly Escapes newsletter.
You may occasionally receive promotional content from the Los Angeles Times.