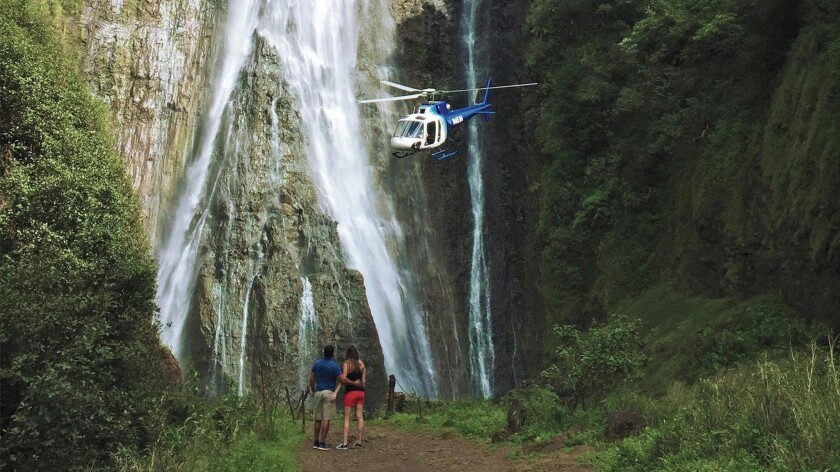 The film "Jurassic World: Fallen Kingdom," which opens Friday, features a dormant volcano suddenly coming to life. Sound familiar?
The original "Jurassic Park" movie was filmed in Hawaii on Kauai. The movie's cast arrived at Jurassic Park, the island research station where dinosaurs ended up running amok, in a helicopter that descended along the face of Jurassic Falls.
The breathtaking waterfall, whose real name is Manawaiopuna, is set on private property deep in the lush, rainy interior of Kauai. Island Helicopters Kauai is the sole tour operator that has permission to land on the very spot where Steven Spielberg and company set down a quarter of a century ago. The movie premiered June 11, 1993.
Tours can be lavishly expensive or relatively cheap, depending on what you want to see and how much you want to spend.
The least expensive option is the Jurassic Falls Landing Adventure. For $275 per person, guests are whisked from Lihue Airport on a 75- to 80-minute tour of the island that includes a stop at the base of the famous falls. (Other helicopters fly past the falls but don't land.) Tours operate every day except Sundays and Thursdays.
Info: Island Helicopters Kauai, (800) 829-5999
A visit to the falls is also incorporated into the luxe Kauai Movie Set Tour and Experience, exclusively offered by the St. Regis Princeville Resort. For $5,674 per couple, hotel guests can spend an entire day touring the island with film location manager Angela Tillson, who has worked on numerous films shot on Kauai. She spent two years scouting locations for the first "Jurassic Park."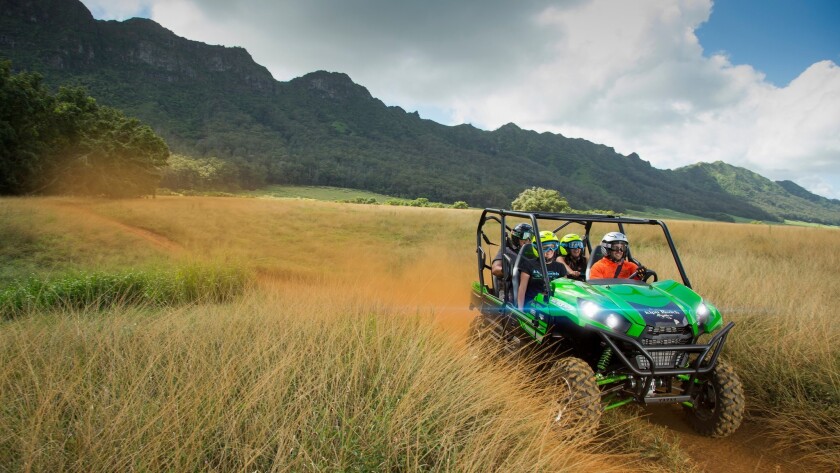 "We visit Kipu Ranch and embark on a private ATV tour, visiting the historic landscape and famous movie locations featured in films such as Indiana Jones' "Raiders of the Lost Ark," "Pirates of the Caribbean: On Stranger Tides" and "The Descendants," Tillson said in an email.
Moving from location to location — the day also includes a stop at Hanalei Bay, where much of the 1958 musical "South Pacific" was filmed — Tillson shares her knowledge of the island and her experiences helping producers find the perfect film settings.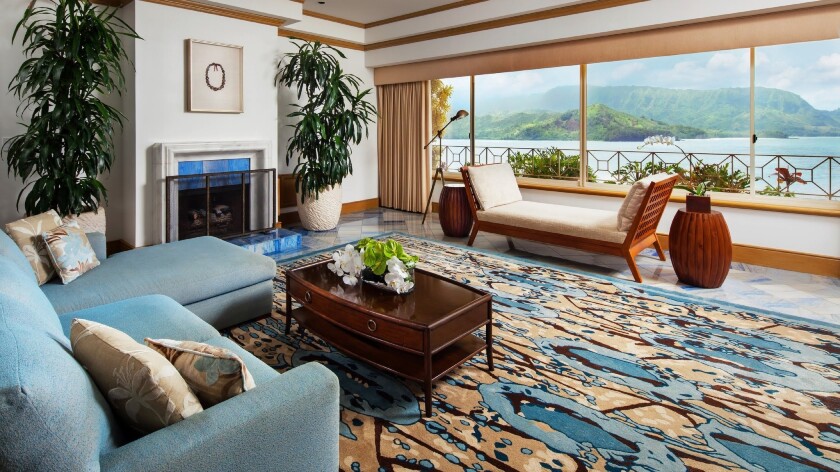 Guests on the private tour also can stay in what was once a set for "The Descendants": the presidential suite at the St. Regis Princeville. A four-night stay is priced at $14,700.
You have to be a hotel guest to take the tour, which requires 30 days advance notice for movie tour bookings.
Info: The St. Regis Princeville Resort, (808) 826-9644
Twitter: @latimestravel
ALSO
Kilauea's eruption is reshaping Hawaii Volcanoes National Park. Say goodbye to the popular lava lake
A weekend escape to Santa Barbara is still a wonder despite the fires and floods
Seeking a short cruise that's a bargain to boot? Check out repositioning trips, available as lines shift their ships to other ports
---