9 experiences to look for this year at Disney parks, including 'Star Wars' land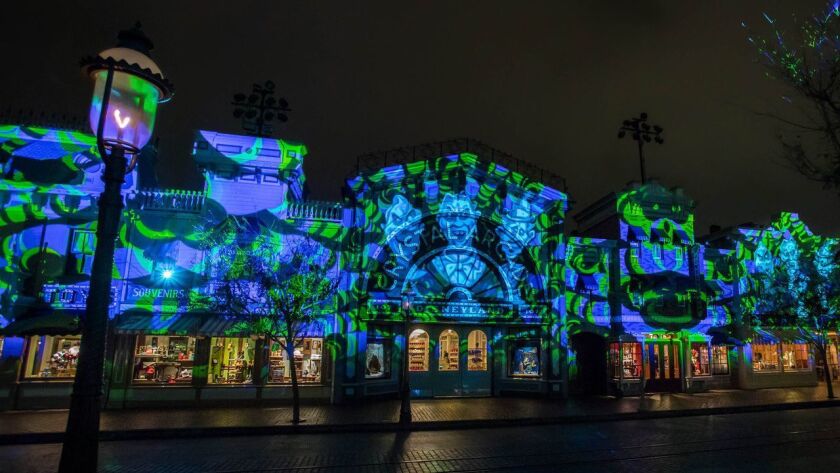 Disneyland and Disney California Adventure have a host of new attractions, parades, shows and seasonal events lined up to keep visitors busy between now and this summer when the highly anticipated Star Wars: Galaxy's Edge land makes its debut.
Coming up are an updated parade, a food-and-wine festival, a Lunar New Year celebration, a projection-filled nighttime spectacular, two new Pixar Pier attractions, a month of Valentine's romance and a year-long celebration of Mickey Mouse's 90th birthday.
1. Mickey and Minnie's 90th birthday
Disney has already kicked off what is expected to be a year-long celebration of Mickey Mouse and Minnie Mouse's 90th birthday.
The world-famous animated mice share a last name but have never married on screen (though creator Walt Disney assured fans in 1933 that the two were indeed married). They were born Nov. 18, 1928, with the release of the "Steamboat Willie" animated short film.
The 90th birthday party is expected to rival the Happiest Homecoming on Earth, which celebrated the 50th anniversary of Disneyland and drove hordes of visitors through the gates of the Anaheim theme park.
The 90th birthday celebration will be the theme for a parade, nighttime spectacular and a Valentine's celebration as well as food and merchandise throughout both parks.
2. Revamped nighttime dance party
Disneyland is swapping its familiar nightly fireworks show for a laser, lighting and projection show set to a new musical score.
"Mickey's Mix Magic" dance party began last Friday with DJ Mickey spinning alternate takes on familiar Disney songs as well as a new theme song, "It's a Good Time."
The projection show transforms the buildings along Main Street U.S.A., the water screens on the Rivers of America and the facade of the ride It's a Small World into a canvas painted with animated scenes set to music.
Fireworks will be added to the projection show on select nights, which is expected to be on busy holidays and weekends.
3. Soundsational Parade with birthday theme
Mickey's Soundsational Parade returns to Disneyland starting Friday with a new emphasis on Mickey and Minnie's 90th birthday.
The parade will be led by a float inspired by a super-sized version of a classic Mickey Mouse wooden pull toy accompanied by Goofy. Chip and Dale characters will follow with a giant birthday cake float celebrating the twin birthdays.
A marching drum line will add a live beat to a procession of Disney characters, which is expected to include Aladdin, Peter Pan and Mary Poppins.
4. Lunar New Year celebrations
The annual Lunar New Year celebration returns to Disney California Adventure Park in early 2019 with holiday decor, live entertainment, a parade, an Asian food festival and possibly a water show.
Mulan's Lunar New Year parade procession returns, but it remains to be seen if the "Hurry Home" version of the World of Color water show will be part of the annual event. The World of Color nighttime show went dark for routine maintenance in mid-April.
The Three Little Pigs characters will be on hand for meet-and-greet photo opportunities in honor of the Year of the Pig, which begins Feb. 5. Disney characters will dress in Asian-style costumes for the event.
Festival kiosks will offer food and beverages inspired by cuisines of China, Korea and Vietnam.
The Lunar New Year celebration runs from Friday to Feb. 17.
5. A whole month of love
Valentine's Month is Disney's attempt to turn typically slow January and February into the cash-cow Halloween and Christmas seasons.
Valentine's Month this year will celebrate the love of Mickey and Minnie in yet another tie-in to the birthday festivities.
Main Street U.S.A. and the Small World mall will be adorned with an explosion of romantic red decor. The Mickey Mouse floral portrait at the Disneyland main entrance will get a Valentine's makeover.
Minnie's Valentine Surprise will send visitors on a scavenger hunt in search of hidden Valentine's greetings left for Mickey around the park.
Valentine's Month runs now through Feb. 18 at Disneyland.
6. Longer Food & Wine Festival
The Disney California Adventure Food & Wine Festival brings food kiosks, cooking demonstrations, celebrity chef appearances, tasting seminars and live entertainment back to the Anaheim park in the spring.
A number of exclusive events give visitors a chance to watch up-close demonstrations. Winemaker and brew master dinners pair hand-selected wines and handcrafted beers with four-course meals at places like the Steakhouse 55, Napa Rose and Carthay Circle restaurants.
Junior Chef courses offer hands-on cooking experiences for kids ages 3 to 11. Celebrity pastry chefs will prepare signature desserts on Sweet Sundays during the festival, and host culinary presentations in the 2,000-seat Hyperion Theater. The popular food-and-wine festival expands to eight weeks this year, running from March 1 to April 23.
7. Downtown Disney's new venues
The 17-year-old Downtown Disney shopping center is undergoing a major overhaul with new restaurants and entertainment venues.
Splitsville Luxury Lanes, an upscale bowling alley and restaurant, opened earlier this year in the former House of Blues space. The remodeled World of Disney flagship store and the new Salt & Straw gourmet ice cream shop opened in October.
Also coming to the ever-evolving shopping center: New York-based Black Tap Craft Burgers & Beer and a tasting room from San Diego craft brewer Ballast Point.
Disney broke ground in February on a 6,500-space parking structure at the west end of Downtown Disney, set to open in 2019.
8. Pixar Pier makeover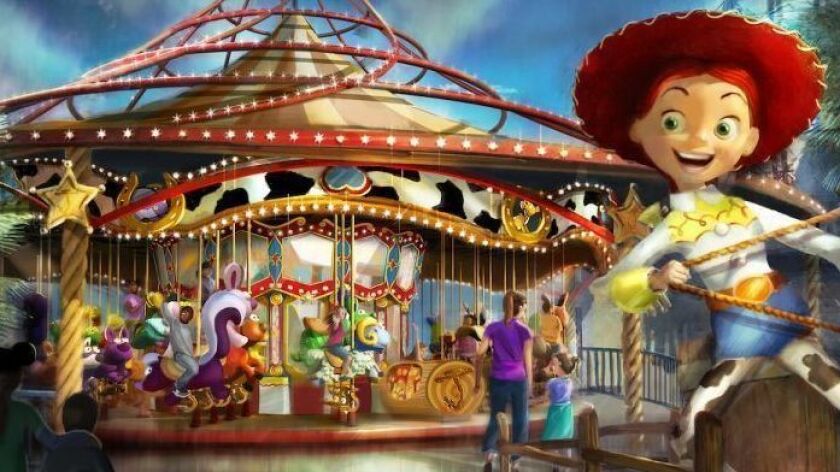 Disney California Adventure's Paradise Pier was transformed into Pixar Pier in 2018 with new names and themes for the existing attractions. The second phase of the makeover continues in 2019.
In June, the California Screamin' launch coaster became the Incredicoaster with a new backstory drawn from "The Incredibles" films. The rechristened 160-foot-tall Pixar Pal-A-Round Ferris wheel added Pixar character illustrations to the gondolas of Mickey's Fun Wheel. The former Ariel's Grotto restaurant was renovated into the Lamplight Lounge gastro pub, which evokes a hangout for the Pixar creative team with concept art, pencil sketches and movie stills from the studio's films.
The renovation continues in 2019 with King Triton's Carousel becoming Jessie's Critter Carousel, and the former Flik's Flyer spinning ride in A Bug's Land relocating to Pixar Pier as Inside Out Emotional Whirlwind.
9. Star Wars: Galaxy's Edge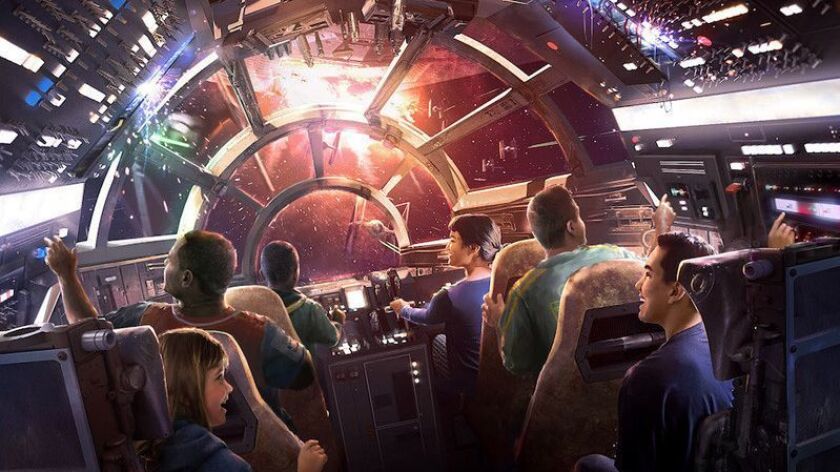 The highly anticipated "Star Wars"-inspired themed land opening at Disneyland promises to drop fans into a fully immersive outpost in summer 2019.
►The 14-acre Star Wars: Galaxy's Edge themed land will be set in the Black Spire Outpost on the remote planet of Batuu, located on the outer rim of the "Star Wars" galaxy. Visitors will interact with characters, aliens and droids from the movie series as they wander through a marketplace, cantina and smuggler's alley.
►The Millennium Falcon: Smuggler's Run flight simulator will put riders in the cockpit of the fastest ship in the galaxy as they battle Imperial tie fighters during a secret mission with multiple story lines.
►The Star Wars: Rise of the Resistance dark ride promises a race-against-time battle between the First Order and the Resistance, including a face-off with villain Kylo Ren.
The new "Star Wars" themed land will include an upscale "dinner club" and a local tavern for the "truly adventurous" where droids serve cocktails to customers.
The new land will feature walk-around characters and creatures that interact with visitors as part of a story line that evolves and progresses throughout the day.
"Star Wars" composer John Williams recorded original theme music for the new land with the London Symphony Orchestra at Abbey Road Studios.
---
Get inspired to get away.
Explore California, the West and beyond with the weekly Escapes newsletter.
You may occasionally receive promotional content from the Los Angeles Times.