Reporting from Berlin —
I wasn't expecting to fall for pho in Berlin. I certainly wasn't expecting to sample it thrice.
The first half of my vacation last year in Berlin consisted of the usual tourist activities, shepherding my mother and our family friend Jean to the Brandenburg Gate, Checkpoint Charlie and the obligatory dinner of doner and currywurst.
We had eisbein (pickled ham hock); we had flammkuchen (a kind of German pizza); we even ate at Tim Raue, Berlin's Michelin-star baby. We consumed more potatoes in three days than any human should in a year.
But it wasn't until after my mother and Jean left that Berlin's shifting identity unfurled itself.
For the latter half of my trip, I stayed with my college friend Elena in Neukolln, a neighborhood whose demographic upheavals are akin to the tensions found in L.A.'s Echo Park. Just as Echo Park's largely Latino population contends with the insistent creep of twentysomething artists, Neukolln's Turkish, Arab and African communities grapple with the influx of creatives in recent years.
Neukölln has the one of the highest percentages of immigrants of any borough in Berlin, which is reflected in its culinary scene. On a side thoroughfare off Hermannstrasse, a Sahara falafel shop resided next to an Italian pizza joint next to a waffle cafe.
Which brings us to pho.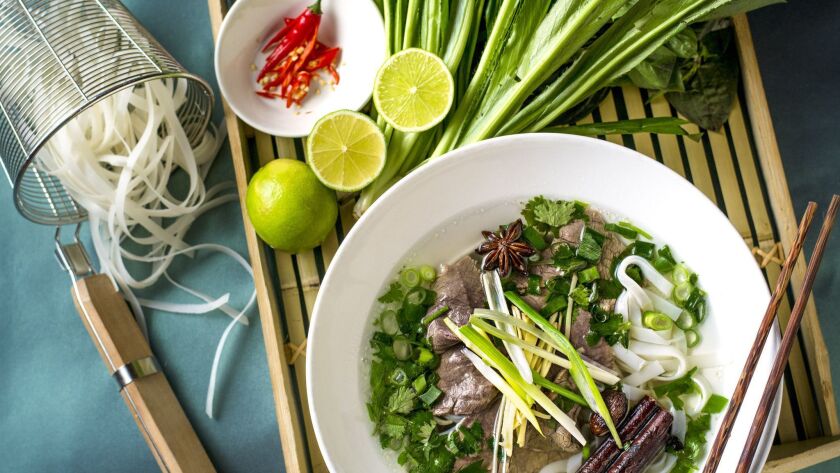 Pho, by whatever machinations of the Vietnamese community in Berlin, has embraced the gentrification.
Of course, there must be plenty of pho spots in Berlin that are reminiscent of numerous pho restaurants in Garden Grove, but the few places I visited in and around Neukölln were spruced up for the middle-class German eater.
"The Vietnamese kitchen originated during the times East and West Germany were still separated," said Steffi Unger, an author, entrepreneur and Berlin foodie who has visited 25 pho restaurants in the city. "East Germany needed extra workers and asked the Vietnamese to come.
"After the Wall fell [in 1989], the next generation started innovating Vietnamese food, and it's one of the foods that has seen the largest and fastest growth with more modern and high-end places. …They do really well, better than some Michelin star restaurants."
I'll concede my American ignorance here; I didn't realize there was a sizable East Asian community in Berlin. East Asian people, much less East Asian food, aren't what one thinks about when traveling to Germany.
The Berlin difference
A steady rain fell during the latter half of my trip, and on the way back to Neukolln, off the Hermannplatz U-Bahn stop, a pho restaurant appeared in my line of vision. I ducked in for a rain reprieve, and by the time the week was up, I had visited two more pho spots.
Berlin pho is different. It has fatter noodles and is heavily infused with ginger and lemongrass, julienne strips of the former swimming in noticeable quantities in the broth.
By contrast, the Southern California version is defined by herbal and umami aromatics, cilantro, onions and occasionally jalapeños swirling through a mix of meat and skinny rice noodles. In SoCal, the flavor of the bone broth overwhelms any semblance of sugar.
It appears Berlin's light, sweet, fat-noodled variation is a North Vietnamese export, brought by immigrants to East Germany during the 1970s. North Vietnam's penchant for ginger in its pho suits Berliner's special obsession with the root: A Moscow Mule I ordered in Berlin was heavy on the vodka, short on the ginger beer and generous with the ginger chunks.
Itay Novik, a food designer and culinary tour guide in Berlin, agreed that North Vietnam's clear broth in common in this city.
"However, the main reason for the difference is the adaptation to German taste," Novik said. "When the first immigrants came in the '60s and '70s, Vietnamese food wasn't that familiar in Germany, and Europeans were much less adventurous about trying foreign foods.
"On top of that, there was a lack of typical ingredients. Therefore, the version that became popular is much flatter than the original."
Given my lack of language skills in Vietnamese and German, my efforts to speak with the owners of pho restaurants were less than successful, so I ended up chatting in English with a waiter.
I told him how surprised I was by the broth, how sweet and light and simple it was compared with the Southern California version. The waiter shrugged. "German pho is the best," he said. Interesting. He didn't call it "North Vietnamese pho" or even "Vietnamese pho"; he called it German pho. A peculiar brand of hot noodle soup for the German palate.
Although I disagreed with his assessment — I will die on a hill for SoCal pho — I was encouraged by its popularity in Berlin.
Major metropolitan centers around the world are no longer homogeneous, and Berlin is no exception. Whether it was the Chinese Australian kid I met dancing at a German nightclub, the Polish family running a dive bar in the Wedding neighborhood or the Arab and African neighbors of Neukolln, Berlin was brimming with diversity.
If many German youth are moving to Berlin to pursue art and actualization, it's a good thing the city's food scene is challenging the notions of what it means to look, speak and eat German.
It also challenges traveling Americans like me, whose preconceived perceptions of modern-day German food culture were horribly wrong.
I mistakenly thought my trip would consist only of wurst and spatzle. That pho has carved out a niche for itself — and a gentrified niche at that — portends good things for Berlin's food scene, and for the city itself.
If you go
THE BEST WAY TO BERLIN
From LAX, Lufthansa, Delta, KLM, British, Swiss, United, Air France, LOT and Aeroflot offer connecting service (change of planes) to Berlin. Restricted round-trip airfare from $893, including taxes and fees.
TELEPHONES
To call the numbers below from the United States, dial 011 (the international calling code), 49 (the country code for Germany) and the local number.
WHERE TO STAY
Centro Park Hotel Berlin-Neukölln, 60-62 Buschkrugallee, Berlin; 30-6000-3600. In Neukolln, rooms from $78 a night
ONE80° Hostel Berlin Mitte-Alexanderplatz, 65 Otto-Braun-Strasse, Berlin; 30-2804-4620. Beds from $22 a night.
Mercure Hotel Berlin Tempelhof, 214-216 Hermanstrasse, Berlin; 30-627-800. In Neukölln by Tempelhof airfield. Doubles from $135 a night.
WHERE TO EAT
Monsieur Vuong, 46 Alte Schonhauser, Berlin-Mitte; 30-9929-6924. One of the first major pho restaurants in Berlin, established in 1999. About $9-$10/bowl.
Miss Saigon, 38 Skalitzer St., Berlin; 30-6953-3377. Berlin-based friends think Miss Saigon has some of the city's best pho. About $8.50-$9 a bowl.
Pho-Noodlebar, 134 Linienstrasse, Berlin; 30-2843-7288. A hipster pho joint, complete with beer, wine and a cocktail menu. About $9-$11 a bowl.
TO LEARN MORE
---