Think you know the Statue of Liberty? Think again
Reporting from STATUE OF LIBERTY NAT'L MONUMENT —
Her brow is resolute, as if hardened by innumerable Yankee losses. Her right arm is aloft, as if waving for the Uber guy. And her feet — they're a ladies' size 879, rangers like to say.
Even if you're hazy about who is allowed to go where inside the Statue of Liberty, you know this landmark well. I certainly thought I did.
Before my New York trip in May, I was confident that the French government gave her to the U.S. out of respect for our democracy and immigrant beginnings. I was pretty sure that the sculptor always had New York in mind. And I knew nothing about Miss Liberty's injuries in World War I.
Series: Celebrating our national parks »
So there was plenty for me to learn from the rangers, the exhibits and Elizabeth Mitchell's 2014 book "Liberty's Torch." Basically, I'd been half-wrong about how she was built, how she has lasted and what she stands for.
Fortunately, getting to Liberty Island is easy. Ferries leave Battery Park, at the southern tip of Manhattan, every 15 to 20 minutes from 8:30 a.m. to 5 p.m. daily. While you line up for the airport-style security check, you can eavesdrop on fellow tourists from all over. About 4.3 million people made the trip last year.
On the 12 acres of Liberty Island (formerly Bedloe's Island), you can roam the museum inside the statue's pedestal (which includes facsimiles of her face and feet), ride an elevator (or climb 192 steps) to an observation balcony at the top of Liberty's pedestal; or stay below and graze at a café and browse in the gift shop.
Reaching the crown is a taller order. You must make a reservation months in advance and climb 162 narrow spiral steps (no elevator) from the top of the pedestal. Only 400 visitors per day get to do that.
And never mind the torch. It's been off-limits since 1916. In fact, the reason for that closure was the biggest surprise of all the lessons I brought home.
But before we get to that, here's what I had wrong about how she was built and why.
This video gives you a quick, close look at the Statue of Liberty -- along with an update on what it costs to get out to Liberty Island and what you'll see.
In 1865 French intellectual Edouard de Laboulaye started promoting a big gift to the U.S. He wanted to honor the coming U.S. centennial, but also was eager to celebrate the abolitionists' victory in the just-concluded American Civil War and throw some shade on the repressive practices of France's ruler, Napoleon III.
Immigration? Not on Laboulaye's agenda.
Laboulaye raised money through private donors and a lottery and commissioned a young sculptor named Auguste Bartholdi, who quickly saw this as a chance to recycle an old idea. On a trip to Egypt years before, Bartholdi had proposed an epic sculpture at Alexandria of a woman holding a lamp, one arm aloft, wearing a sort of toga.
Egypt didn't bite. Laboulaye and the Americans did. So began a long, awkward courtship between the sculptor and the U.S.
Though he traveled widely in the U.S. and admired much that he saw, Elizabeth Mitchell noted that Bartholdi also once wrote to France that "America is an adorable woman chewing tobacco."
Today, as you approach the statue, you see how hard it must have been to build. To begin with, it had to be made in 300-plus pieces so that it could be dismantled, shipped, then rebuilt on Bedloe's Island, an Army base previously known for public executions.
The statue would have to withstand the damp, salty winds of New York Harbor. To be visible from a distance, Lady Liberty would need to be tall — about 151 feet from toe to torch, twice that if you count her pedestal.
Bartholdi needed the guidance of Alexandre Gustave Eiffel (whose Paris tower was soon to rise) on how to support the statue's immense weight. Also, nobody could figure out how to make the torch as bright as Bartholdi wanted it. And there was not nearly enough money.
When the American centennial rolled around in 1876, Bartholdi had completed Liberty's right hand and torch, but not much else.
Still, booster committees in France and the U.S. kept at it. Soon, Liberty's hand and torch were on display at the world's fair in Philadelphia, then at Madison Square Park in New York. The head and shoulders, once Bartholdi had completed them, went to the 1878 World's Fair in Paris. New York poet Emma Lazarus pitched in by penning "The New Colossus," a poem about "your tired, your poor, your huddled masses yearning to breathe free" — but it had little or no short-term effect.
So if poetry and previews didn't raise the needed money, what did?
Vanity. In 1885 newspaper mogul Joseph Pulitzer joined the fund-raising and promised to print donors' names on the front pages of his New York World and St. Louis Post-Dispatch. More than $100,000 flooded in.
By 1886 the statue was ready. On Oct. 28 of that year, a grand flotilla filled New York Harbor as President Grover Cleveland and Bartholdi unveiled Miss Liberty.
Back then she was a copper-skinned beauty (said to resemble the sculptor's mother), who would go green over the next 20 years. Her hardiest visitors could not only climb to the crown, but also scramble up a 42-foot ladder inside Liberty's arm, emerge inside the torch and look down on her face.
Even without torch access, it's still a thrill to ride or climb to the top of the pedestal, about 150 feet up. And once you're there, think about the challenge of keeping this contraption together.
The cost of Liberty, you could say, is eternal maintenance. The NPS estimates that it spends $6 million per year maintaining Liberty and Ellis islands. But some years are worse than others.
Take 1916. The U.S. hadn't officially entered World War I, but was supplying the British with ammunition, shipping much of it from New Jersey's Black Tom Island, less than a mile from Liberty. So the Germans hatched a plan. In the wee hours of July 30, 1916, German-backed saboteurs sneaked onto Black Tom and set off a massive series of explosions.
Seven people were killed. Tremors were felt in Philadelphia. Though she wasn't the target, Miss Liberty suffered more than $100,000 in damage (a CIA historian's account mentions shrapnel scars) and the torch was closed — a ban that's never been lifted even after the 1980s restoration.
And since then, Liberty has been witness to more catastrophes and has been subject to multiple closures.
After the Sept. 11 attacks on the World Trade Center (about 1 mile northeast of the statue), Liberty Island was closed for 100 days, Liberty's pedestal was shut until 2004 and Liberty's crown until 2009.
Then in late 2011 the NPS closed the statue and pedestal for a year of safety upgrades.
And then, on the day after Liberty reopened on Oct. 28, 2012, Hurricane Sandy hit, closing the island for about nine months.
So here's the good news: Our democracy is challenged at the moment by difficult questions , but after years of troubles, our Liberty is as clean, bright, safe and accessible as she's been in a century. Maybe she's not smiling, but we might as well.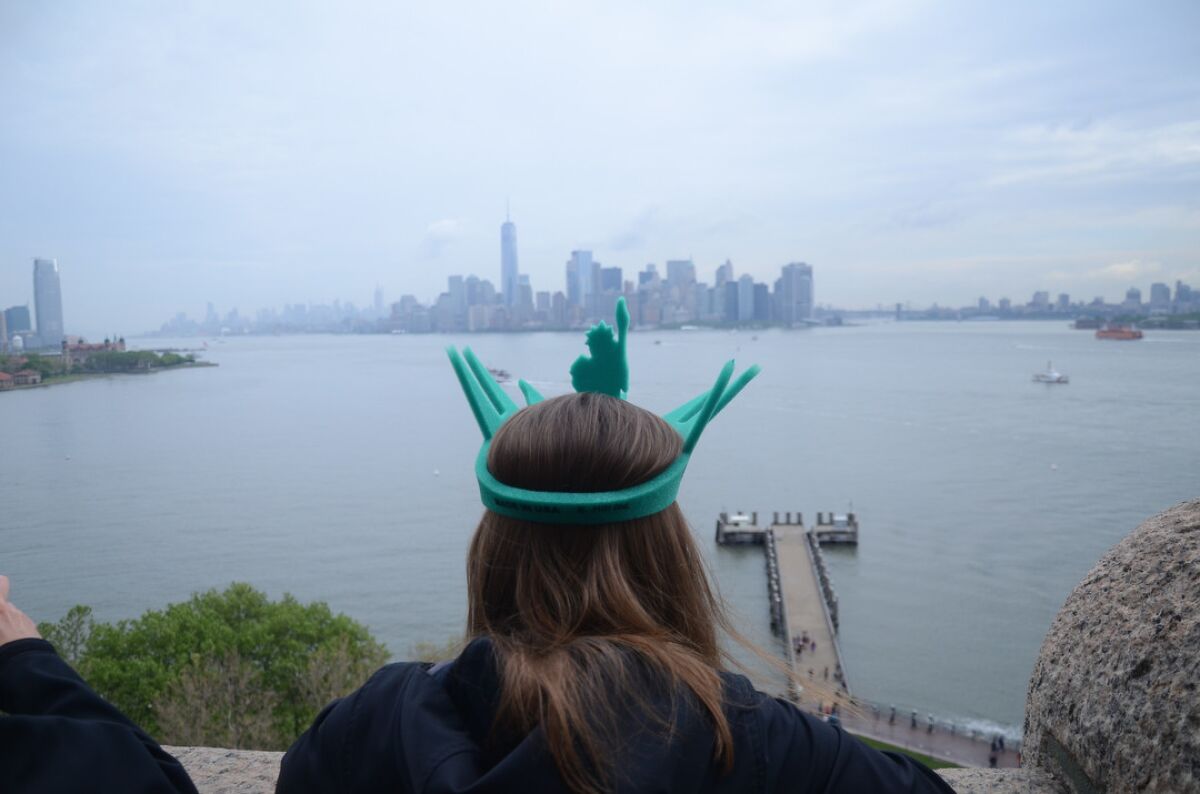 Emma Lazarus and the huddled masses
The words "Give me your tired, your poor, your huddled masses yearning to be free" were nowhere to be seen on the Statue of Liberty when it was unveiled in 1886. But they're forever linked with the landmark and Emma Lazarus, the poet who wrote them.
In 1883 Lazarus was 34, an author and wealthy New Yorker from a Russian Jewish family, worried about Eastern European Jews fleeing the Continent. She wrote a poem, called it "The New Colossus," and submitted it to be auctioned at an event to raise funds to build the statue's pedestal.
When the statue was unveiled three years later, Lazarus was in Paris. Before its second anniversary she was dead, apparently from Hodgkin's lymphoma.
But in 1903, her friend Georgina Schuyler had the poem engraved on a plaque and placed inside the statue's pedestal. Few noticed at the time, but by the 1940s, as immigrants came to associate the looming statue with their arrival (and rangers moved the poem to a more prominent spot), "The New Colossus" took on new life.
It's quoted in the films "Hold Back the Dawn" (1941) and "Saboteur," a 1942 Alfred Hitchcock thriller with closing scenes on Liberty's torch. For the 1949 Broadway musical "Miss Liberty," the poem was set to music by Irving Berlin, who entered the U.S. through Ellis Island in 1893.
Tips for visitors
Getting there: From Battery Park at the south end of Manhattan, it's an $18-per-adult round-trip ferry ride to Liberty and Ellis Islands; or $21 for a crown-access ticket, from National Park Service concessionaire Statue Cruises (www.statuecruises.com). The crown-access reservations are grabbed up months ahead.
Accessibility: The Liberty Island grounds and museum are wheelchair-friendly, as is the elevator to the top of the statue's pedestal. The outdoor observation deck and balcony on that level are not wheelchair-accessible, nor is the crown. For travelers with limited mobility, wheelchairs can be borrowed at no cost, first-come, first-served, on both Liberty and Ellis islands.
Best time to visit: In spring and fall, you'll avoid the severe cold and most of the heat and humidity that can plague New York summers. As for photos, the statue faces southeast. I caught nice light on her face about 9 a.m. on a clear morning in late May, but clouds and fog are always a possibility.
Eat: For a snack in Battery Park, check out the Table Green Café kiosk, which has $7 grass-fed hot dogs, along with vegetable wraps, organic lemonade and local beer. For comfort food in a lively pub setting, Greenwich Street Tavern, 399 Greenwich St.; (212) 334-7827.
Sleep: Because Wall Street and the financial district are at the south end of Manhattan, many stylish lodgings in that area (FiDi, they're calling it) drop prices dramatically on weekends. One such place (with a pleasant Felice restaurant), is Gild Hall, a Thompson Hotel, 22 Platt St.; (212) 232-7700. On summer weekends, rooms for two run $239 and up.
More info: Statue of Liberty, www.nps.gov/stli. Ellis Island, www.libertyellisfoundation.org and www.saveellisisland.org.
Twitter: @mrcsreynolds
Follow our adventures: Facebook | Twitter | Pinterest
MORE NATIONAL PARKS
Discover our desert national parks and rediscover yourself. You can start with Joshua Tree
Manhattan Project National Historical Park tells how and why the U.S. built and used atomic bombs
Olympic and Everglades national parks differ in most ways except one: Their survival affects ours
Get our L.A. Goes Out newsletter, with the week's best events, to help you explore and experience our city.
You may occasionally receive promotional content from the Los Angeles Times.