Shockingly good cruise ship food? That's the idea behind lines' collaborations with celebrity chefs
Royal Caribbean's Freedom of the Seas has the Freedom Day Spa on Deck 11, offering such services as stone therapy. On any cruise ship, it's a good idea to book spa services soon after you get onboard -- but check out the facilities first.
(Holger Leue / Getty Images / LOOK)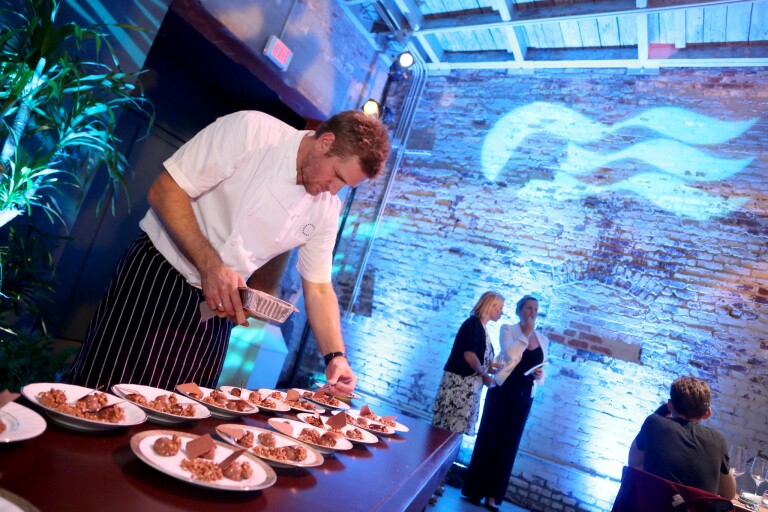 Chef Curtis Stone and Princess Cruises officially kicked off a partnership in August 2015 in downtown Los Angeles.
(Casey Rodgers / Invision for Princess Cruises)
Share by Curtis Stone is the chef's first restaurant in his partnership with Princess Cruises.
(Casey Rodgers / Invision for Princess Cruises)
Curtis Stone, known for his restaurant Maude in Beverly Hills, sends some of his culinary creations out to sea with his Share restaurant concept for Princess Cruises.
(Casey Rodgers / Invision for Princess Cruises)
I was exploring the 3,084-passenger Ruby Princess, docked at the World Cruise Center in San Pedro, when I stumbled across a dessert display and tasting — a wondrous thing to chance upon, especially given that the theme was "Chocolate Journeys."
Spread out in front of me were hundreds of dreamy desserts in all varieties of chocolate: white, milk, dark and sweet. I saw truffles, cakes, mousses, cupcakes and pastries. Multiple trays were festooned with dozens of tiny chocolate confections, each a silky, rich work of art.
My ship had truly come in.
As sweet and wonderful as it was, the tasting was just a small part of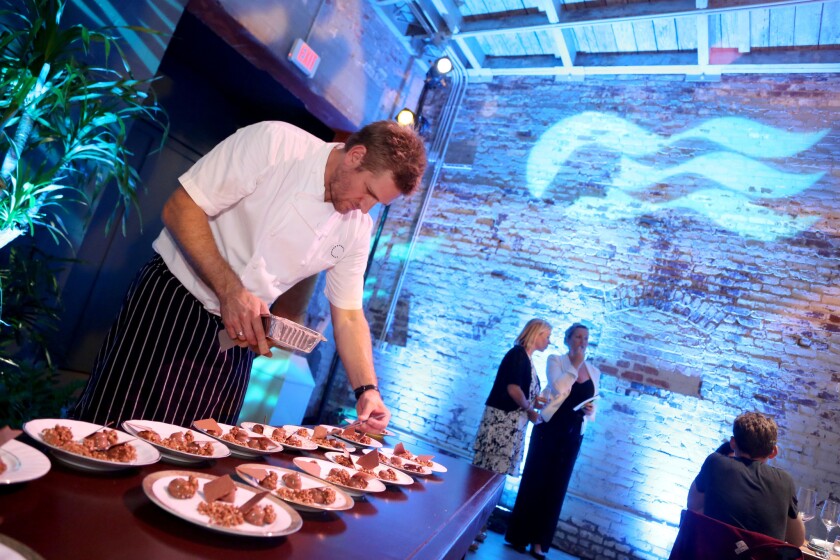 a Princess Cruises event to introduce new cuisines and a new restaurant. The media gathering was another volley in the battle by cruise lines to shake off the image of quantity-over-quality buffet lines and focus attention on new culinary offerings.
You can see the blossoming of cruise-ship cuisine in the development of innovative menus, the building of unique dining rooms and in the partnerships with celebrity chefs.
In Princess' case, the changes include teaming with chocolate master Norman Love, formerly a chef with Ritz-Carlton and designer of a successful line of chocolates, for what is called Chocolate Journeys, available fleetwide, and Curtis Stone, an Australian chef and TV personality whose Beverly Hills hot spot Maude is known for its seasonally inspired menu.
Stone has developed new restaurants for Princess called Share, which recently opened on the Ruby Princess and the Emerald Princess. Stone also created new dishes for Princess' main dining rooms and has trained other chefs.
The Share restaurants are part of the cruise line's $450-million effort to update its fleet. Ruby Princess and some other ships in the line also have a new Salty Dog gastropub featuring the savory rib-eye burgers, beef short ribs and wild mushroom saute of Ernesto Uchimura, chef of Los Angeles' Plan Check Kitchen and Bar.
Princess' new culinary program is integral to a Carnival Corp. plan to develop signature culinary experiences for its brands, which include Carnival, Princess, Costa and Seabourn, said Arnold Donald, chief executive of Carnival Corp. "We want people to be shocked at how good the food is," he said.
The company tapped celebrity chef Guy Fieri to represent Carnival Cruises, which caters to younger passengers. Fieri, a Food Network star ("Diners, Drive-ins and Dives"), developed Guy's Burger Joint for the line in 2012.
The upscale Seabourn Cruise Line features recipes developed by Thomas Keller, who has multiple Michelin three-star ratings and has been dubbed an outstanding chef by the James Beard Foundation. His new signature restaurant will open in May aboard Seabourn Quest.
Costa Cruises boasts that its Italian chef Bruno Barbieri has seven Michelin stars at multiple restaurants in Italy, Brazil, the United States and Britain. Barbieri's gala-night shipboard dinner menus include five courses.
"We try to design an experience that fits a particular segment of the population." Arnold said. Fieri, he said, fits Carnival's segment better; Stone is a better fit for Princess passengers.
Among other celebrity chefs and programs:
Crystal Cruises' Serenity and Symphony, which cater to high-end passengers, offer sushi creations from chef Nobu Matsuhisa. Nobu restaurants are known for innovative fusion cuisine.
European river cruisers also can enjoy special culinary programs with CroisiEurope, whose head chef is Alain Bohn, a member of Maîtres Cuisiniers de France (Master Chefs of France).
Oceania Cruises has a long-standing relationship with Jacques Pépin, a French chef and TV personality whose restaurant Jacques is available to passengers on the ships Marina and Riviera. Two-day culinary immersion programs are offered.
Paul Gauguin Cruises, known for its island-hopping voyages in French Polynesia and other island groups, works with another well-known French chef, Jean-Pierre Vigato, whose restaurant La Veranda features signature dishes. Vigato will set sail with the ship on Saturday on an annual weeklong trip that features culinary demonstrations.
Celebrity Cruises offers several unique culinary programs at sea, including "Top Chef" duels like the ones seen on the Bravo TV show. Passengers can schmooze with the chefs, ask questions or take a cooking class. The line also has "A Taste of Film" screenings in conjunction with its new Rooftop Terrace lounge for a multisensory experience. "Our culinary program gives our guests a way to taste modern luxury," said chef Cornelius Gallagher, associate vice president of food and beverage operations.
travel@latimes.com
::
Cruise tip: Book massages before leaving port
If you're dreaming about spending some of your cruise time getting a massage, you should book early. If you wait until you're on board, therapists may be booked, cruise lines say. Waiting does pay off, however, if you haven't yet seen the spa and want to make sure it's right for you. Check it out as soon as you board and make the reservation right away if you like what you see (and smell).
---
Get inspired to get away.
Explore California, the West and beyond with the weekly Escapes newsletter.
You may occasionally receive promotional content from the Los Angeles Times.