Cowpoke by day, aristocrat at night at Alisal Guest Ranch in Solvang
A ride with a wrangler, left, and gentle Wilbur, the horse, is slow and scenic at Alisal Guest Ranch & Resort, just outside of Solvang.
(Sara Lessley )
Hiking through the rolling hills high above Alisal, there are seemingly endless vistas of green and, if you look closely, a glimpse of the ranch itself nestled amid the trees, below center.
(Sara Lessley )
Tree-lined paths lead from the bungalows toward the dress-up-for-dinner dining room, rear.
(Sara Lessley)
One of the noisy sentries at the petting barn.
(Sara Lessley)
The horses wait quietly for the next trip across some of the Alisal's 10,000 acres.
(Sara Lessley)
A dinner special: Seared ahi tuna steak with bok choy at Alisal Guest Ranch & Resort.
(Alisal Guest Ranch & Resort )
At the top of a ranch vista point, a hiker relaxes in the shade. The settled Santa Ynez Valley, left, seems far away.
(Sara Lessley)
The California drought has taken a toll on the water level in the 90-acre private lake.
(Sara Lessley)
Lake Alisal may be low but it's a serene place to paddle, with only a few cows for company.
(Sara Lessley)
A bell tower atop the church. Santa Ines was founded in 1804, the 19th of the 21 California missions built.
(Sara Lessley)
Alisal Guest Ranch and Resort in the Santa Ynez Valley is deliberately old-fashioned — no TVs or phones in the rooms — and promotes its outdoorsy activities in an elegantly rustic setting.
While my husband played golf, there was plenty of local history for me to explore in Solvang at the Elverhoj Museum and at Old Mission Santa Inés, as well as ranch-hills hiking and kayaking. Our five-person suite (sorry, kids, we forgot to invite you) had two bathrooms, a sitting room with a fireplace and two day beds.
The Alisal Guest Ranch feeds its guests well — two or three times a day, depending on the package. The steaks were superb, but so were the nightly specials. We dined at an assigned table, suitably attired for dinner (jackets for men, dressy outfits for women). Just like a cruise ship.
Road trips: where to go and what to know
Naturally, Alisal (cattle ranching since the 1800s and hosting guests since the 1940s) is full of livestock. It took me some time to work up my courage, but a friendly wrangler got me astride Wilbur, a patient older horse that carried me slowly through the rolling landscape dotted with lichen-draped oaks and sycamores to the top of T-Bone Ridge.
As I surveyed the never-developed hills, interrupted only by the distant flat spot of a presidential helipad (the ranch and Ronald Reagan were neighbors back in the day), I imagined the original Chumash inhabitants or the later Mexican land-grant owners walking along this same too-narrow-for-a-truck path.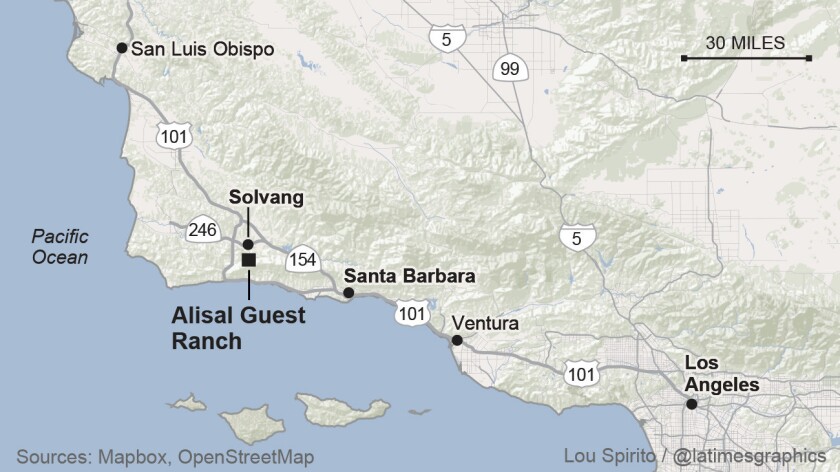 Miles one way from downtown L.A.
About 155
Resources
Alisal Guest Ranch and Resort, www.alisal.com; Elverhoj Museum, www.elverhoj.org; Old Mission Santa Inés, www.missionsantaines.org.
Have an incredible road trip story or a useful tip? Share your memories and suggestions with us in the comments.
---
Get inspired to get away.
Explore California, the West and beyond with the weekly Escapes newsletter.
You may occasionally receive promotional content from the Los Angeles Times.