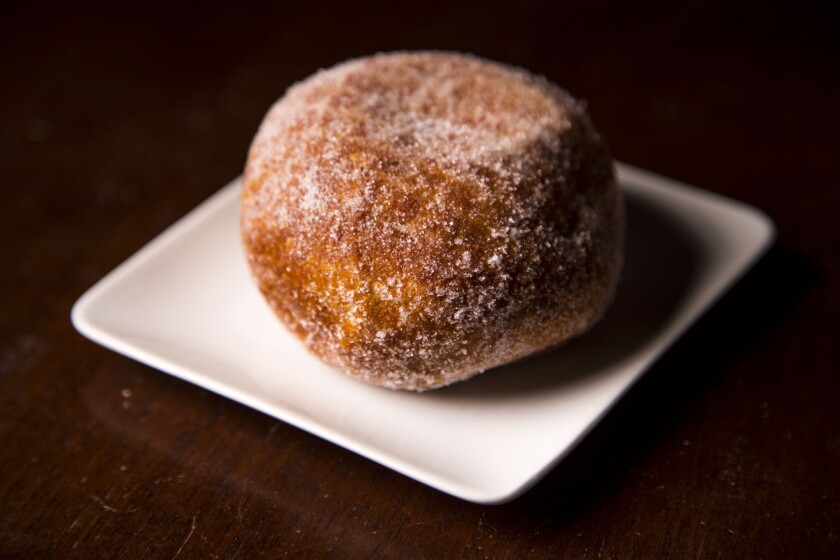 HONOLULU —
Some people call them Portuguese doughnuts. I call them little pillows of fried-dough perfection.
Whatever you call malasadas, you can't deny they are delicious and addicting in ways that only things that are bad for you can be.
For this we can thank the Portuguese who came to Hawaii in the 1800s to work in the sugar cane fields. I would say the malasada was Portugal's greatest contribution to Hawaii — people notwithstanding — but that would be insulting to the ukulele, for which we also can thank Portugal.
Which is better? Both are sweet, but the ukulele has no calories, and it doesn't make you want to bury your face in it like a French pig rooting for truffles. Based on decorum alone, the instrument wins.
Based on a recent visit to three malasada places on Oahu, the ukulele loses.
Here are three favorite destinations where the experiences were wonderful but different.
Leonard's
Leonard's has been a fixture since 1952 and began selling malasadas the next year. It is perpetually busy as people line up for pink boxes full of just-out-of-the-fryer puffs.
We chose sugar, sugar-cinnamon and li hing. Those who know li hing mui , a kind of Chinese crack seed, can relax; they aren't salty sour like the seed, but there is a nice contrast of sweet and a tiny bit salty.
For $10, we sat with our box of six malasadas and a bottle of water outside on benches with other like-minded folk. One thing you won't hear at Leonard's is a lot of talking because people are too busy eating. One thing you will hear is birds chirping as they beg for a bite.
Who can blame them?
Leonard's Bakery, 933 Kapahulu Ave., Honolulu; (808) 737-5591, www.leonardshawaii.com. 5:30 a.m. to 10 p.m. Sundays through Thursdays, open an hour later on Fridays and Saturdays.
Champion
We didn't try the filled malasadas at Leonard's; we saved those for Champion's, which has been in business for about 15 years in an unglamorous spot on Beretania Street.
We did try the plain sugar ones, and they were just-out-of-the-fryer great, but here we did something purists don't condone: We tried the custard and chocolate filled.
The word that comes to mind: hemolele, Hawaiian for "perfect." Sometimes it means holiness, as in the baby Jesus, which might also be correct because I'm pretty sure I saw God when I tried these.
Champion Malasadas, 1926 S. Beretania St., Honolulu; (808) 947-8778. 6 a.m. to 7 p.m. Tuesdays to Saturdays, 6:30 a.m. to 4 p.m. Sundays. Closed Mondays.
Agnes'
You get only one kind of malasada at Agnes' Portuguese Bake Shop in Kailua on windward Oahu and that's sugar. There is absolutely nothing wrong with that.
In fact, everything was right. Agnes' malasadas made me swoon for a different reason: They had an ever-so-slight crunch, perhaps the result of a bit of sugar that had caramelized. Heaven in a bun.
Agnes' has places to sit, so you can have a more civilized snack/breakfast/lunch.
I didn't want to wreck my palate so I stuck with the malasadas, but Agnes' array of baked goods includes a portable bread pudding that's labeled, "Yes, this is the one." Those who sampled it later back on the mainland said they would return just for that.
Agnes' Portuguese Bake Shop, 46 Hoolai St., Kailua; (808) 262-5367, www.agnesbakeshop.com. 6 a.m. to 6 p.m. Tuesdays to Saturdays; 6 a.m. to 2 p.m. Sundays. Closed Mondays.
---