Who takes their 86-year-old dad to a cemetery? I did. But we were really in the desert for a golf weekend escape
Some years ago, my father and I celebrated milestone birthdays with a wonderful six days of golf in Scotland. We played the Old Course at St. Andrews, Royal Troon and Carnoustie, basked in pristine weather and 10 p.m. sunsets, and made memories that are re-shared each time we get together. So when Dad came to Los Angeles recently, escaping the Midwestern winter for a few days, I searched for an overnight getaway that would get us on a golf course again. San Diego? The resort courses tend to be over-the-top expensive and I didn't want to fight the traffic. The Palm Springs area, on the other hand, seemed ideal — reasonable drive, warm weather, pretty setting. T
he tab: We spent about $450, including $145.70 for a night at the Best Western Date Tree in Indio; $124.76 at Pacifica Seafood in Palm Desert; and $99 each for a round of golf in La Quinta.
The bed
OK, the Best Western Date Tree (81909 Indio Blvd., Indio; [760] 347-3421) is not exactly luxury living. But the motel, just off Interstate 10, was modern, clean and reasonably priced. We spent one night and enjoyed a nice buffet breakfast with plenty of hot food before heading to the golf course, which was 15 minutes away.
The meal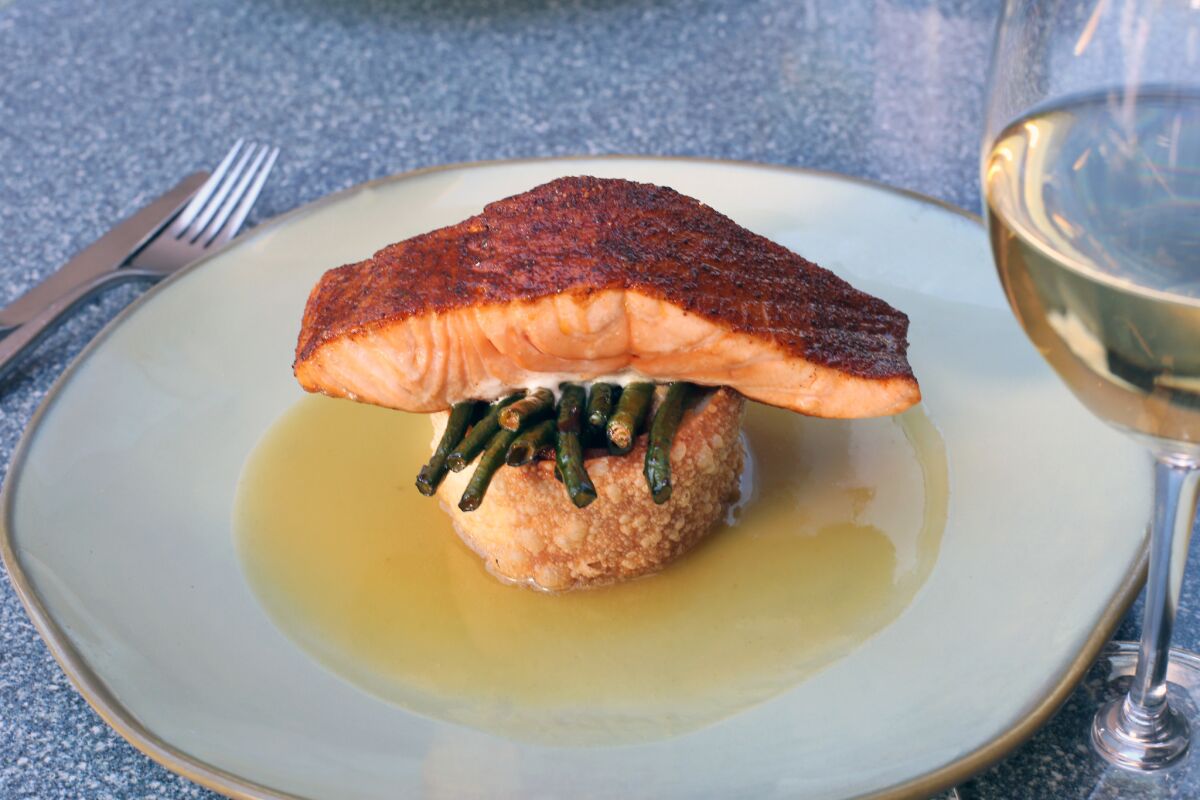 Pacifica Seafood (73505 El Paseo, Suite F-2608, Palm Desert; [760] 674-8666), is on the second floor of the Gardens shopping center on El Paseo, a lovely avenue in the heart of Palm Desert. We sat on the heated outdoor patio, choosing delicious soup starters (clam chowder for Dad and mulligatawny for me), followed by impeccably prepared Lake Superior whitefish and sugar-spiced salmon. Nice feature: Pacifica offers full and half-portions of its entrees.
The course
The valley has more than 100 golf courses, guidebooks say, and I don't doubt it. I wanted to play one of the famous ones — the Stadium Course at PGA West. But my father, though able to shoot his age at 86, preferred something a bit less intimidating. So we booked a noon tee time at the Greg Norman Resort Course, another PGA West facility (81405 Kingston Heath, La Quinta; [760] 564-3900, ). Our greens fee was $99 each, about half the price of its more famous cousin. The course was pleasantly challenging, well manicured, in a pretty setting and with a friendly staff. We were paired with a nice couple visiting from Kansas (a plus for Dad, also a Kansan), and we made it around in a brisk four hours.
The find
On our way out of town, we stopped at the Desert Memorial Park in Cathedral City. (I know, who takes their dad to a cemetery?) I had been here before, while reporting a story on Frank Sinatra, but hadn't had time to explore the gravestones of other Hollywood luminaries. We picked up a map at the office and spent a pleasant hour visiting Sinatra and his family, of course, but also a surprising number of one-time desert-dwellers, including Betty Hutton, William Powell, Sonny Bono and Jimmy Van Heusen (the four-time Academy Award winner who composed dozens of mid-century standards, including "Call Me Irresponsible"). And for students of golf history: Claude Harmon, 1948 Masters winner and PGA hall of famer.
The lesson learned
You can save a lot of money by making golf reservations in advance online. We saved nearly $100 each doing that. Also, greens fees are time-sensitive — highest in the mornings when it's cooler, and cheapest in the heat of the day.
---
Get inspired to get away.
Explore California, the West and beyond with the weekly Escapes newsletter.
You may occasionally receive promotional content from the Los Angeles Times.