Newsletter: Escapes: You're stressed? Mérida, Mexico, can fix that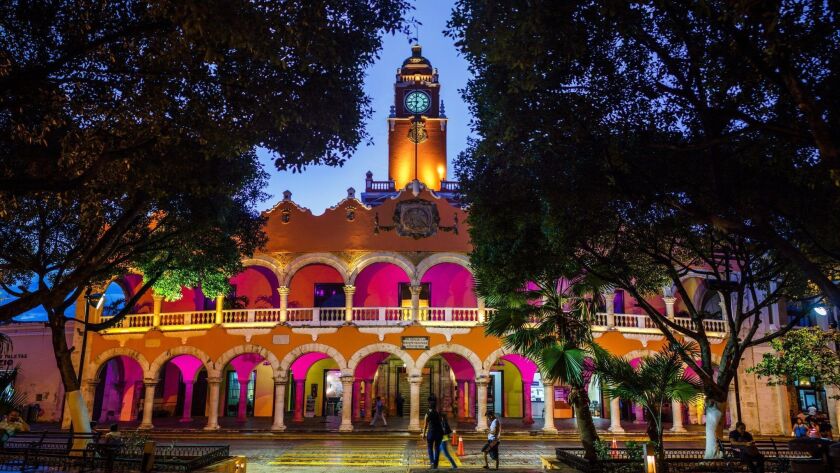 Where do you go when you want to turn life's noise down a notch?
Margo Pfeiff, a frequent and longtime contributor to the Travel section, found that Mérida, Mexico, was a respite from life's cacophony.
Safety was a priority for Pfeiff, who was traveling alone. She likes Yucatecan cuisine and, she said in an email, "I also know that an old colonial center could keep me occupied for a long time."
Perhaps most of all, she liked knowing she could go to the Yucatán's flashier attractions — "beaches, wildlife reserves, heritage haciendas and ruins" — but, she said, "I felt no guilt in doing none of those things…. It was a perfect fit for my mood and for changing my mind about doing things at the last minute."
My name is Catharine Hamm, and I'm the travel editor for the Los Angeles Times and the host of this newsletter. As we prepare for another downpour in the Southland, a sunny, stress-free destination may be your ticket to sanity. But we also offer other ideas: a luxury camping trip in the Arizona desert or, if our recent weather has kindled a desire for more cold, a winter sporting adventure in Norway or ski trip to Vegas, of all places.
Plus we have a pack of helpful tips and info that includes making sure you don't come home sick after your trip, being sure you won't pay $32 to cross the Golden Gate Bridge, and taking a look at the A380 (especially its interiors), the jumboest of jets that proved unsustainable.
All of this and more as we wait for the real Southern California to return from what seems to be a vacation of its own.
In Mérida, making your own itinerary is a balm
Mérida isn't a large city — about three-quarters of a million people — but it has more than enough art and culture to engage gently with visitors. Writer Margo Pfeiff didn't plan to write a story on this emerging destination, but she also didn't want to keep it all to herself because, after decades of travel writing, that's like breaking a secret pact with readers. Here's her take on a place that gave her permission to say "no" to dashing hither and yon and "yes" to getting lost on purpose.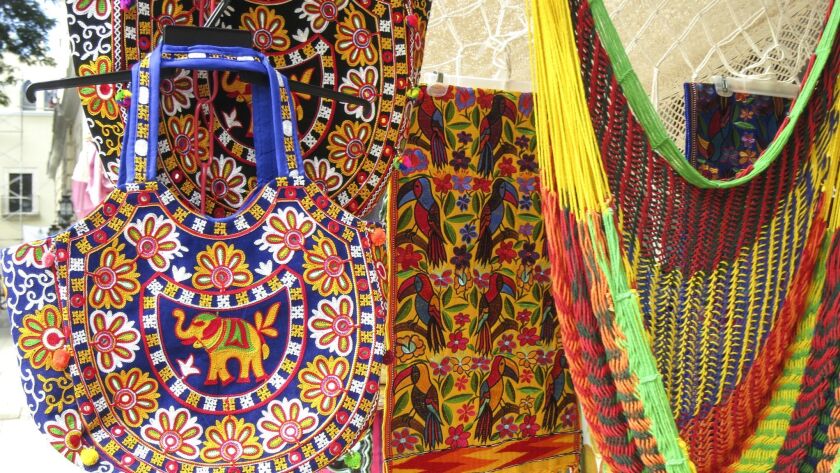 Dashing through the snow
Zac Boyer's idea of a vacation was pretty much the opposite of Pfeiff's. He wanted fast and furious with a dollop of Scandinavian winter. That explains how he ended up bobsledding, an adrenaline-packed adventure that had me gripping the sides of my chair.
That's a Wow
Looking for a cheap ticket to see the northern lights? Mary Forgione found flights from Wow that can get you to Iceland — round trip from the East Coast — for less than $200 (that's not a typo). These were going fast, so jump on this.
Coming home sick
That's not homesick, as in a longing for the place we live. That's sick sick, which is what happens to many of us after we travel. How many times have you returned home with a rotten head cold? Or realized that your stomach is rocking and rolling? It happens (and yes, it just happened to me, which is how this On the Spot came to be). Here's how to avoid that unsettling welcome home.
Having your cake, eating it too
"Camping has never been my thing," Sharon Boorstin writes. Mine either, but this Weekend Escape to the Tanque Verde Ranch did have me reconsidering, especially because this place is billed as luxurious camping, which isn't an oxymoron. Forget deprivation and smelling like an old campfire; this is a way to spend time in nature without the inconveniences.
Gather 'round the campfire … in Vegas?
Yes, indeed, Michael Hiller writes. Of two noteworthy culinary events, one is laid-back and the other isn't, but both are worthy of your attention: A culinary event on March 3 called Whiskey in the Wilderness at Spring Mountain Ranch State Park is a gathering of 15 chefs, which more than suggests it's not going to be a hot-dog-on-a-stick kind of outing. On the fancier side of things, another culinary event, this one on March 7, features a seven-course meal by the culinary protégés of the late Joël Robuchon.
Then gather 'round the ski lift, just outside Vegas
Mammoth has received more than 30 feet of snow this season. Our local snow resorts are getting more than their usual share. Over in Vegas, about a foot and a half of snow fell during Presidents Day weekend, Jay Jones reports, and Lee Canyon in the Spring Mountains (formerly the Las Vegas Ski & Snowboard Resort) has received more than 11 feet this season. So go. Gamble. Enjoy the Strip. But then head for the hills to indulge in your favorite snow sport.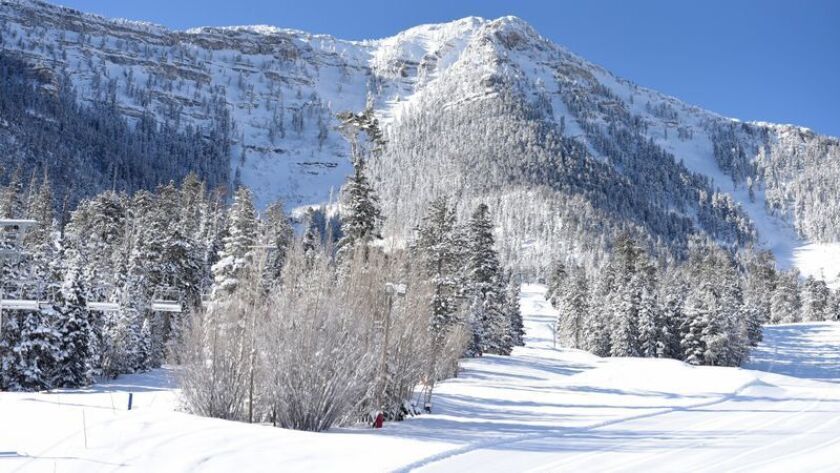 A380 was a great idea … until it wasn't
Ah, the lap of luxury. I want to live in that lap. The A380, in certain configurations, was that lap. The most jumbo of jets could, depending on its configuration, carry more than 800 passengers. But it also could (and did) create suites for its best customers. We look inside those big babies and see what luxury looks like after the announcement the A380 wasn't financially viable and would cease production.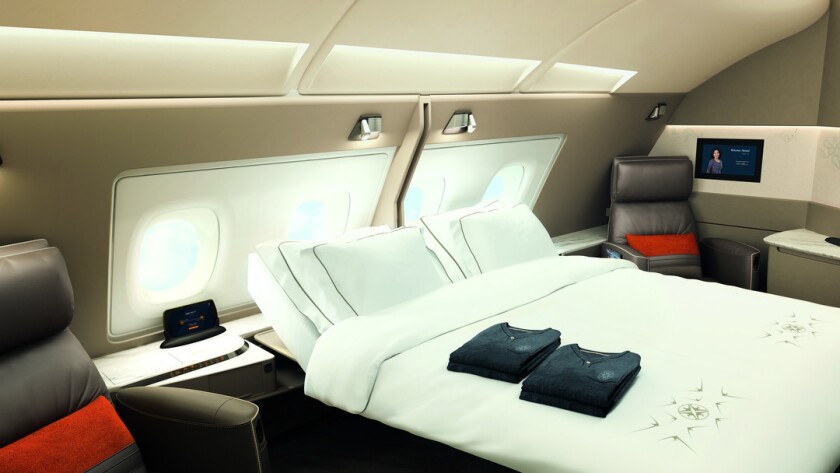 In San Francisco, a matter of the heart and the wallet
"People leave their hearts in San Francisco," City Atty. Dennis Herrera said. "We've made sure they don't have to leave their wallets with Hertz when they do." Herrera is referring to a settlement of a lawsuit the city brought against Hertz for charging people to use PlatePass, the rental car company's version of FasTrak. Two issues with the device: If you used it only one time, you still had to pay for its use every day of your rental, and fees make the cost to cross the famed bridge as much as $32 a day. Read what the $3.65-million settlement means for renters.
What we're reading
"Modern slimline airplane seats are awful, reporter Benjamin Zhang writes in Business Insider. "They are lighter and thinner, which is good for airlines. For passengers flying in economy, it feels like you've sat on a thin yoga mat for three hours." But Airbus has a prototype seat called Move and that just may accomplish the trifecta of goals: saves weight, saves fuel, doesn't turn passengers into human planks, with help from an app. With thanks to Paul Haney's Eye on Aviation for this tip.
Cruising continues to be one of the most popular vacations going; in 2019, 30 million cruisers are expected to take an ocean voyage, according to Cruise Line International Assn. statistics. AARP makes it a little easier to choose from among the 272 ships it says will be operating in 2019. Christina Ianzito's nifty cruise guide divides the voyages by your cruising style (Sightseer? Adventurer? Lounger?) and offers suggestions on trips that will work with the vacation dollars you want to allocate — budget, midrange and splurge — and also offers suggestions on ways to keep your ship trip costs down.
The history of the sister cities program dates to Eisenhower and was a way to promote a more international view of the world. Jonathan Carey, writing in Atlas Obscura, describes how sister cities Osaka, Japan, and San Francisco hit a snag in their relationship. You'll also learn about the Orange County city that broke off one such relationship when it learned its sister city had been taken over by Islamic State.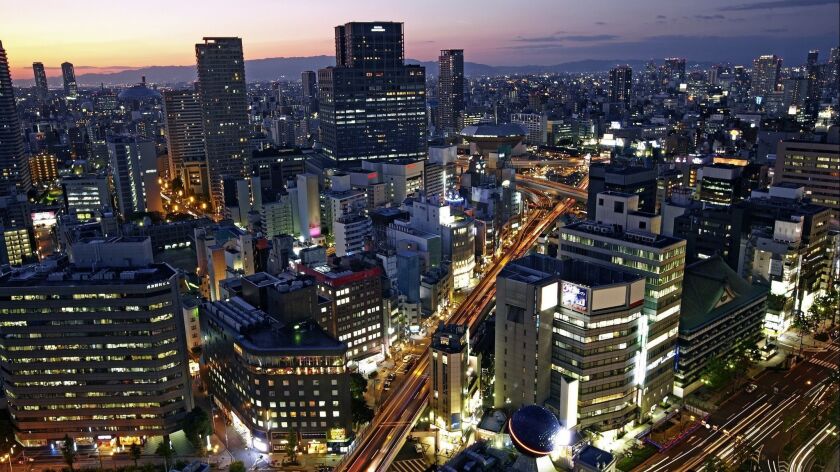 How to reach us, how to read us
If you have comments or suggestions on this newsletter, send them to travel@latimes.com. We promise we read them and take them to heart, even the ones that are critical. We're here to serve you.
If you would like to subscribe to this newsletter or many others from the Los Angeles Times for your specific interest, by going to membership.latimes.com/newsletters.
End paper
Books — the kind with covers and pages — may be the stuttering second cousin to their digital brethren, but we still get many of them.
One showed up on Tuesday that caught my eye: "Get Lost! A Travel Guide for Anywhere," by Lee Crutchley. It's a different kind of guide. It doesn't tell you to see this landmark or try that restaurant. Instead, it asks you a question and, depending on the answer, directs you to a page that suggests a path to follow.
For instance, it asks, "Are you an animal lover?" "Yes" sends you to a page that tells you to follow every dog and when you see another one, switch and follow that one until you're ready to be done. It's a different way to approach travel, and the questions are designed to help you avoid being programmed into an itinerary based not on "must" but based on "want."
Here's one question that stopped me. (It's the first question in the book, but I started in the middle): Are you living or existing? If it's the second answer, it suggests you "Do what you love. List your three favorite things to do and spend at least one hour enjoying each of them today."
If one of the three things is travel, you don't have to jump immediately on a plane. Take a look at the destinations mentioned in this newsletter or call up a world map, focusing on a destination you want to see, and begin building the trip you want to take. Whether it ends up being one you go on or one that exists in your dreams, you will have done something you love. And that counts as a win any day.
And wherever you end up, on a trip of the mind, the heart or for real, travel safety and well and remember that we'll be here to welcome you home.
---
Get inspired to get away.
Explore California, the West and beyond with the weekly Escapes newsletter.
You may occasionally receive promotional content from the Los Angeles Times.