Fiji always feels like an old friend
Dravuni women singing a welcome to Cruise ship passengers on their arrival to Kadavu Island in Fiji.
(Paul Harris / Getty Images/AWL Images RM)
Native weaving a basket from palm leaves at Kokomo Island Resort; Kadavu Island woman from Nabukuleva village with basket of papaya; Kids playing in the water.
(Kokomo Private Island (left and right); Dahlquist Ron / Getty Images/Perspectives; )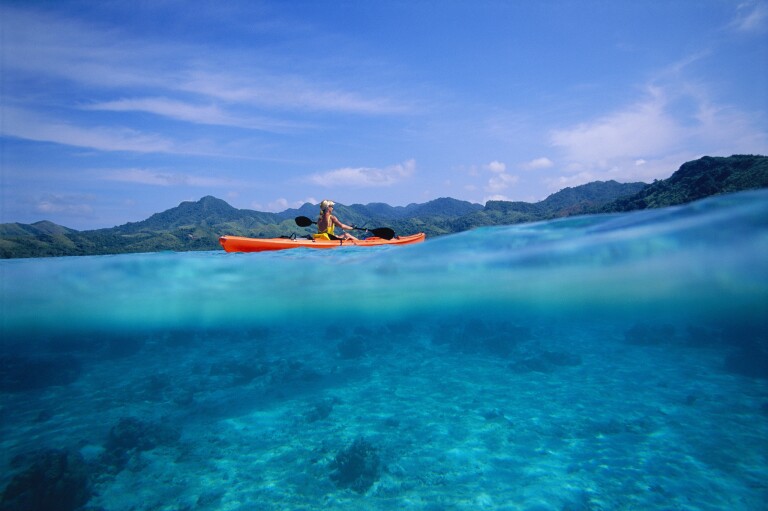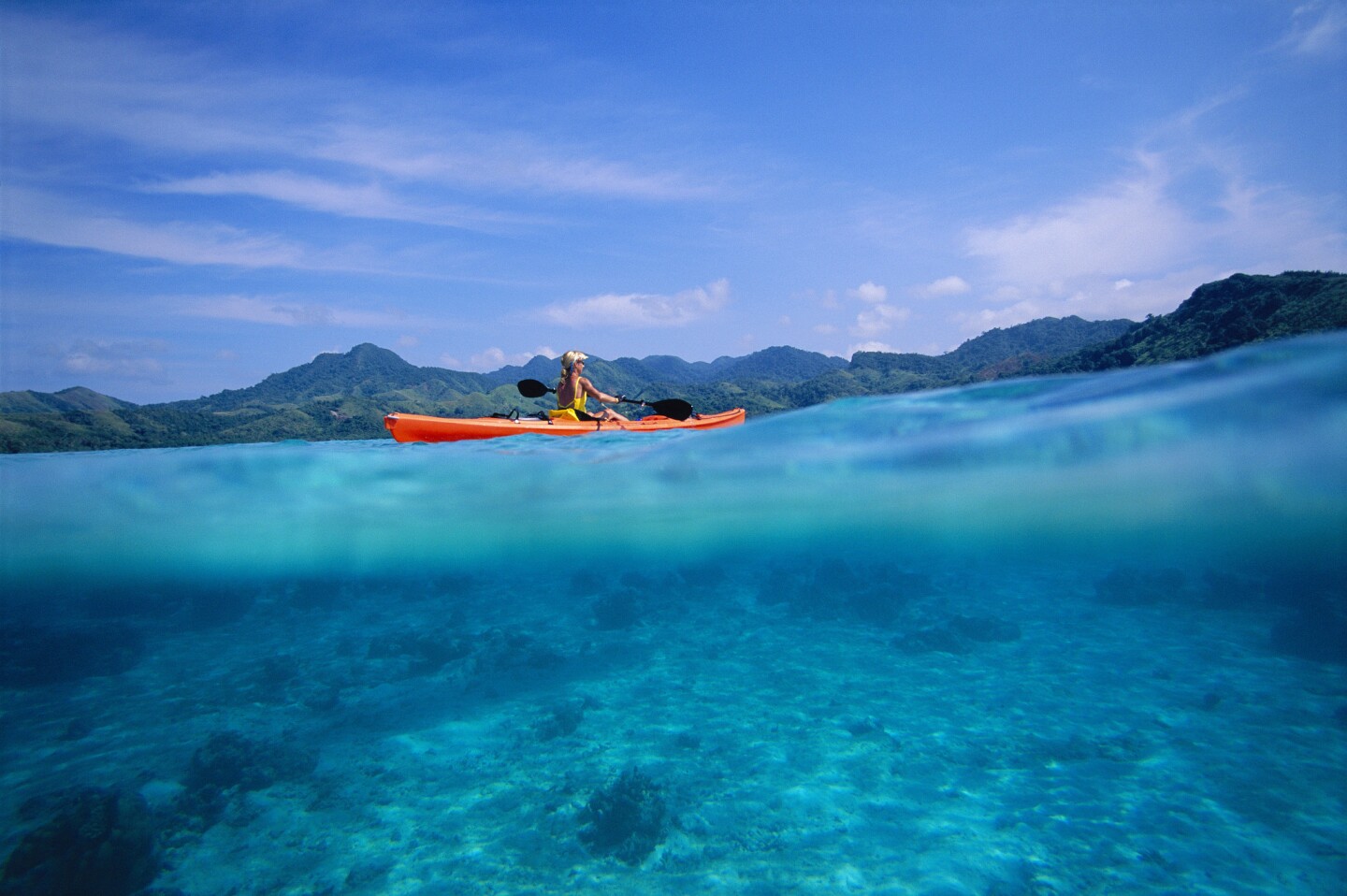 Kayaking in the Kadavu Islands in Fiji
(Ron Dahlquist / Getty Images/Perspectives)
Table coral in a shallow lagoon near Kadavu Island, Fiji
(Ethan Daniels / Getty Images/WaterFrame RM)
Clownfish swimming among pink anemone in Fiji
(Jodi Jacobson / Getty Images/Vetta)
Reporting from Kadavu Island, Fiji —
With a loud crack, Coconut Joe deftly whacked a fresh green coconut with his machete, slipped a straw in the opening and handed it to me.
"Bula!" he shouted, and the gathered staff enthusiastically launched into a Fijian welcoming song outside the open-air lobby of the new Kokomo Private Island resort.
Then my butler introduced himself and led me at hyper-slow speed down a hibiscus and bougainvillea-lined path where we bumped into — and chatted with — a gardener (his nephew), one of the chefs (a friend from his village) and a dive guide (his son-in-law).
Whether it's at a luxury seaside villa with its own infinity pool or a simple off-grid thatch-roofed bure in the jungle, Fiji has a laid-back, unpretentious hospitality that makes you feel as though you're part of one big, happy family.
It had been a decade since my last visit, but the vibe hadn't changed. I'm a fervent snorkeler and scuba diver and had long wanted to explore the Kadavu (pronounced "Kan-davu") Group south of the main island of Viti Levu .
This remote archipelago is perched squarely atop the Great Astrolabe Reef, one of the world's biggest.
The island cluster has mostly been a magnet for experience seekers and divers staying at a handful of mom-and-pop resorts.
A game-changer arrived on the scene in April, when Kokomo opened its doors on a 140-acre private island at Kadavu's northern tip. It was a labor of love for Australian property developer Lang Walker, who bought the island in 2011.
I came to explore both sides of the Kadavu Group.
Casual luxury
You can reach Kokomo by float plane or helicopter, which is how I arrived. The flight took me over turquoise sea-fringed islets with blindingly white, palm-lined beaches.
Lunch, after I landed, was alfresco at the Beach Shack restaurant, a fresh feast of baby octopus with coconut, papaya salsa and lemon balm followed by a main course of line-caught coral trout with pea purée and asparagus from the resort's organic garden.
Specialties created in the open kitchen are often based on the staff fishermen's early morning bounty; 42 chefs serve the resort's three eateries and 21 private residences and villas.
In early afternoon I grabbed a mask and snorkel, tiptoed over the hot sand and slipped into the clear ocean to float above aquarium-like water flickering with neon-colored fish, including "Nemo" clownfish. Within moments, one of the resident turtles glided by.
For a tiny island, it offers a lot to do. I kayaked, sailed a Hobie Cat on a windy day, hiked to the island summit for expansive views, took a medicinal plant walk with a Fijian elder and strolled to the tranquil spa set amid tropical trees to have my jet-lag massaged away with fragrant aromatherapy oil.
There were bicycles, Laser sailboats, stand-up paddleboards and the opportunity to try waterskiing, wakeboarding and fishing.
For a break one day I headed to a remote island beach for a gourmet lunch and scuba diving.
Luke, my guide, and I spotted white and black-tipped sharks, eagle rays and a stunning array of fish life and coral, including Fiji's famed yellow and white soft corals swaying in the current.
We saw dolphins on the return trip. At certain times of the year humpback whales swim nearby, and flocks of manta rays perform a magical underwater ballet.
The luxurious but casual resort featured Fijian design accents, and the hardwood furniture was sourced from Mel Gibson's eastern Fiji Mago Island cinnamon trees.
The interior was wicker, white and beige, with blasts of indigo, magenta, turquoise, yellow and chartreuse in tropically hued abstract paintings created by Australian artist-in-residence Chris Kenyon, whose work Walker has been collecting for years.
Kenyon is an architect as well as the set designer for the first two "Mad Max" movies so it made sense he would design the funky "fish shack" restaurant at the end of a wooden beachfront walkway.
Using recycled fish netting and maritime relics collected from ship-stripping yards, he crafted the character-rich Walker D'Plank where I gravitated most evenings for creative takes on Asian street food and Fijian cuisine.
At sunset I wrapped roasted duck in lettuce leaves and dipped pork belly saté in spicy sauces as I sipped Fiji Bitter to the ukulele rhythm of a local band.
Rustic hideaway
A half-day boat shuttle with stops for snorkeling en route brought me to Matava Resort, a rustic hideaway on the archipelago's main Kadavu Island, one of the least developed and most traditional parts of Fiji, where chiefs hold more power than in other areas.
As a new guest I was welcomed with a kava ceremony, sipping the peppery, mildly intoxicating juice from the plant's root that is the island's main commercial crop.
Slightly tipsy, I made my way with my solar-powered lantern to my sweet hillside bure overlooking the ocean.
After a nighttime thunderstorm I awoke to a pink sunrise and bird chatter. Kadavu, with 75% of its original rainforest cover, has rich avian diversity that draws international bird watchers.
My host, Isimeli Lawedrau, had arranged a village visit, alerting me to wear nothing above my shoulders — not even sunglasses on my head or a shoulder bag — a sign of respect to locals in very traditional and religious Fiji.
These villages, which aren't connected by roads, survive on subsistence farming and fishing.
I met Ratu, my local guide, after a short boat trip to Vacalea, a village of 200, where we settled into a sumptuous lunch served on a sarong spread on the floor of the new community hall.
The feast featured fresh tuna with Fijian spinach and coconut milk as well as my favorite Indian-Fijian fusion dish of curried lamb and potatoes.
Then Ratu and I kayaked back across the bay to his home and guiding headquarters, where I met his family, including his son who had just caught a fish half his height.
We trekked back over a jungle ridge to Matava, stopping at a hillside bure where he sliced a just-picked papaya on a deck with views of the reef and islands to the horizon.
Matava has a small dive center, with opportunities to snorkel, surf and fish. There is no beach at the resort, but it was a quick boat ride to one of many white sand strands I had to myself.
At the end of the day I would use the simple "Fiji phone" I was given to call for a pickup, just in time for the drum beating that signaled yet another homemade, lantern-lit dinner was about to be served on the deck beneath the banyan trees.
If you go
THE BEST WAY TO KADAVU, FIJI
From LAX, Fiji Airways offers nonstop service to Nadi, Fiji, and American, Delta, United, Qantas, Virgin Australia, Air New Zealand, Korean Air and Cathay Pacific offer connecting service (change of planes). Restricted round-trip airfare from $1,740, including taxes and fees. Fiji Airways offers nonstop service from Nadi to Kadavu. One-way fares from $202.
WHERE TO SLEEP
Kokomo Private Island, Yakuve Island, Kadavu Group, Fiji. For bookings: (877) 234-7033 . Five-star luxury all-exclusive private island resort with 21 villas with individual infinity pools, three restaurants, full-service spa and PADI five-star dive center. Two-night minimum. Private villas from $6,250 for two nights. Includes butler and daytime nanny for each child, Kids Club use, one free spa treatment and dive and all non-motorized water sports. Island transfers extra.
Matava Resort, P.O. Box 63, Kadavu Island, Fiji. Charming rustic hillside all-inclusive eco-resort with individual bures surrounded by rain forest. PADI-approved dive center and small spa. Village visits, deserted beaches, fishing, kayaking and hiking excursions. Three nights from $530 per person, double occupancy; meals and island transfers included.
WHAT TO DO
Tamarillo Active Travel, 011-64-21-752-855, info@tamarilloactivetravel.com. New Zealand-based outfitter works with Matava Resort and local operators and guides for custom single or multi-day kayaking trips — and village stays — around Kadavu Island.
TO LEARN MORE
---
Get inspired to get away.
Explore California, the West and beyond with the weekly Escapes newsletter.
You may occasionally receive promotional content from the Los Angeles Times.