Film museums around the world paint a beautiful picture of cinematic arts
No need to wait for the Academy of Motion Picture Arts and Sciences' and George Lucas' movie museums to open in Los Angeles: Major cities in Australia, Europe and North America have their own such institutions, most offering a diverse selection of screenings and permanent and temporary exhibits.
In many places, film history is covered in depth. Take, for instance, the Institut Lumière in Lyon, France, where you can see an early motion-picture camera called the Cinématograph No. 1, used by Lumière brothers Louis and Auguste.
You'll also see a special permanent exhibit at the Deutsche Kinemathek in Berlin that pays homage to "the achievements and fate of film professionals who were driven into exile by the National Socialists."
A far more lighthearted piece of movie history can be found at the London Film Museum, a repository of "creative action vehicles" driven by James Bond in the franchise's 23 movies.
Lights, action and lots of cameras.
Australian Centre for the Moving Image
Melbourne
The Australian Centre for the Moving Image in Melbourne, the country's arts and cultural capital, celebrates the moving image in its myriad forms. It describes itself as the "national museum of film, TV, digital culture and art."
It offers both permanent and temporary exhibits that later tour. "Bombay Talkies," for instance, which runs through July 2, uses materials from the extensive collections of Melbourne brothers Walter, Peter and Paul Dietze whose grandfather, Himanshu Rai, was a co-founder of the Bombay Talkies studio, which produced more than three dozen films.
He was married to actress Devika Rani, a film star who ran the studio after his death in 1940. The collection includes letters, both handwritten and inscribed on letterhead; stills; and artwork created for the exhibit.
The DreamWorks Animation traveling exhibit, organized by the center, explores the first 20 years of the studio's work on such favorite films as "Shrek," "Kung Fu Panda" and "How to Train Your Dragon," through rare and never-before-seen concept drawings, models, original artworks and interactive displays.
Info: Australian Centre for the Moving Image
Deutsche Kinemathek
Berlin
The Deutsche Kinemathek, in Berlin's Potsdamer Platz, traces its roots to 1963 and has a collection of 26,000 films, a million stills and 30,000 scripts as well as projectors and cameras spanning all eras of German film history.
Perhaps its crown jewel is the Marlene Dietrich Collection Berlin, which focuses on the multi-talented femme fatale who was born in what is now Berlin but became an American citizen in 1937.
She refused to work in Germany while Adolf Hitler was in power despite his requests. Her films included "The Blue Angel" (1930), "Destry Rides Again" (1939) with Jimmy Stewart and "Judgment at Nuremberg" (1961).
Through April 23, you'll also find a special exhibition called "Things to Come: Science Fiction Film," which focuses on whether the films' predictions for the future have come true.
Info: Deutsche Kinemathek
Eye Filmmuseum
Amsterdam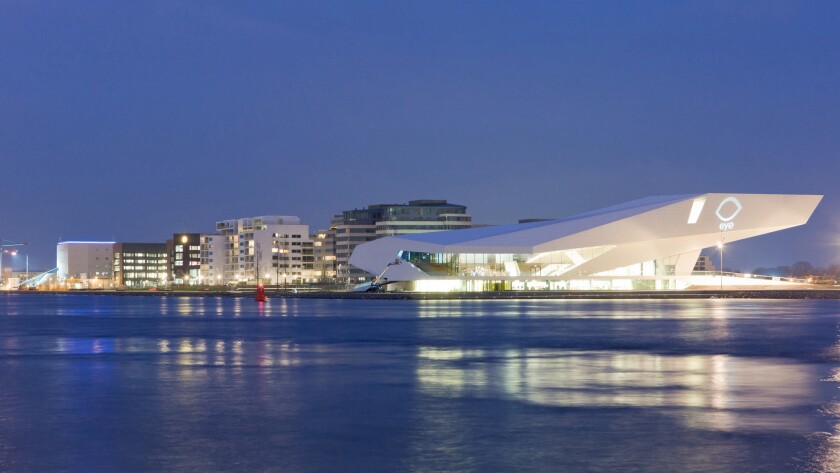 The Eye Filmmuseum in Amsterdam offers temporary and permanent exhibits, and it screens films 12 hours a day.
"Béla Tarr: Till the End of the World" introduces (or reacquaints) visitors with the Hungarian-born producer and director whose works include "The Turin Horse" (2011), "Satantango" (1994) and "Werckmeister Harmonies" (2000). The museum describes this exhibit as "a cross between a film, a theater set and an installation."
Eye also has special "listening benches" equipped with headphones. Visitors put these on to hear, through 3-D sound, the perspective of the cameraman from "Jaws" (1975), the scriptwriter of "Chinatown" (1974) and the composer of "Once Upon a Time in the West" (1968).
Eye is a star, albeit an architectural one, in its own right. It's on the harbor, and its bar and restaurant have a waterside terrace with cinematic views.
Info: Eye Filmmuseum
Institut Lumière
Lyon, France
The Institut Lumière in Lyon has a museum, library and robust program of daily film screenings and film festivals.
The Musee Lumière in Lyon occupies the family home of Lumière brothers Louis and Auguste, inventors of an early motion picture camera.
Their Cinématographe, which weighed about 11 pounds, was cranked by hand and could both record and project film.
Their first film, shown in 1895, was "Workers Leaving the Lumière Factory," and although it wasn't exactly an Oscar contender (the Oscars didn't come along until 1929), it is widely considered the first motion picture.
Besides giving us the moving picture, their Cinématographe also gave us the word "cinema," History.com says.
Info: Institut Lumière
La Cinémathèque Française
Paris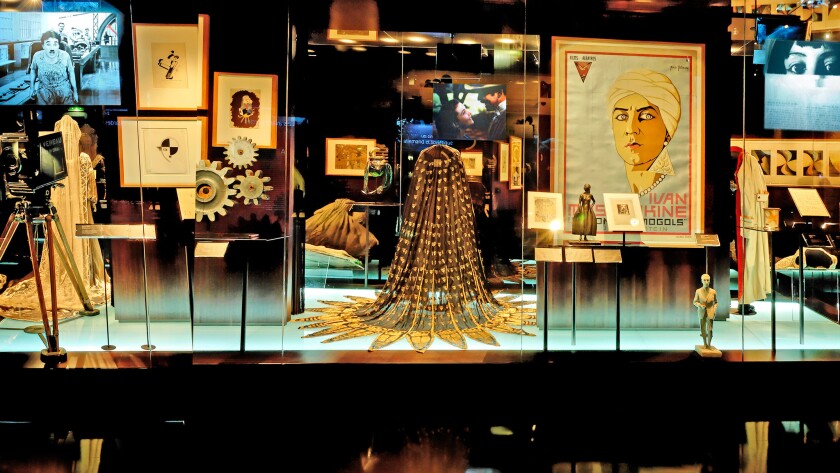 There's a star that's apparent the minute you set eyes on La Cinémathèque Française: The 2005 building in the 12th arrondissement was designed by Frank Gehry, known for such gems as the Walt Disney Concert Hall in Los Angeles; the Guggenheim in Bilbao, Spain; and the Weisman Art Museum in Minneapolis.
The museum features objects as diverse as 18th century image-making machines, magic lanterns, set drawings, storyboards and movie posters and photos.
Info: La Cinémathèque Française
London Film Museum
You can't really talk about the film industry in London without talking about Bond. James Bond. The London Film Museum in Covent Garden is all about 007 and his cars.
Among the many Bondmobiles on display is the archetypical Aston Martin DB5 (it looks a bit like an older Jaguar E that's had a nose job) from "GoldenEye" (1995).
All of the cars on display in the London Film Museum are original and were used in filming. Most are on loan from Eon Productions, the films' producer, and the Ian Fleming Foundation.
Info: London Film Museum
Museum of the Moving Image
New York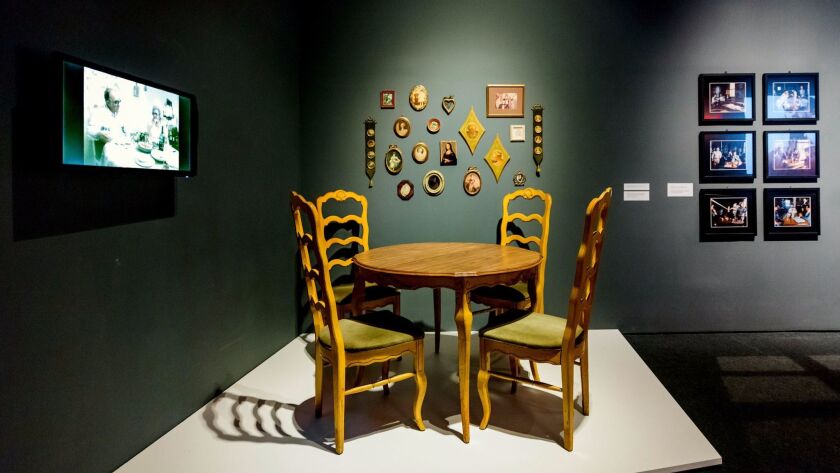 The Astoria, Queens-based Museum of the Moving Image, founded in 1988, explores the art, history, technique and technology of film, television and digital media.
Its core exhibit, "Behind the Screen," shows how movies and TV programs are made, marketed and experienced, explained with the help of 1,400 objects such as cameras, projectors and TV sets, fan magazines, posters and licensed merchandise.
A touring exhibit on filmmaker Martin Scorsese, now on display, features his family's dining room table and chairs, among other objects. (You'll hear Scorsese's name on Oscar night; his historical drama "Silence" is nominated for an Academy Award.)
The core exhibit of the museum lets visitors create their own short animation at a special station, recording up to 100 frames in a 10-second movie, which they can email to friends.
Info: Museum of the Moving Image
National Museum of Cinema
Turin, Italy
In 2000 the National Museum of Cinema in Turin opened in its home in the Mole Antonelliana, built in the 1860s as a synagogue for the city's Jewish community. Items from the museum's collection are displayed along the outer walls of each floor, opening up on to the spectacular, central, towering Temple Hall.
On display in the permanent exhibit are posters, film fragments and stage sets; its collection also includes movie advertising, brochures and magazines, audio recordings and musical scores.
The museum, which also projects sound and light shows onto its cupola, even contains a transparent elevator that takes visitors to a panoramic viewing platform affording views of Turin and the nearby Alps.
Info: National Museum of Cinema
Tiff Bell Lightbox
Toronto
Tiff Bell Lightbox is an outgrowth of the Toronto International Film Festival, which began life in 1976 as the Festival of Festivals. Since then, it has grown to become one of the most prestigious festivals in the world, attracting more than a quarter of a million people each September.
The museum offers a year-round schedule of exhibits on Canadian (Richard Kerr has a show of lightboxes on display through June 10) and global filmmakers, screenings and talks with stars, such as Michael Fassbender and Alec Baldwin, both of whom recently appeared here.
The Lightbox has numerous collections, including artifacts of Mary Pickford, the Toronto-born silent film star who was known as "America's Sweetheart." The exhibit of the one-time Gladys Louise Smith is called, appropriately, "Mary Pickford and the Invention of the Movie Star."
She won the second lead-actress Oscar for her performance in 1929's "Coquette."
The museum stages exhibits of photographs and materials from its library special collections, including a Kim Novak scrapbook, seen in "In Love With the Stars," an exhibit based on the collections of Hollywood photographer Jack Pashkovsky and fan scrapbooker Edith Nadajewski.
Info: Tiff Bell Lightbox
---
Get inspired to get away.
Explore California, the West and beyond with the weekly Escapes newsletter.
You may occasionally receive promotional content from the Los Angeles Times.