Shore bets to make a day at the beach sunnier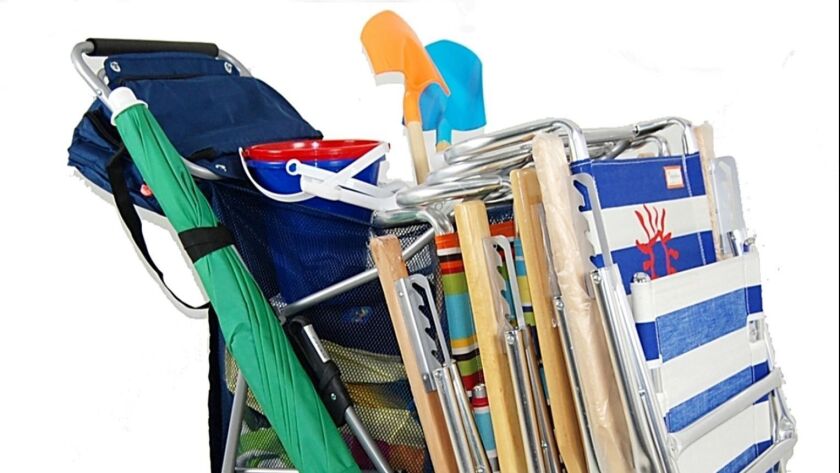 Going to the beach should be easy, and it is if you aren't toting a baby, a dog or a million electronic devices and don't have a way to get it all close to the waves. Wait, help is at hand.
Beach brigade
Here's a no-sweat way to get your stuff to the beach: the new Tommy Bahama all-terrain beach cart.
The hollow-steel-frame cart can handle most terrain, thanks to big back wheels and smaller steadying double wheels on both sides at the front. You can hook up four beach chairs to the front extension bar, fill the voluminous nylon mesh main compartment with more than you need, and stash a beach umbrella and other unwieldy items into built-in loops and slots.
A deep back pocket is useful for reading material, cameras, purses and other items. An included shoulder-strap-equipped, 48-quart zippered cooler clips to tabs between the adjustable handle and the back of the cart.
The cart folds like a baby stroller to a car-friendly 32 by 20 by 6 inches.
Info: Tommy Bahama all-terrain beach cart costs about $70.
Keeping your pooch safe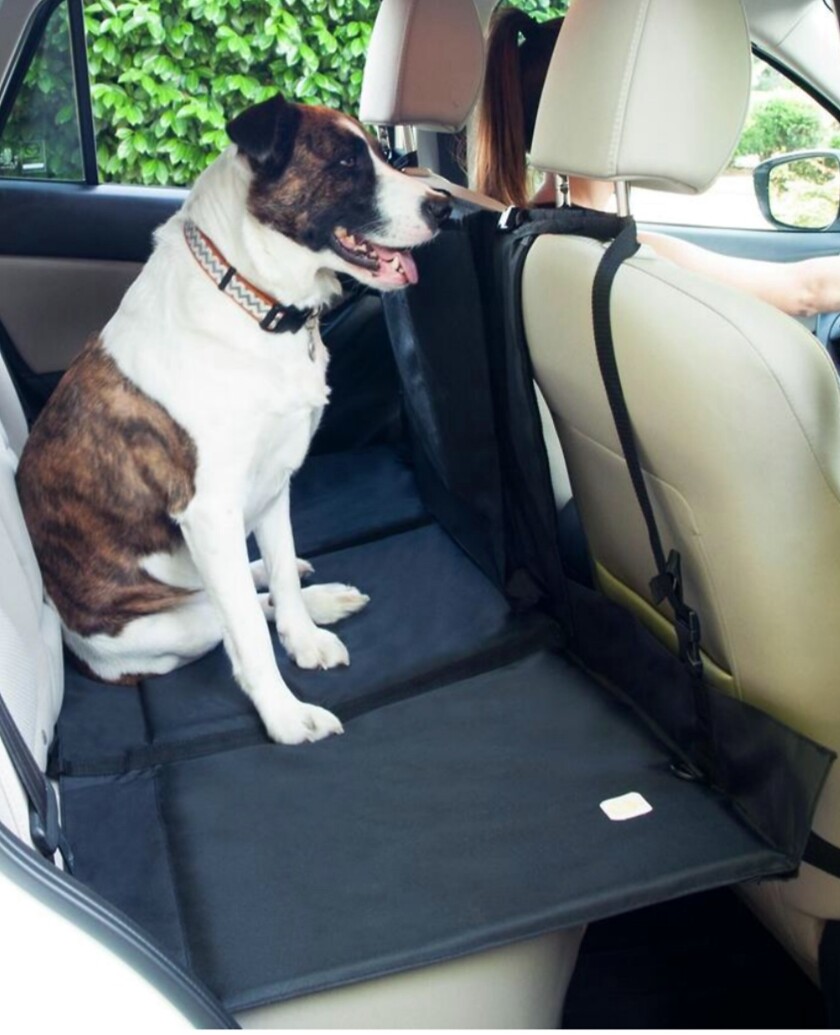 Your dog can stretch out on FrontPet's backseat pet bridge and barrier. The strong 55- by 21-inch padded platform lies flat atop a bench seat but is strong enough to span the gap between bucket seats without collapsing. It will support up to 150 pounds, FrontPet says.
The trifold design makes for compact storage. A 4-inch-wide integrated polyester flap with quick-release clips runs the length of the platform, covering any gap between the front and back seats so your dog won't fall on the floor.
A 19- by 24-inch polyester panel midway along the flap blocks the gap between the two front seats. A big mesh pocket on the back of the barrier can hold toys, treats, leashes and other canine supplies.
Info: FrontPet backseat pet bridge and barrier costs about $65.
A good change
Antsy infants can make changing a diaper on the go challenging if you have to contend with little hands reaching for the mess while trying to shield junior from surfaces of questionable cleanliness.
The new SnoofyBee Clean Hands changing pad is designed to thwart both threats. The sides of the mat fold up to about belly level and latch to each other using Velcro to create a soft but effective barrier "wall" between a baby's reaching fingers and the business end of the task at hand.
Toys and pacifiers can be clipped to the two plastic loops sewn into the baby-facing side of the barrier to keep your little one occupied. The polyester changing pad has an internal water-resistant polyurethane backing and foam padding to cushion baby's back and head.
The pad is about 27 inches long by 26 inches wide, narrowing to 13 inches wide below the latching pull-up sides. It folds to a 13- by 7- by 3-inch packet with a Velcro flap closure and room inside for a few clean diapers and wipe packets
Info SnoofyBee Clean Hands changing pad costs $29.99.
Power broker
The new RAVPower 27000mAh power bank stands out from competitors by adding an AC outlet to the usual ports for simultaneously charging multiple devices with different kinds of plugs.
A three-prong, 100-watt, 110V AC outlet shares the power panel with two 2.4A standard USB ports and one faster Type-C USB port.
The battery bank can fully charge small devices multiple times before needing its own recharge, which takes about six hours using the included barrel jack wall cable.
It cannot be used while charging other devices, and it must be powered off afterward to save juice. But how neat to be able to plug in any laptop's AC wall plug — or, say, a lamp or electric fan or blow dryer (up to 100 watts total) during a power outage or while camping.
An included zippered carrying case has Velcro straps and mesh pouches for organizing the battery pack, its wall charger, two included micro-USB cables and additional cables and adapters.
Info: RAVPower AC outlet 27000mAh portable power bank costs $129.99.
---
Get inspired to get away.
Explore California, the West and beyond with the weekly Escapes newsletter.
You may occasionally receive promotional content from the Los Angeles Times.