June Mountain ski area has a good vibe and appealing prices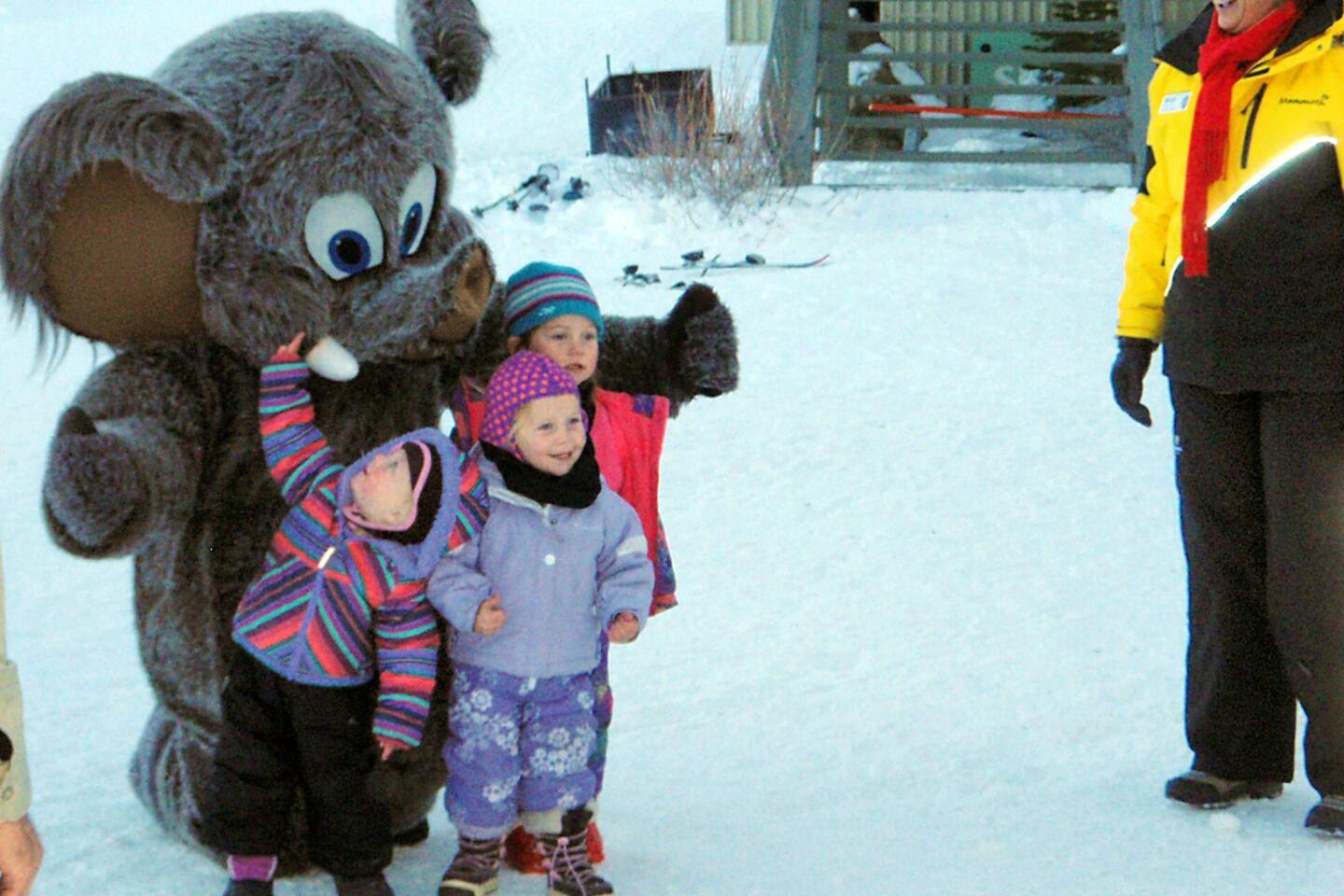 Kids meet the Mammoth mascot, Woolly. Mammoth owns and runs June Mountain.
(Chris Erskine / Los Angeles Times)
With $100 lift tickets commonplace, some ski resorts seem determined to price most families right out of the sport. Then there's June Mountain — the little hill that could. With snow scarce, it could hardly be a worse year to be staging a comeback after last year's closure. But once storms resume, be sure to give June a try. Less frantic and expensive than Mammoth Mountain 20 minutes away, June keeps family budgets in mind. The Eastern Sierra resort is letting kids age 12 and younger ski free every day this season. June also has an appealing vibe. The 1,400-acre resort is perched above an authentic alpine lake town, not a stucco faux village. Add snowshoeing, ice skating and sledding, and you have one of the best family options in these parts. We managed a quick overnight for three for a little less than $600, including lift tickets, rentals, a first-rate hotel and some memorable beef. That's not a downhill record — but it's close.
The bed
You like Mammoth's high-end Snow Creek? Then you will be very comfortable at the Double Eagle Resort & Spa, about a mile off the ski hill (5587 Highway 158; [760] 648-7004, https://www.DoubleEagle.com; weekend rates start at $229 a night). A hot tub or steam room never feels better than after a long day of skiing. The Double E offers a first-class spa, with a 60-foot indoor pool and a complete menu of massages. The resort itself, which I've raved about before, is set around a small pond with skating in the winter. (Bring your own blades.) Hiking trails abound nearby. For home rentals and other lodging options, check out June Lake Accommodations ([855] 648-5863, https://www.junelakeaccommodations.com).
The meal
June Mountain's cafeteria line offered a hearty spaghetti special ($10) on the Saturday we visited, as well as an assortment of grilled foods. Later, we enjoyed a juicy prime rib ($20.95) by the big fireplace at Eagle's Landing, the Double Eagle's dining room, which offers a small contemporary American menu, with bacon-wrapped lamb chops ($28.95) and butterflied rainbow trout ($20.95). But a June Lake visit isn't complete without a visit to the Tiger Bar & Cafe ([760] 648-7551, https://www.thetigerbarcafe.com). The Tiger is what passes for a town square in June Lake. Stop in for the latest gossip and a little local color. If you're in the area for Valentine's Day, check out Carson Peak Inn, a cozy old cottage with first-rate steaks (345 Highway 158, [760] 648-7575. Dinners from about $30).
The find
OK, here's the freebie of the day. On Highway 395, between June and Mammoth, is one of the sweetest sledding hills you'll ever see. On a Sunday morning in mid-December, we had it all to ourselves. If you're southbound, it's on the right, five minutes below the June Loop turnoff. It you pass the snowplow maintenance barns, you've gone too far. Another tip for the five-hour ride home: Mammoth's FM 105.5, more progressive and interesting than anything L.A. has to offer.
The lesson learned
The challenge for June is snow. Unlike Mammoth, with its advanced snow-making gear, June is almost totally reliant on natural snowfall, and this season has gotten off to a slow and frustrating start. Be sure to check the snow depths (www.junemountain.com). This little Sierra jewel may never be as fashionable and popular as Mammoth — and that's exactly the point.
MORE WEEKEND ESCAPES
A capital sojourn in Sacramento
Giving Flagstaff the old college try
Get our L.A. Goes Out newsletter, with the week's best events, to help you explore and experience our city.
You may occasionally receive promotional content from the Los Angeles Times.