An expat's guide to Paris
Shops and bistros in Mouffetard Street, Paris. The best way to explore the city's arrondissements is on foot. Just don't wear sneakers.
(Bruno De Hogues / Getty Images)
A restaurant is seen on Montmartre, a hill in Paris' 18th arrondissement. At restaurants, be sure to address the waiter as monsieur or madame.
(Danita Delimont / Getty Images/Gallo Images)
The Eiffel Tower is seen in the distance across the Seine. Paris has its share of major tourist attractions, but be sure to spend some time exploring lesser known sites.
(Gavin Hellier / Getty Images/AWL Images RM)
The Mémorial des Martyrs de la Déportation, dedicated to the people sent from France to Nazi concentration camps during World War II, is by the Seine.
(Rieger Bertrand / Getty Images/Hemis.fr RM)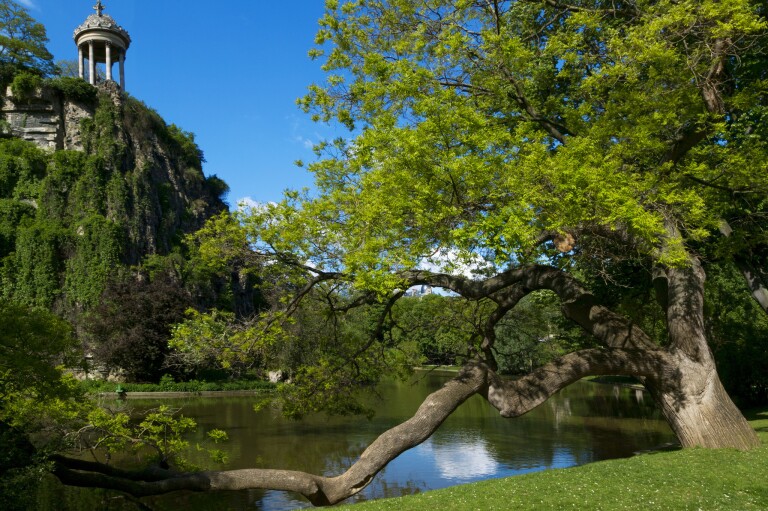 Parc des Buttes-Chaumont, in Paris' 19th arrondissement, is a park with dramatic cliffs and a reproduction of an ancient temple, seen in the top left corner.
(Yann Guichaoua-Photos / Getty Images)
Parisians live to eat rather than eat to live.
(Bruno De Hogues / Getty Images)
People relax in Parc Monceau, in Paris' 8th arrondissement.
(Visions Of Our Land / Getty Images)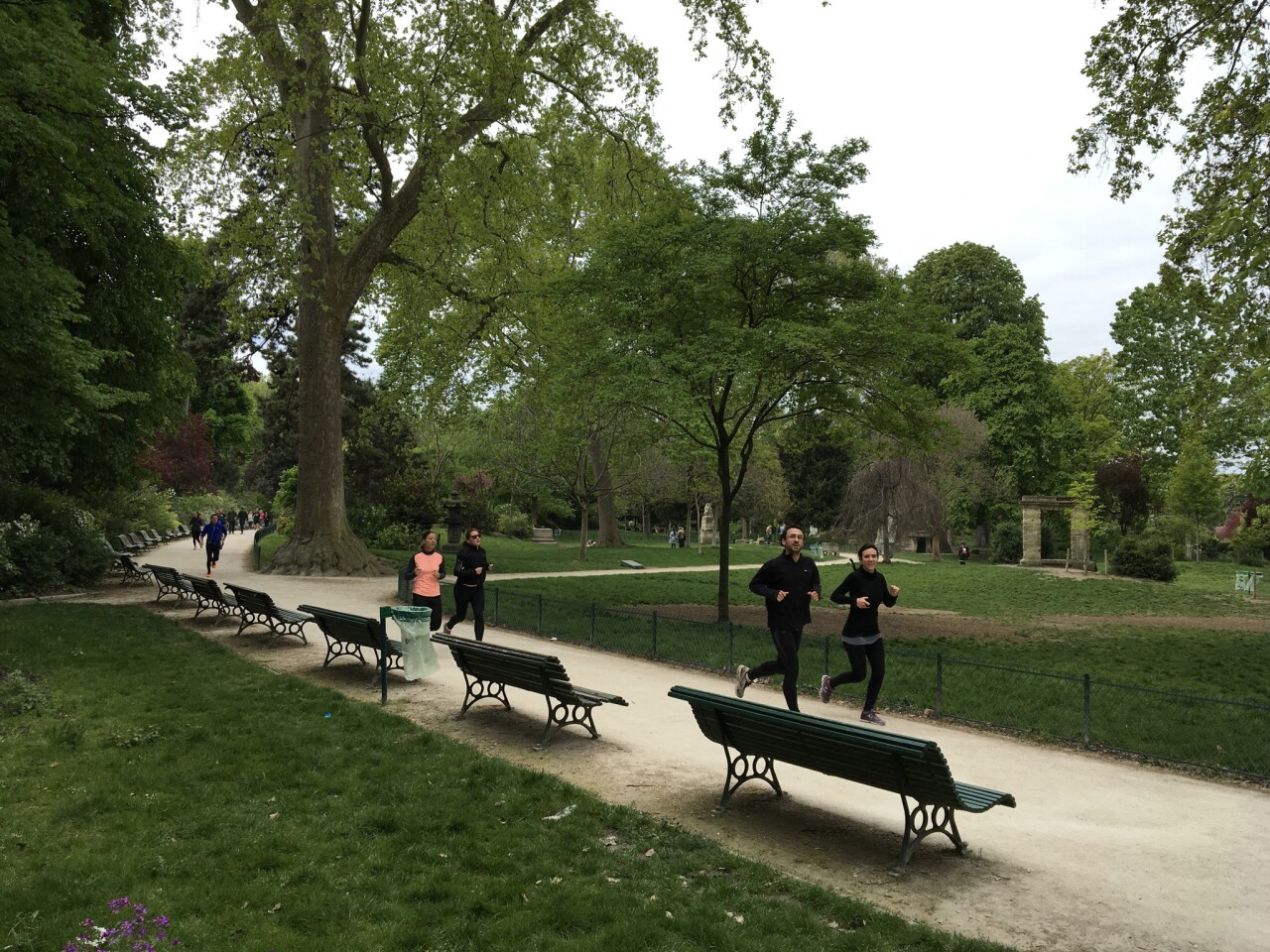 Unless you're a jogger, leave the trainers at home if you want to belong in Paris.
(Arvind Garg / Getty Images)
Parc Monceau is a classically French garden.
(Visions Of Our Land / Getty Images)
Passage Brady, which leads to the Strasbourg boulevard, is one of Paris' many glass-roofed, shop-lined walkways. They're especially handy on rainy days.
(Jacques DeMarthon / AFP/Getty Images)
The Passage du Grand Cerf is one of the highest-roofed walkways in Paris.
(Thierry Chesnot / Getty Images)
Coffee is a must. Usually cafe express.
(Catherine Delahaye / Getty Images)
The Jeu de Paume in the Tuileries Gardens is an arts center for photography.
(ALAIN JOCARD / AFP/Getty Images)
This Jean Beraud painting of workers leaving the Maison Paquin fashion house in the early 20th century is seen in the Musée Carnavalet, located in the 3rd arrondissement and devoted to Paris history.
(Heritage Images / Getty Images)
A Frida Kahlo work is seen in 2013 during an exhibition at the Musée de l'Orangerie in Paris.
(Patrick Kovarik / AFP/Getty Images)
Reporting from Paris —
"Paris? It's too real and too beautiful. It never lets you forget anything.
"It reaches in and opens you wide, and you stay that way."
— Gene Kelly as Jerry Mulligan in "An American in Paris"
Paris allows you to discover its secrets slowly. It kept my wife and me at bay in the 1990s when we lived and worked here. It ran down boulevards when we chased it. It hid behind copies of the newspaper Le Figaro and the magazine Paris Match. It vanished into clouds of café steam.
The city was everywhere, except where we happened to be. Until the day when, out for breakfast, we bit into tartines instead of croissants. And the day we put on shoes for a walk instead of sneakers. Paris was burning away its mist of strangeness, and we were starting — just beginning — to understand.
Kathy and I planned to revisit the city early last fall. It had been decades since we had learned what an expat learns about daily life and culture, about eating out and getting around. Would our memories and knowledge be useless — or at the very least, gnawed at, by years back in the States?
I started jotting things down. I scratched my head. I found that I was working, without realizing it, on a sort of guide.
It would have American-in-Paris tips for travelers in several categories. I would try to focus them as much as I could for short-term tourists. And when I was done, we would test all the advice during our week of revisiting. Here is what we found:
Daily life and culture
On our return trip here, Kathy and I were reminded how T-shirt-and-ballcap-casual our life in America had become.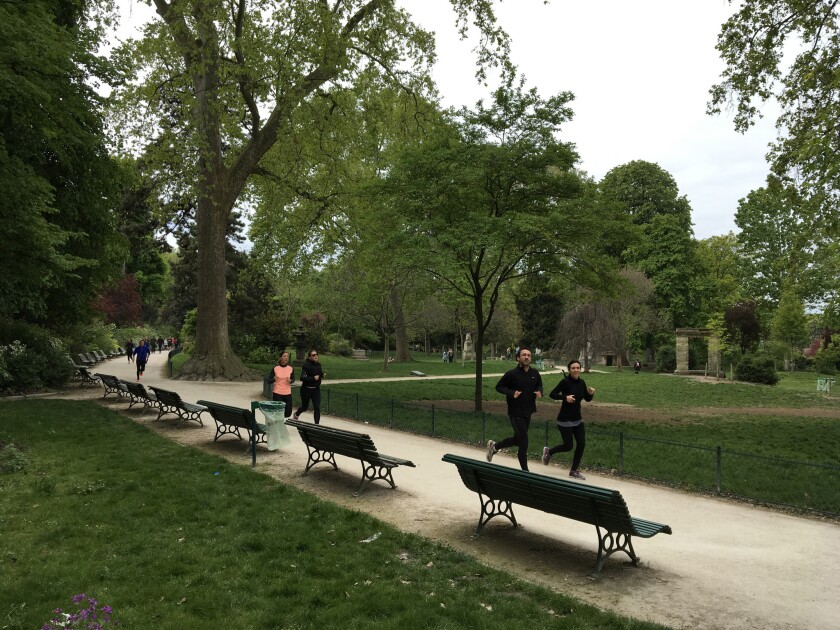 We knew we had some relearning to do when it came to Paris' rites and rituals. We remembered a simple rule of thumb: The city will open up to you in a thousand small ways if you can blend in and play by a few of its rules.
Touring and sightseeing
There is the Paris of neighborhoods. And there is the Paris of must-see monuments and museums.
When Kathy and I hosted American friends here, we discovered an interesting thing. People who didn't care about paintings or sculpture when they're home would spend their entire visit at the Louvre and Musée d'Orsay. When we would try to tear them away to see an unusual market or square we liked, they would often say no.
If there's one thing Paris expats agree on, it's this: the official Plan de Paris par Arrondissement (Paris Street Guide by District), a chubby little paperback that's compact enough to jam in a pocket or purse. Parisian cab drivers still refer to this city map even in an age of GPS. Yes, the cover curls up with use, but the elegantly printed plan becomes quickly indispensable. New copies are on Amazon; there's also an online version that uses the famous old fonts and design (lat.ms/onlineplandeparis).
Eating and drinking
Even a first-time tourist arrives here knowing how much life revolves around a daily baguette, a decent piece of cheese and bottles of almost always drinkable — and not necessarily expensive — wine.
What surprised us at first when we lived here was how much time the French spend over cups of café express; full, hot meals at lunch; and a pastis, pot of tea or a bière à la pression (draft beer) in the late afternoon.
If, like we did, you take a stab at living to eat, instead of the other way around, and try smaller neighborhood bistros and cafes (even if they're not on Yelp or in guidebooks) you'll be changed for life.
- Restaurants flying lots of international flags.
- Restaurants with plastic menus in several languages
- Restaurants with a guy out front beckoning you in
- Restaurants with pink or yellow tablecloths (weird, I know) and those with paper place mats.
Sometimes when you're doing something like biting into pizza, which doesn't, on the face of it, seem very French, you look around and realize you are the only American in the room. This could be your expat moment.
You'll know it's actually happened as you pat your copy of the Plan de Paris and align your knife and fork.
You almost, not quite, but very nearly belong.
More expat tips when visiting Paris
"There's no need to stay in the Marais or St. Germain des Prés! Choose a less touristy neighborhood where the local restaurants and shops will be more authentic, not just full of tourists. Many of the southern and western suburbs are great."
— Lisa Vanden Bos, Boulogne Billancourt, France
"If you're at a restaurant with a group and have not yet learned French, try to order your meal directly after a friend. Say, "La même chose, s'il vous plaît" ("The same thing, please.") Just hope that your friend has not ordered brain or tripe." — Patrick Sweet, Madison, Wisc. (former Paris resident)
"Daily French life is about food. The best way to get a sense of its scope is to visit La Grande Epicerie de Paris at Bon Marché or walk through a public market in just about any arrondissement."
— Joseph Russo, Fort Lauderdale, Fla. (former Paris resident)
"Consider a visit to Paris' Deportation Memorial on Île de la Cité, behind Notre-Dame Cathedral, which honors the memory of the thousands of Jews and others deported from France to Nazi concentration camps between 1940 and 1944. So many people don't know about this memorial and it is breathtaking."
— Rob Bracken, Palm Springs (former Paris resident)
"Don't forget about Paris' wine bars. Our favorite wine bar/bistro is behind the Pantheon: Café de la Nouvelle Mairie on a little street called Rue des Fossés Saint Jacques. Good food, cheese, more small plates than big meals."
— Jill Lillie, New York (former Paris resident)
"Be sure to leave plenty of time to do 'nothing.' That is, to sit in a café or a park and watch the world go by. To read, write and observe. To enjoy…strolling around the city, just like the Parisians love to do."— Janet Hulstrand, Silver Spring, Md., and Paris
If you go
THE BEST WAY TO PARIS
FROM LAX, Air France, Air Tahiti Nui, Norwegian and Delta offer nonstop service to Paris, and Delta, United, Lufthansa, American, KLM and British offer connecting service (change of planes). Restricted round-trip airfare from $698, including taxes and fees.
---
Get inspired to get away.
Explore California, the West and beyond with the weekly Escapes newsletter.
You may occasionally receive promotional content from the Los Angeles Times.