Grand Canyon, 3 Utah parks to keep services going during shutdown, unlike other federal lands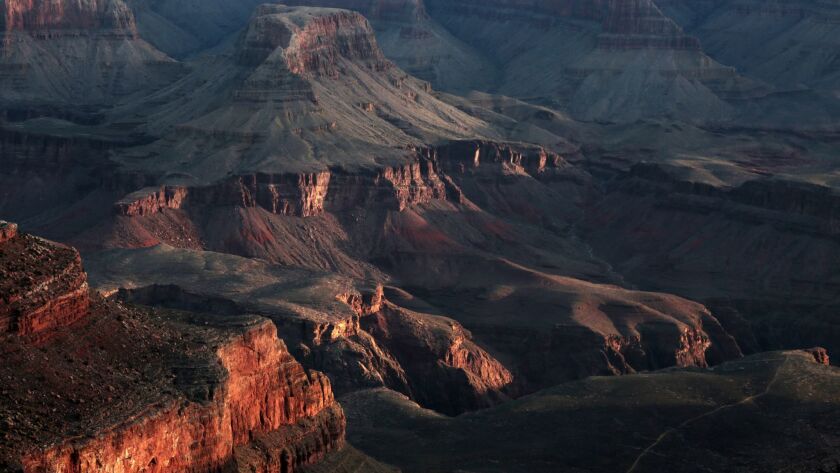 As parts of the government ground to a halt and operating funds dried up, some of the 418 units of the National Park Service have found a way to remain more fully open and provide services.
National parks may be open, but restrooms, trash pickup, snowplowing and staff may not be available.
But Grand Canyon National Park will be more fully open, thanks to provisions made in February, the Arizona Republic reported.
State revenue will be used to fund the park service, according to the Republic.
"The Grand Canyon will not close on our watch. Period," Arizona Gov. Doug Ducey said in a statement on the office of the governor's website. "If Washington, D.C., won't function, Arizona will.
"By working together with the National Park Service and with dollars from our Parks and Tourism departments, we have identified state resources and will make sure the Grand Canyon stays open."
About 6.3 million people visited the park in 2017, making it ninth in popularity among all units. Among "beauty spots" — that is, the traditional national parks, such as Yosemite — the Grand Canyon ranked second, after Great Smoky Mountains National Park in Tennessee and North Carolina, which had more than 11 million visitors last year.
Utah also has promised to provide fuller services during the holidays at Arches, Bryce Canyon and Zion national parks. Besides maintenance services, visitor centers will be staffed, thanks to help from Utah offices of Tourism and of Outdoor Recreation.
"Many travelers have planned their visit for months in advance and have traveled from all over the world to be here," Utah Gov. Gary R. Herbert said in a statement. "We want them to return home with memories of magnificent vistas and welcome people, not locked doors."
The state has donated $80,000 to the National Park Service, the Salt Lake Tribune reported.
Zion and Bryce Canyon set visitor records in 2017, the park service said, attracting 6.5 million and 2.5 million visitors, respectively. About 1.5 million visited Arches in 2017.
Vicksburg National Military Park in Mississippi also will stay open, WLBT-TV in Jackson reported. The nonprofit Friends of Vicksburg National Military Park and Campaign will provide funding. The group "has committed to fund basic operations to keep the Vicksburg National Military Park open in the event of a government shutdown, through the help of generous donors and partners," a Dec. 20 statement on its website said.
The park received about 475,000 visitors in 2017.
Other parks will be open, but visitors in some cases won't find rangers or restrooms.
Winter's cooler temperatures and the holiday break are attracting large numbers of visitors to Death Valley National Park. Trash has began to pile up, so visitors are being asked to practice the "pack in, pack out" motto and not leave any trash behind.
The company that provides boat trips to Channel Islands National Park said it will continue to operate "regular service" from Southern California. Island Packers said transportation will continue to Anacapa Island, Santa Cruz Island as well as three-hour Island wildlife cruises, winter whale watching trips, and day trips organized by The Nature Conservancy.
The National Park Service Contingency Plan this year explained what it can do this way: "Parks must notify visitors that the NPS will cease providing visitor services, including restrooms, trash collection, facilities and roads maintenance (including plowing), campground reservation and check-in/check-out services, back-country and other permits and public information."
Visitors during the January shutdown were confused about what they could expect, and some incidents of inappropriate behavior were reported, the Hill said, including the "illegal hunting of a pregnant elk in Utah's Zion National Park and a snowmobiler who got a little too close to Yellowstone National Park's iconic Old Faithful geyser."
There also may be confusion about the status of lodgings. The Oasis at Death Valley (formerly Furnace Creek Resort) will remain open to holiday visitors, spokesman Trey Matheu said in an email Friday. The resort is a privately held area within Death Valley National Park. Although the park and its employees may be affected by the partial shutdown, lodging, restaurants and other activities will be unaffected.
Parent company Xanterra Travel Collection said in a statement Friday that it had received word that entrances and roads into Death Valley would remain open, though services such as pubic restrooms and visitor centers would be shut.
Yosemite National Park's lodgings, restaurants, winter ski and snowboard activities, and the Yosemite Valley shuttle are operating as usual, spokesman David Freireich said in an email Saturday. The park's Bracebridge Dinner, a tradition since 1927, went forward Saturday too. Bracebridge Dinner
Meanwhile, those holding reservations for Haleakala National Park's sunrise viewings on Maui, which require a reservation, will find this note on the booking site: "The lapse in funding for the federal government may impact your reservation and travel plans. Be aware that if you have an existing reservation during this lapse of funding period, and the location is not staffed, your reservation may not be honored.
"We recommend that you do not make reservations for dates that fall within the lapse in funding time frame."
Jay Jones contributed to this report.
Twitter: @latimestravel
---
Get inspired to get away.
Explore California, the West and beyond with the weekly Escapes newsletter.
You may occasionally receive promotional content from the Los Angeles Times.