The past meets the present in Santa Barbara, where new — or in some cases, renovated — luxury hotel rooms are opening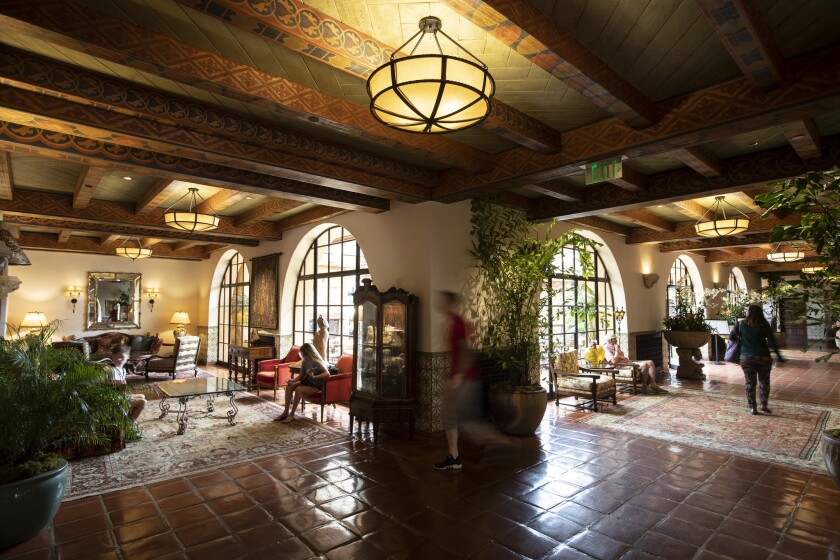 You don't need to be ultra-rich to find a hotel room in Santa Barbara, but if your platinum card is smoking hot, it's an excellent place to use it.
The region's sophisticated charm, miles of sun-swept beaches and to-die-for ocean views have long made Santa Barbara County attractive to celebrities and wealthy travelers. Now, a high-end hotel boom is churning through the region, offering new luxuries and rooms with price tags as steep as $9,000 a night.
"This is an unprecedented time," said Kathy Janega-Dykes, president of Visit Santa Barbara. "The luxury industry is coming into its own."
Some of the high-end hotel rooms are the products of long-awaited new builds, others from renovations caused by last winter's fires and floods, still others from hotels undergoing extensive makeovers because of brand changes.
I visited Santa Barbara County three times in the last few months, touring six hotels that promise travelers new high-end choices.
What can guests expect to find? Historic locations, plush accommodations, standout restaurants and stellar views.
THE GROUNDBREAKERS
Rosewood Miramar Beach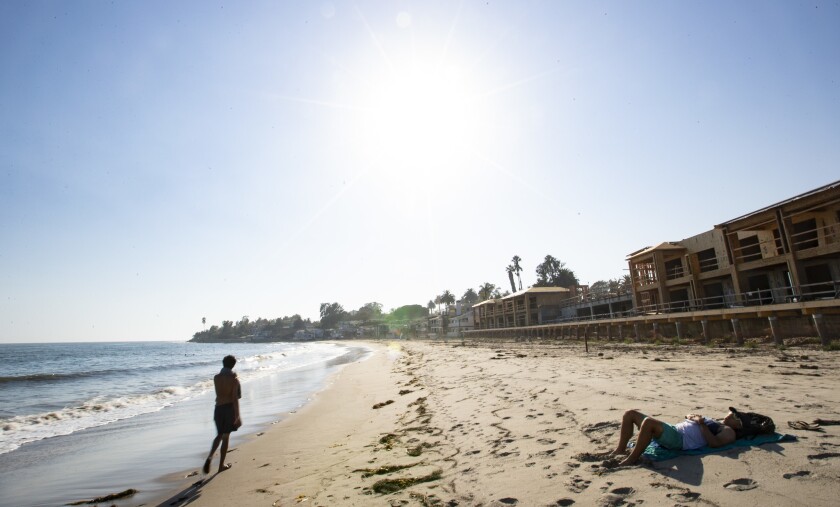 If you've wanted to take a look at Santa Barbara County's newest luxury hotel, you're going to have to wait a little longer. Rosewood Miramar Beach, once scheduled to open this summer, has pushed the date to late 2018.
Last winter's storms, which closed many roads in the hotel's Montecito neighborhood, caused major delays. But Rosewood Miramar is beginning to come together. The resort, spearheaded by Rick Caruso, developer of the Grove and other Los Angeles area projects, is being built on the site of the Miramar by the Sea Hotel, which opened in 1889 and closed in 2000.
The new resort, with 161 rooms, spans 16 acres and shares a slice of coastline with a handful of beach homes.
The downside? Like its predecessor, it has an active railroad line running through the property. I was told that a 24-hour guard will keep guests from crossing the tracks at the wrong time, removing the need for wailing train whistles. But earplugs might be a good idea when the tracks begin to rumble.
The upside is that Miramar Beach will again be open to the public — at least that segment willing to pay $825 to $7,500 a night for a room.
At the top end, guests will have butler service and an 1,885-square-foot suite with a panoramic ocean view. But guests who can afford only the $825 tariff will have a sizable room — 530 square feet with a patio or lanai.
Hotel Californian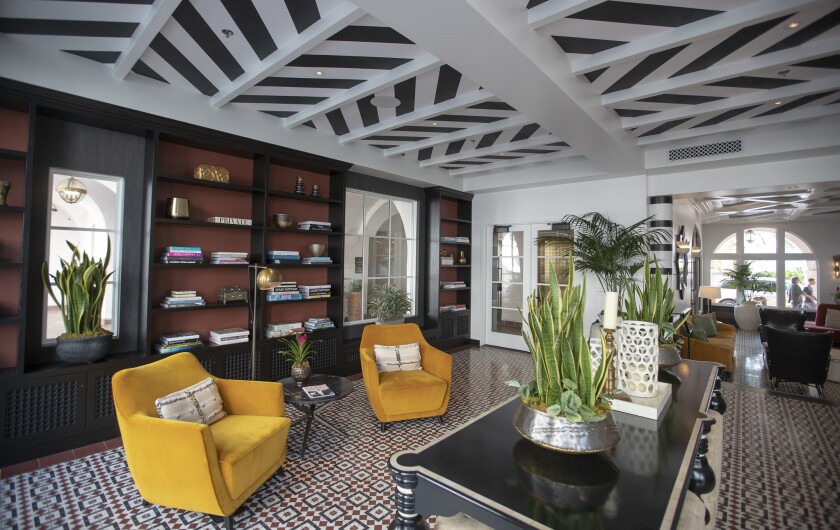 The Hotel Californian is basking in new-kid-in-town popularity — with good reason. This grand Spanish Colonial Revival project is a glam combination of Moorish, Moroccan and Spanish influences that is credited with beautifying downtown Santa Barbara.
The 121-room hotel, like the Rosewood Miramar, is built on a historic site. The original Hotel Californian collapsed less than a month after its 1925 opening when a 6.8 earthquake destroyed it and most of the city's historic downtown.
Today the location is excellent for visitors — at the edge of the city's trendy Funk Zone and across the street from popular Stearns Wharf. Many rooms have balconies and ocean views; there's also a rooftop pool offering panoramic vistas.
The Californian complex is beautiful inside and out, with lavish furnishings and custom-made patterned tiles; more than 1 million pieces were imported from Morocco. Stop and take a look at the lobbies even if you're not staying there.
The hotel's restaurants are another reason to visit. Blackbird, its fine-dining venue, and Goat Tree, a cafe open all day, are under the direction of Alexander la Motte, formerly of Napa Valley's French Laundry.
The hotel is racking up awards, even though it's been open only since September. It recently made Condé Nast's Hot List for 2018.
THE RENOVATIONS
Four Seasons Resort the Biltmore Santa Barbara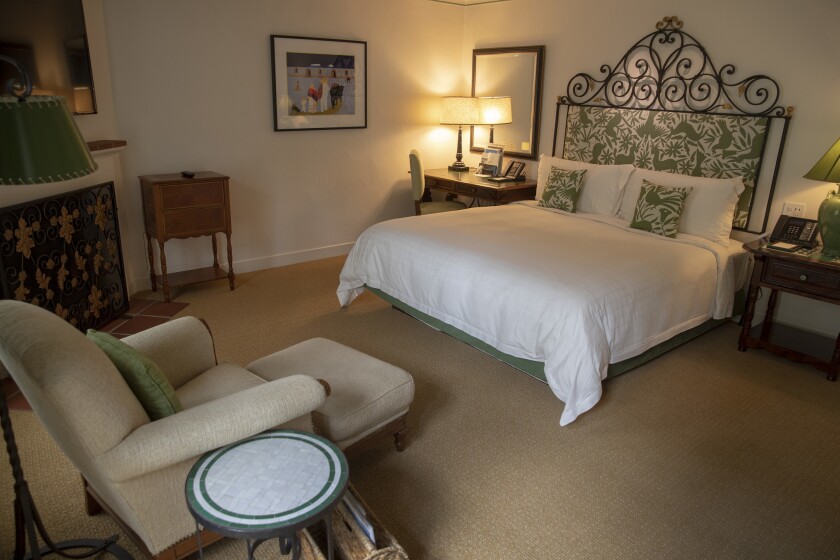 It's back and better than ever. The Four Seasons Biltmore, one of the state's premier grand hotels, reopened its doors in June, five months after a wall of water and mud swept though the Montecito resort's grounds.
The January flood came just a month after the Thomas fire burned much of the area above Montecito. When a major rainstorm followed, mudslides destroyed more than 100 homes and caused multiple fatalities.
At the hotel, guests with ground-level rooms were relocated to the second floor at 3:30 a.m., avoiding injuries.
Then the hard work began, with cleanup that included extensive landscaping and restoration of some guest rooms and administrative areas.
The Biltmore, built in 1927, is known for its Spanish Colonial architecture and picturesque location on Butterfly Beach.
I'm a longtime fan of the hotel — especially its jungle-style tropical landscaping — so I was happy to see that its lush grounds and 100-year-old trees were as beautiful as ever.
I also liked the snazzy new rooms that debuted recently. The hotel added four bungalows equipped with plunge pools and fire pits. Rates for the 900-square-foot rooms are $4,000 to $6,000 a night, double occupancy. Another new bungalow, the Anacapa Suite, will join the roster later this year.
San Ysidro Ranch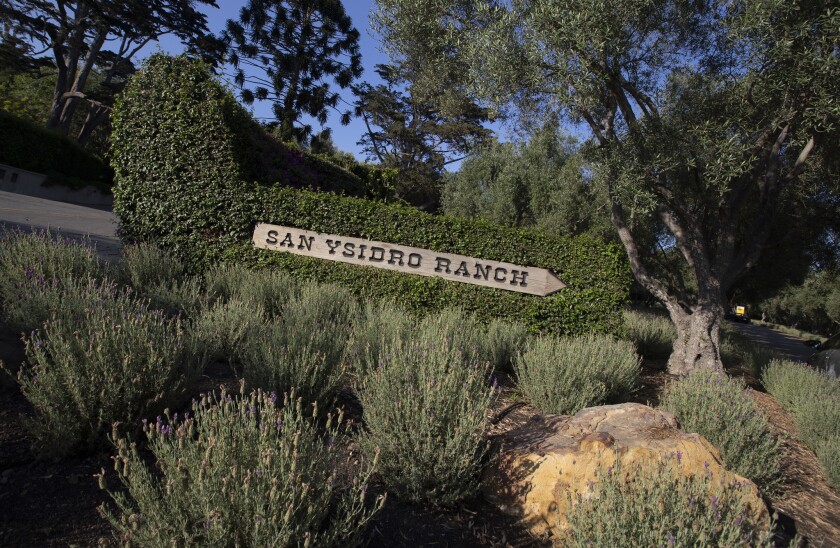 Montecito's other iconic hotel has a long way to go.
San Ysidro Ranch, a longtime Hollywood A-list favorite, was heavily damage in the January mudslides. It isn't expected to open until early next year, but its well-known restaurant, the Stonehouse, may reopen in October.
I visited with Maxine Rutledge, the general manager, as she worked at the Ranch's home-away-from-home — a warehouse in downtown Santa Barbara where everything from coffee-table knickknacks to lobby-sized couches have been stored. The furnishings have been carefully cleaned; to keep them that way, they've all been sealed in plastic.
At the Ranch site, six miles northeast, crews are hard at work. "We did the digging up and cleaning out first; now we're rebuilding," she said.
Most of the damage occurred on the edges of the resort near the creek, she said, adding that "the heart and soul of the Ranch were just touched lightly."
The Ranch, at the edge of the Santa Ynez Mountains, has had a string of owners in the last century or so, including actor Ronald Colman, who urged his Hollywood friends to visit.
Among its illustrious guests: Winston Churchill and John F. and Jacqueline Kennedy, who honeymooned here. It consistently wins best hotel awards from Travel & Leisure and Condé Nast.
"People who come to the Ranch do so for specific reasons, and they don't want it to change," Rutledge said. "So we're trying to keep changes to a minimum while still making upgrades that will modernize utilities and add amenities."
THE REBRANDS
Hilton Santa Barbara Beachfront Resort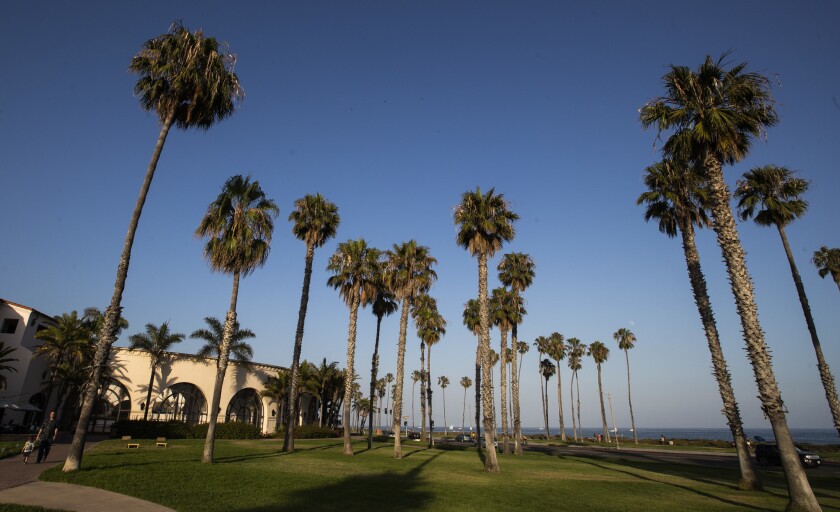 You might know it as the Fess Parker Hotel. But today, the Fess Parker name is gone — replaced by Hilton Santa Barbara Beachfront Resort.
The late Parker, best known for his portrayals of Davy Crockett in the '50s and Daniel Boone in the '60s, was also a wine entrepreneur and hotelier. (There's still a Fess Parker Wine Country Inn in Los Olivos.)
When Parker family members were asked whether they'd be interested in having the Santa Barbara hotel become the first Central Coast Hilton resort, they agreed, said Gary Griggs, the hotel's director of sales and marketing.
The beachfront hotel dropped its association with Doubletree and went to work on a $16-million renovation that upgraded its 360 rooms and made changes to its meeting rooms and lobby.
There are new colors, flooring and a lighter touch.
"We wanted to give the hotel more of a boutique feel," Grigg said.
Ritz-Carlton Bacara, Santa Barbara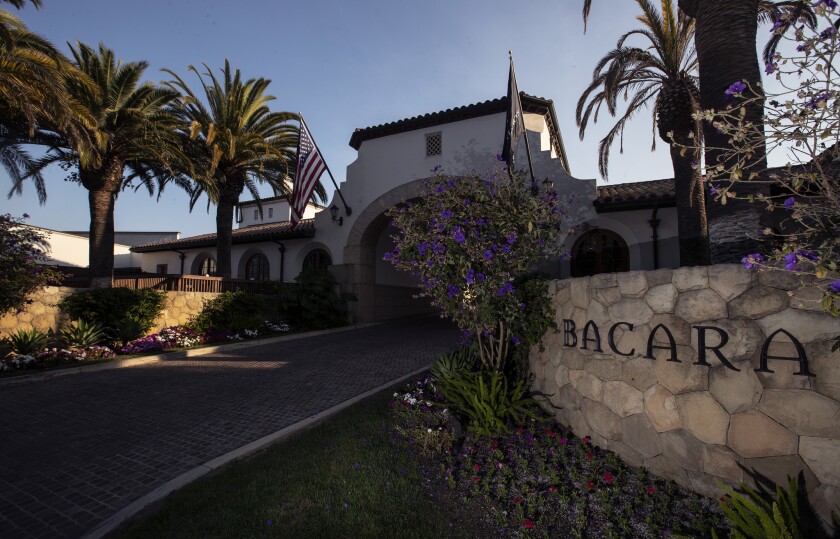 Ritz-Carlton is a relative newbie in the Santa Barbara area, having added the Bacara Resort & Spa late last year when the hotel was purchased by a new investment group.
The 78-acre resort, about 15 miles northwest of downtown, is in an undeveloped area, which gives it a rural look and feel as you approach on country roads.
The facilities are impressive, with three saltwater swimming pools, a 42,000-square-foot spa and six dining venues.
But change is coming later this year, with plans for upgrades and new activities. Management isn't releasing details yet but says renovations will be complete by December.
If you go
Four Seasons Resort the Biltmore Santa Barbara, 1260 Channel Drive, Santa Barbara; (805) 969-2261. This West Coast favorite is set within 22 acres of lush tropical grounds at the edge of Montecito. It was closed for five months after the winter floods. Rates from $845 to $9,000.
Hilton Santa Barbara Beachfront Resort, 633 E. Cabrillo Blvd., Santa Barbara; (805) 564-4333. This Hilton, across the street from Cabrillo Beach, has renovated rooms and public areas. Doubles from $288 a night.
Hotel Californian, 36 State St., Santa Barbara; (805) 882-0100. The new kid on the block is an elegant Spanish Colonial Revival hotel one block from the beach. Great restaurants, large rooms and friendly ambiance. Made the Condé Nast Hot List for 2018. Rates from $484.
Ritz-Carlton Bacara, Santa Barbara, 8301 Hollister Ave., Santa Barbara; (805) 968-0100. This beachfront resort, near Goleta, about 15 miles northwest of downtown Santa Barbara, has just changed to Ritz-Carlton management. The company promises to make renovations. Doubles from $399 to $7,000 per night.
Rosewood Miramar Beach, 1555 S. Jameson Lane, Montecito; (214) 880-4292, rosewoodhotels.com. New oceanfront hotel hopes to open in January. Many of its 161 rooms will have ocean views. Doubles from $825.
San Ysidro Ranch, 900 San Ysidro Lane, Santa Barbara; (805) 565-1700. The Ranch, rated by Forbes Traveler as the "No. 1 resort in America," was dealt a blow by last winter's storms. It hopes to reopen early next year.
TO LEARN MORE
---
Get inspired to get away.
Explore California, the West and beyond with the weekly Escapes newsletter.
You may occasionally receive promotional content from the Los Angeles Times.