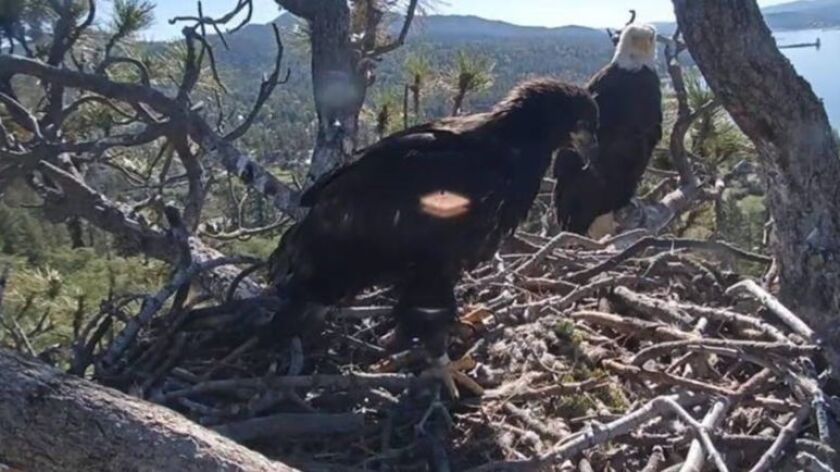 A bald eagle chick whose birth at Big Bear Lake was captured live on a webcam has yet to take its first flight. The chick, which locals call Simba, just turned 10 weeks old, and has spent its entire life in a large twiggy nest on the northern side of the lake.
Young bald eagles generally leave the nest and take their first flight when they are 10 to 12 weeks old.
Rare golden eagle nest found in Santa Monica Mountains for first time in 30 years »
But the chick hasn't yet taken off — and the surrounding area will be off limits until it does. The San Bernardino National Forest on Tuesday issued an order to keep parts of a trail, a few forest roads and a campsite shut to protect the bird, a news release said.
"After an eagle's first flight, it usually uses the nest area as a home base for up to two weeks while becoming more adept at flying," wildlife biologist Robin Eliason said in the statement. "It's important to continue to protect him from disturbance until then."
The order is set to end July 31, or sooner if the eagle fledges and leaves the area.
Off-limit areas include the lower portion of the Grays Peak Trail (including the parking lot at the trailhead), the Grout Bay Picnic Area, a campsite, part of Grays Peak Road and all of what's known as Lumpy Road.
The best place to watch the chick's progress is on the Friends of the Big Bear Valley's webcam. It captures events on a live-streaming camera, perched 120 feet high in a pine tree in the community of Fawnskin.
In May, a second chick born about the same time died at age 6 weeks after enduring snow and cold temperatures in the nest. The eaglet was known as Cookie, and had an internet following based on its webcam fame.
---