A report card for Lot E, LAX's new economy parking spot: a solid B. So far
Lot E, you may be the object of my new, budget-loving affection.
The new LAX economy parking lot, which opened for business last month just off Aviation Boulevard, proved to be almost everything I needed in a parking space. This is good because the old Lot C has become employee parking. It closed to new passenger parking April 1, and those parkers have until April 19 to retrieve their cars.
Lot E, which has has 2,000 spaces and is expected to add 700 more in the coming weeks, is taking its place. That gives it a leg up on the old Lot C, which was shrinking.
I was never a Lot C fan and had been parking for years at a commercial lot on Century. But now I may be breaking up with that lot, based on my first experience with E. If that makes me a floozy, it's genetic; my mother was engaged to someone else when she met my father.
But my first experience with Lot E made my heart go pitter-pat. Here's my report card and fuller explanations for the grades.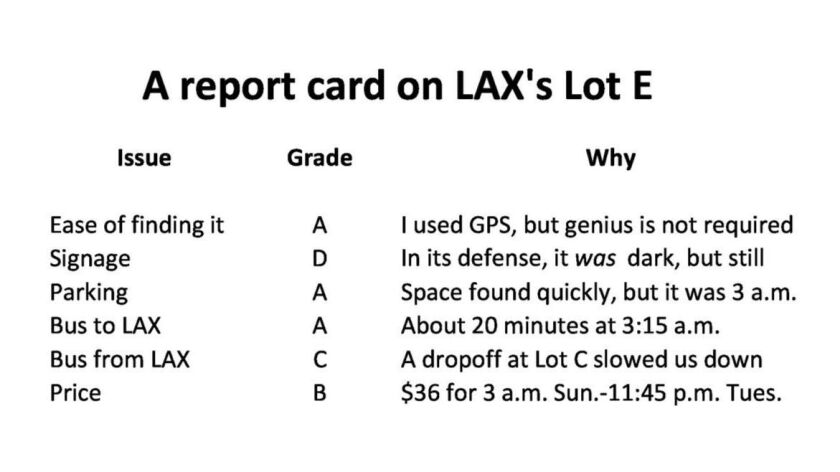 Ease of finding it: I merely set my GPS for the address—5455 W. 111th St., and it took me there just fine. No problem there.
Signage: I had trouble finding the entrance. It was about 3 a.m. and besides being extremely tired, I am slightly night blind. But it also wasn't particularly well-marked.
When I returned, I had a little trouble finding the exit, despite signs that pointed to the exit. I did find it eventually, based on the fact that I'm writing this now from my desk, but it took me a bit. There is room for improvement
Parking: Was easy. I was alone, it was the middle of the night and I didn't want to be hanging out in the shadows. Miraculously — or perhaps I just have good parking karma — I nabbed the second spot in at B2; the shuttle-bus stop was steps away. I was comforted that a dad and daughter also were waiting for the bus. It would have been creepy to be there alone.
Bus to LAX: I waited about five minutes.
Bus from LAX: I waited about 10 minutes. But here was the rub: Someone who wanted to go to Lot C was on the bus so it took about 35 minutes for the total trip. On the other hand, the driver, a woman about my age, was pleasantly chatty. I mean, how often do you end up talking about your first Barbie doll with someone you never met? On a shuttle bus? Near midnight? I can count on the finger of one hand how often this has happened.
Price: I checked in just after 3 a.m. on a Sunday and checked back out just before midnight on a Tuesday. It wasn't a full three days, but for $36, it was still less than my previous lot.
This could be the start of an affair to remember. But I'll try it again to ensure it wasn't a fluke.
Info: Lot E, 5455 W. 111th St., Los Angeles. Cost: $12 a day.
---
Get inspired to get away.
Explore California, the West and beyond with the weekly Escapes newsletter.
You may occasionally receive promotional content from the Los Angeles Times.