You've probably seen a few of these signs on one road trip or another. But how many of them can you place?
Some of the 20 American roadside signs here are familiar landmarks. In fact, many date from the golden age of neon, roughly 1925 to 1965. But these old friends are not necessarily reliable narrators: The Rochester building is far from New York, and the Bagdad Theater is well west of the Mississippi.
For more clues, check the captions. At the bottom, we'll show you the answers and speculate on what your score reveals.
1. Yes, we're starting easy. There will be no sleepless nights over this sign.
A. Portland, Ore.
B. Seattle
C. Boston
2. What could be more wholesome than a family business?
A. Los Angeles
B. Coeur d'Alene, Idaho
C. Orlando, Fla.
3. The original Pony Express started in this city.
A. Salt Lake City
B. St. Joseph, Mo.
C. Sacramento
4. Hint: Bohemians outnumber Iraqis here, and it rains a lot.
A. Detroit
B. Portland, Ore.
C. El Centro, Calif.
5.
A. Austin, Texas.
B. Jackson, Wyo.
C. Scottsdale, Ariz.
6. This eatery is the only dining option for miles on Interstate 17. Pie is $5.95 per slice.
A. Hannibal, Mo.
B. Black Canyon City, Ariz.
C. Pietown, N.M.
7. The Eel River and Redwood Highway are close by.
A. Forks, Wash.
B. Leggett, Calif.
C. Coeur d'Alene, Idaho.
8. The nearest river is the Animas. Also, U.S. Route 550, "The Million Dollar Highway," passes nearby.
A. Abiquiu, N.M.
B. Durango, Colo.
C. Cleveland
9. There are 482 cities in California, and this one's near the top of the list, alphabetically speaking.
A. Los Angeles
B. Berkeley
C. San Diego
10. This is a breakfast favorite, especially among y'all who drawl. Also, the Natchez Trace Parkway ends a few hundred yards from here.
A. Little Rock, Ark.
B. Nashville
C. Asheville, N.C.
11.
A. Amarillo, Texas.
B. Dallas
C. Tulsa, Okla.
13. Yes, there are a lot of Union Stations in the U.S. But only this one has added a hotel, the Crawford, in the last decade,
A. Denver
B. Chicago
C. Salt Lake City
12. Hint: It's the largest theater district in the U.S. outside New York.
A. Cleveland
B. Boston
C. Cincinnati
14. Head north from here on Congress Avenue and you'll hit the Texas Capitol.
A. Austin, Texas
B. San Antonio
C. Lubbock, Texas
15.
A. Flagstaff, Ariz.
B. Denver
C. Mt. Shasta, Calif.
16. We're on Halsted Street, and there's a great lake nearby.
A. Chicago
B. New York
C. San Francisco
17. Just east of here lies America's first national park.
A. West Yellowstone, Mont.
B. Mariposa, Calif.
C. Bozeman, Mont.
18. Hint: Look closely and you'll see purple, green and gold beads on the parading ape's arm.
A. New Orleans
B. New York
C. San Francisco
19. Double hint: This is Route 66 signage in Woody Guthrie's old state.
A. Tulsa, Okla.
B. Albuquerque
C. Amarillo, Texas
20. Welcome to the southernmost city in the continental U.S., a.k.a. the conch republic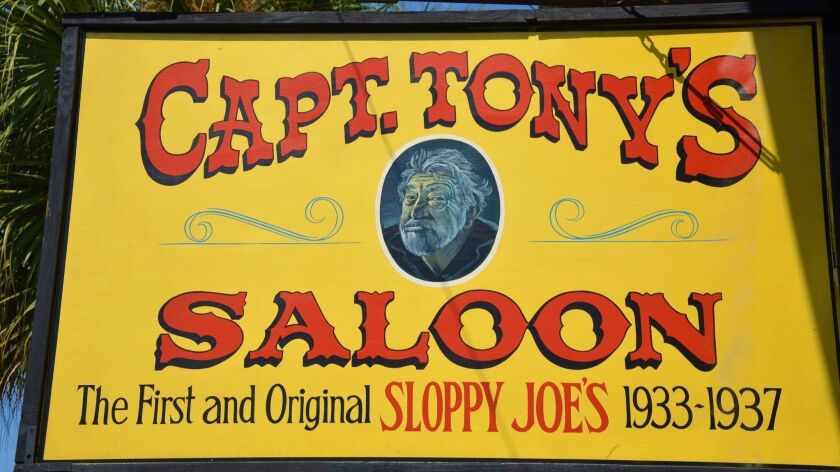 A. Key West, Fla.
B. Houston
C. San Diego
Answers
The answer is B for the first 10 signs. The answer is A for the second 10 signs.
18 or more correct: You are either the consummate American road-tripper or a long-distance trucker with a photographic memory.
15-17: You're a highway star. You've got the U.S. pretty well covered and, if you don't mind competing with robots, you're ready to start driving for Amazon Prime.
12-14: Remember to keep your eyes open while singing along with the radio.
Fewer than 12: You need to get out more. This summer could be your big chance to cover some new American territory.
christopher.reynolds@latimes.com
Follow Reynolds on Twitter: @MrCSReynolds
---