Tips for visiting super-bloom sites. And please, don't kill the poppies
Southern California's super bloom remains in overdrive. New fields of poppies are blooming daily at the Antelope Valley California Poppy Reserve in Lancaster, where the show may last another month. Dune evening primroses and sunflowers recently popped up at Henderson Canyon, one of the most photographed sites in Anza-Borrego Desert State Park.
With more and continuing blooms come more crowds, and potentially more headaches for those who want to go. Here are six things to know before you go.
1. First, do no harm. You know not to trample or pick wildflowers, but flower-viewing etiquette extends beyond that. At the Antelope Valley California Poppy Reserve in Lancaster, for example, it's not OK to walk off trail and onto dirt patches between the plants. You can still see what park staff call scars — places where people put their butts to sit for a photo or walked in to get a closer look at the poppies — that date to 2008 and 2017 super-bloom seasons.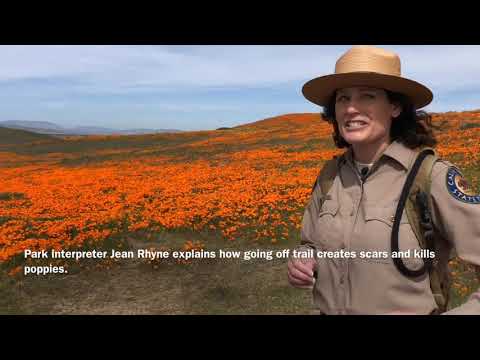 The impact of visitors on the poppy fields during super bloom years. 
The spaces are tempting for visitors who think it's OK to squeeze in because there are no flowers to harm. But adding your feet (or your butt) to the bald spot compacts the soil, kills the fragile roots of nearby poppies, and ensures new ones won't grow there. "Walking near the flowers for photos will kill the plants," park interpreter Jean Rhyne yells to visitors as she walks along the reserve's trails.
At the reserve, signs have been posted to discourage such actions. In poppy fields on private land outside the park and other areas, visitors should show the same respect.
2. Get an early start. If the Lancaster poppy reserve is on your must-see list, plan to arrive no later than 6 or 7 a.m. on weekends or consider coming at an early hour midweek when it's less crowded. The parking lot fills fast ($10 entry fee), and park gates close when the lot is full.
One workaround: Park outside on Lancaster Avenue, which saves the entry fee and avoids the congestion on the single road into the reserve, but be prepared to walk about half a mile to the visitor center.
The hillsides of poppies at Walker Canyon in Lake Elsinore have been inundated by visitors since late February, prompting the city to recently close access on a particularly crowded Sunday. On weekends, you can take shuttles from 6 a.m. to 8 p.m. that cost $10 per person. Weekday visitors will find three areas where parking is allowed.
3. Don't make it all about poppies. Everyone loves the spectacular orange carpets, but many other Southern California wildflowers also are putting on a show right now. Grab a wildflower guide (preferably one with color pictures) and see how many you can identify.
Goldfields (yellow) and lacy phacelia (purple) have painted the flower fields in and outside Lancaster's poppy reserve with intense colors. During the reserve's 2008 super bloom, volunteer docents identified 58 different species of plants.
At Anza-Borrego Desert State Park southeast of L.A., look for desert lilies, desert dandelions and the park's hallmark evening primrose. Later in the season, you'll find cactuses blooming at higher elevations.
4. Stop and smell the flowers. Wildflowers do have natural scents. For example, popcorn flowers, small white blooms in the forget-me-not family, have a sweet smell you can detect even without bending over. Tall grape soda lupine smell like, well, grape soda.
5. Find accessible trails. If you are looking for ADA-approved trails to see wildflowers, check with parks and reserves before you leave home. Visitor centers are good resources, with docents who can point you to which trails are appropriate and where the wildflowers are.
Lancaster's poppy reserve has an accessible path that runs from the parking area to the visitor center and a little beyond. Anza-Borrego's visitor center has two ADA-approved short trails where you can see wildflowers as well as drive-up places (like Henderson Canyon) where you can view flowers by car.
Joshua Tree National Park has several accessible trails, including the Bajada Nature Trail near the south entrance and the Keys View Overlook.
6. Stay safe. You won't be comfortable in flip-flops or sandals in areas where you have to walk in to see the flowers. Wear sensible shoes or boots; bring lots of food and water; and don't forget the sunscreen and hat. Check out other safety tips from California State Parks.
Get our L.A. Goes Out newsletter, with the week's best events, to help you explore and experience our city.
You may occasionally receive promotional content from the Los Angeles Times.