Three places to see the superbloom and other wildflowers this weekend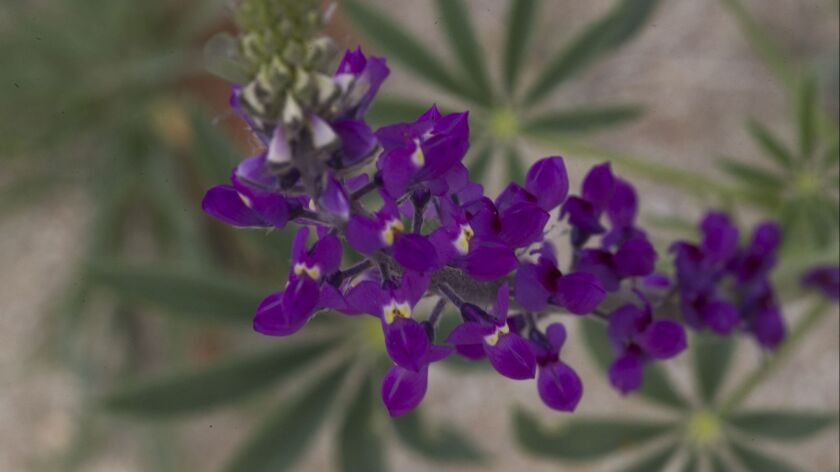 Massive (for us) rains have heightened anticipation of wildflowers. For those who are looking for the floral feast, here are three places to look for wildflowers this weekend.
One place that's not quite ready for prime time: Antelope Valley Poppy Reserve. Although Joshua trees are blooming, its website notes that flowers will be at their peak beginning mid-March so a visit there may be premature. And if the sun is not out, neither are the full blooms of the poppies.
Also, check the Theodore Payne Foundation wildflower hotline at (818) 768-1802, Ext. 7. That's the voice of actor Joe Spano, whose timely narrative leads you to SoCal blooms.
The state park's flower hotline for Friday — (760) 767-4684 — is urging visitors to visit now and often because the flower show will change as conditions do as well. The park is about 160 miles southeast of downtown Los Angeles.
There is color around the visitor center, it notes, and also S22 between Mile Marker 31 and 35 in the southern part of the park, June Wash on S22 near marker 42.
The park's wildflower bloom map shows several places in the park that have color, including Coyote Canyon but notes that the road is rough because of flooding, and Texas Dip above San Felipe Wash just north of California 78. It notes "great flowers" at Ocotillo Wells State Vehicle Recreation Area and the corresponding website says the flowers are "among the best we have seen in a long time.anza bo
Info: Anza Borrego is open dawn until dusk. A day pass is $10 per vehicle. Visitor center is open 9 a.m.-5 pm. (760) 767-4205.
Access the Stunt High Trail by parking on Stunt Road, about a mile from Mullholland Highway, the Theodore Payne hotline for Friday says. The trail runs along Cold Creek.
You'll be rewarded for your efforts hiking the Stub High Trail by seeing milkmaids, always an early bloomer in the Santa Monica Mountains, purple nightshade, fuchsia-flowering gooseberry and wild cucumber. Look also for wild hyacinth and flowering ash trees.
Info: Theodore Payne Foundation. Check out the map for directions.
Lake Elsinore
The word is out about the blooms at Lake Elsinore and consequently the world is out. Big traffic jams have been reported on Interstate 15 as visitors queue up to see the poppy-covered hills in Walker Canyon.
It's being called a superbloom, which isn't a scientific term, but science isn't important when you're starved for something other than rain. About 1,000 people a day are catching the show, which, The Times' Mary Forgione writes, should last another week.
Info: To get there, take Lake Street off I-15 to a right on Walker Canyon Road.
---
Get inspired to get away.
Explore California, the West and beyond with the weekly Escapes newsletter.
You may occasionally receive promotional content from the Los Angeles Times.