If seeing 'The Walk' makes you queasy, this glass bridge in China will terrify you
The 3-D version of the new movie "The Walk" apparently is making some viewers sick. The film's dizzying scenes portraying the Frenchman who in 1974 walked a tightrope between the Twin Towers of New York's World Trade Center apparently has triggered vertigo episodes for some.
But that's nothing compared with the stomach-turning glass bridge between two cliffs in China's Hunan Province that opened Sept. 20. The suspension bridge, called Haohan Qiao or "Brave Man's Bridge," stands about 590 feet above the ground in Shiniuzhai National Geological Park.
Visitors have been seen clinging to the railing or crawling on all fours to get across.
The bridge sways a bit, but CNN reports its glass panes are 25 times stronger than normal glass. And they're encased in a steel framework.
Still, that's little comfort to those who may feel as if they're walking on air.
"Alongside obscenely tall observation wheels that make you want to vomit into your handbag instead of lean over and smooch your sweetie, glass-bottomed walkways are the hottest — and most unpleasant, depending on how you feel about extreme heights — trend in thrill-based tourist snaring. Some of the world's most heavily trafficked monuments, both natural and manmade, now have 'em," architecture blogger Matt Hickman writes.
And if that doesn't scare you enough, this will: China plans to open another glass bridge -- the biggest, baddest in the world -- at Zhangjiajie Grand Canyon about 186 miles northwest of Shiniuzhai
If you plan to test your mettle on the glass bridge, here are some good places to practice before you go to China.
Langkawi SkyBridge in Malaysia
The Langkawi SkyBridge in Malaysia is a wonderfully curved pedestrian suspension bridge that hangs a heart-stopping 2,170 feet in the air. It offers views of the jungle below on one of the country's islands and requires a cable car ride to start the bridge walk.
The bridge was completed in 2004 and refurbished earlier this year. It costs about $8 for a ticket to cross.
Royal Gorge Bridge in Colorado
The Royal Gorge Bridge, at 6,700 feet over the Arkansas River in Colorado, is the highest suspension bridge in the United States. It was built in 1929, and you can walk or drive across it for $21.
It's 956 feet above the river and has a walkway made of 1,292 planks, of which 250 boards are replaced each year. If you look down, it's a stunning 1,000 feet over the massive gorge.
Trift Bridge in Switzerland
The Trift Bridge in the Swiss Alps is a classic walk that will give you amazing views of the Trift Glacier and lake below. It's bring your camera time, if you can steel your nerves in order to snap photos on the longest pedestrian suspension bridge in the country's mountains.
You take a cable car and then hike up sometimes steep terrain to get to this extraordinary bridge near the town of Gadmen.
Capilano Suspension Bridge in Canada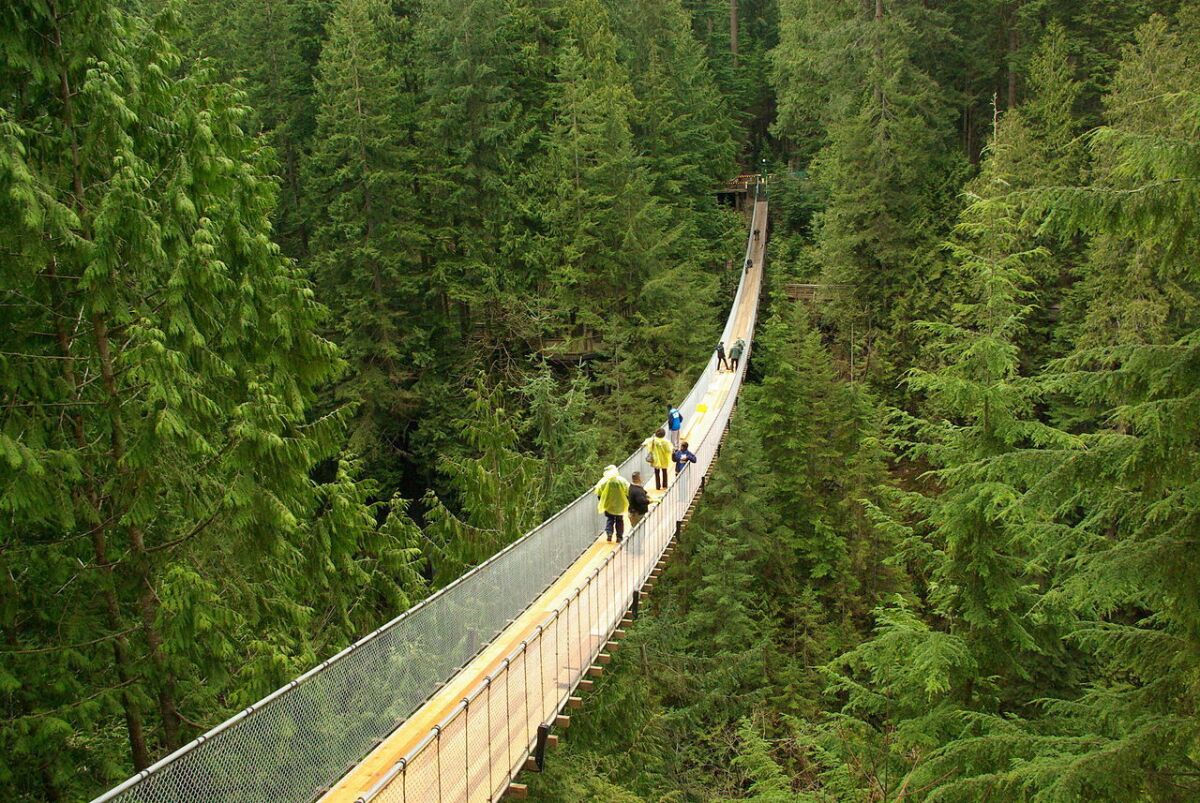 The Capilano Suspension Bridge is about 10 minutes from downtown Vancouver, British Columbia. The bridge allows visitors to experience a West Coast rainforest from a bird's-eye view. Here visitors are immersed in the peace of standing in the treetops.
The bridge dates to 1889 and stretches 450 feet across the Capilano River. It costs $37.95 for a ticket.
ALSO
Bishop bursting with fall colors -- a peek of them at their peak
Want to get scared out of your wits at a Halloween zombie apocalypse showdown?
Nepal may tell aspiring climbers: Beginners keep out
America's No. 1 tourist spot is a place nobody ever wanted to be: Alcatraz
Get our L.A. Goes Out newsletter, with the week's best events, to help you explore and experience our city.
You may occasionally receive promotional content from the Los Angeles Times.