San Francisco's Presidio snaps to attention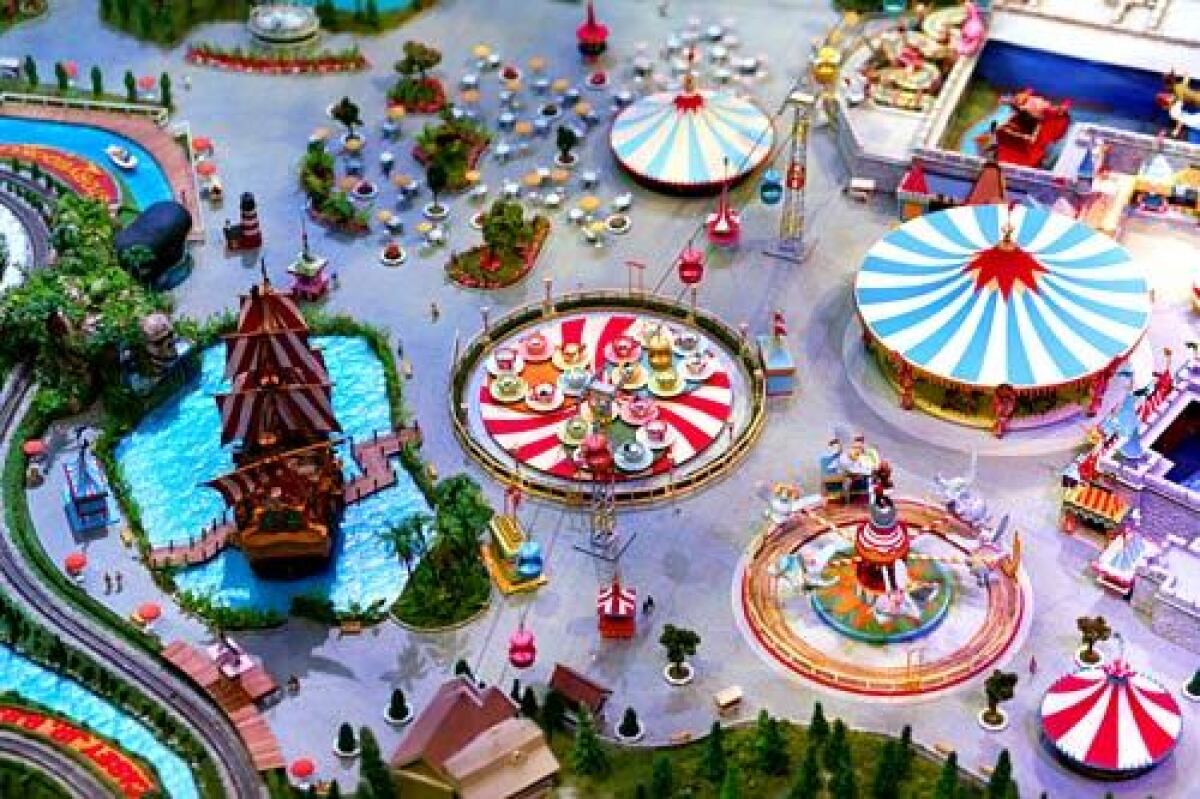 Reporting from San Francisco —
For any San Franciscan worth his salt, the 1,491-acre wooded site known as the Presidio -- and its fate -- has been part of their lives for decades. In 2001, when the park changed hands from the U.S. Army -- under whose care it had rested for 148 years -- to the national park system, speculation and rumors about its future swirled.
Would Lucasfilm transform a 23-acre part of the park into the Letterman Digital Arts Center? It did. Would high-end condos replace Army barracks? They didn't. But during the last year, the Presidio has reinvented itself again. New museums, exhibits and outdoor venues are sprouting as quickly as the newly planted trees that are part of the Presidio's reforestation project.
October marked a milestone as the mouse (Mickey, that is) moved in to open the Walt Disney Family Museum.
---
If you go
Presidio Visitor Center: Open 9 a.m. to 5 p.m. daily; closed on New Year's Day, Thanksgiving and Christmas. (415) 561-4323, www.presidio.gov. Free.
Walt Disney Family Museum: Open 10 a.m. to 6 p.m. Wednesdays through Mondays, 10 a.m. to 6 p.m. Closed Tuesdays and New Year's Day, July 4, Thanksgiving and Christmas. (415) 345-6800. Admission is by timed-entry ticket: $20 for adults, $15 for seniors and students, $12.50 for children 6-17 and free for kids younger than 6. disney.go.com/disneyatoz/familymuseum/index.html
La Terrasse Restaurant & Bar: Open seven days a week for breakfast, lunch and dinner. (415) 922-3463, www.laterrassepresidio.com.
---
The cultural and artistic activity is prompting tourists and locals to spend some time taking a new look at a familiar friend.
Because even lifetime San Franciscans get lost trying to find a specific site within the park, you should start your sojourn at the visitor center for an overview of the Presidio's history and a much-needed map. This 1930s building, formerly the officers' club, now houses a bookstore and rotating exhibits. The center also is in the same square as the Walt Disney Family Museum, so when you're finished getting the lay of the land, simply stroll across the parking lot to the museum entrance.
From the outside, the Disney museum looks unassuming. Nothing flashy or fancy, just a few small orange banners in front of a remodeled brick building, a onetime Army barracks.
But stepping into the entryway is another matter altogether. The room is filled with the 200 awards Walt Disney received in his lifetime. Among the items on display are the Medal of Honor; the Order of the Aztec Eagle ( Mexico's highest decoration awarded to foreigners); more than 25 Academy Awards, including the one-of-a-kind Oscar presented to Walt by Shirley Temple in 1938; and an oversized key to the city of San Francisco.
True confessions: I like all things Disney, but I'm hardly a raving fan. So I was surprised to find myself so inspired and moved by just the lobby display. On the other hand, my friend Dave, who was with me, has read all the books, seen all the movies, knows the history inside and out -- and even he seemed impressed.
The museum, which consists of 10 galleries, arranged chronologically to cover Disney's life and career from birth to death, is a model of modern storytelling. The exhibits are a mix and match of flat-panel-TV technology, family photos, personal letters, Disney memorabilia, Walt's cartoon sketches (including the first known drawing of Mickey Mouse) and objects such as a two-story multi-plane camera. Recordings of Disney talking about the various phases of his life are featured throughout.
As we walked through each period, it became clear that Disney's life was no straight line to animation stardom but a path of ups and downs, including bankruptcies and bad business dealings.
"It's surprising to hear him talk about these tough times in such an upbeat way," Dave said. As I listened to Walt's voice, I was struck by the same plucky optimism I've come to expect from the heroes and heroines in his stories.
The self-guided tour takes about three hours, and in some ways, the museum saves the best for last. The walkway into the final galleries is flanked on one side by a long wall of floor-to-ceiling glass windows offering a breathtaking view of the Golden Gate Bridge and the bay. The second-to-last gallery houses a 12-foot intricate model of Disneyland as Walt conceived it, which brings audible oohs, ahs and wows from nearly everyone.
If, after all that visual and auditory stimulation, you feel hungry, grab a quick bite in the café just outside the gift shop or walk directly across the parking lot to La Terrasse Restaurant & Bar. La Terrasse offers bistro-style French food from light (try the beet salad with goat cheese or duck confit and frisée salad) to heavy (escargots in garlic butter or foie gras). If you're a French fry fan, the roasted garlic and rosemary home fries will not disappoint.
Having fortified yourself, complete your Park Presidio experience by taking a short walk from the visitor center to see the recently installed "Spire" sculpture by British artist Andy Goldsworthy. Fashioned from more than 30 cypress trees that the Presidio Trust forestry crew saved after its reforestation effort, the sculpture stands 15 feet in diameter and tapers to 90 feet at its peak.
Despite spending the entire day wandering through this part of the Presidio, you have just scratched the surface. You still haven't seen the historic Main Post Walk, Bakers Beach and, for "Star Wars" fans, the Yoda fountain that greets visitors outside the Letterman Digital Arts Center entrance. May the force of the Presidio be with you.
---
Get inspired to get away.
Explore California, the West and beyond with the weekly Escapes newsletter.
You may occasionally receive promotional content from the Los Angeles Times.