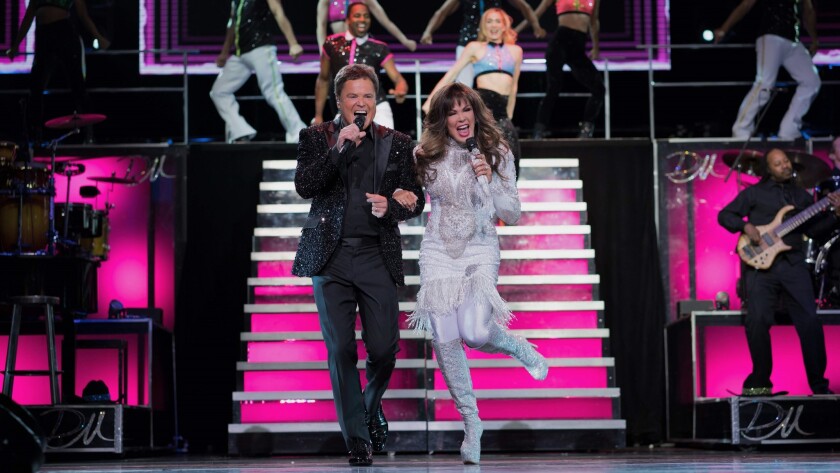 Donny and Marie Osmond will end their long-running show at the Flamingo Las Vegas hotel-casino in November 2019. It's the end of the road for one of the city's most popular acts that has been running since 2008.
"Next year's our final year," Donny Osmond announced Friday on the "Las Vegas Morning Blend" TV talk show." "We've been talking about it for a long time, but definitely, our countdown has started."
The siblings will perform their final show on Nov. 16, 2019. The "Donny & Marie" website shows that as the last date you can purchase tickets.
"Donny & Marie" opened at the Flamingo in September 2008. "It was supposed to be six weeks at the Flamingo," Donny told the Las Vegas TV station. "It'll be 11 years [next November], and it'll be the end."
Donny, who will turn 61 in December, and Marie, 59, haven't commented on why they are leaving the Las Vegas show. Their respective websites and social media channels haven't announced the news.
In a text, Celena Haas, a spokeswoman for Caesars Entertainment, Flamingo's parent company, said she has no comment.
The Osmonds perform 7:30 p.m. Tuesdays through Saturdays in the showroom that bears their name. Tickets start at $95.
Celine Dion decides to end her long Vegas run »
The Osmonds aren't the only big acts to be leaving the Las Vegas stage. In late September, Celine Dion said her final performance at the Colosseum at Caesars Palace will be June 8.
ALSO
As the Dodgers-Sox Series begins, here's a guide to Boston for rookies, from the ballpark to the swan boats
Hurricane Willa threatens Mexico's coastal resorts, from San Blas to Mazatlan. Flights are canceled, cruise ships diverted
George Alexander Grant, the most prolific national parks photographer you never heard of
Twitter: @latimestravel
---