Las Vegas heats up as the Golden Knights battle the Caps on their home turf
In Las Vegas, a city where it's always party time, hockey fever is at an all -time high.
Of course, it is the inaugural season for the Vegas Golden Knights, a Cinderella team that has made it to the Stanley Cup Final. Fans have turned southern Nevada into a sea of gold and black, the team colors.
The Knights took Game 1 from the Washington Caps but lost Game 2. The match-up now returns to Washington for Game 3 on Saturday. It is a best-of-seven series.
Just because the action is across the country doesn't mean you can't party with your fellow fans in Las Vegas.
Game 3 of this best-of-seven series is in Washington. The Vegas watch party will take place Saturday on Toshiba Plaza outside T-Mobile Arena .
For Game 4, it's the Downtown Las Vegas Events Center.
Both games start at 5 p.m. Pacific Time. Admission is free.
Puck drop for both games is set for 5 p.m. Pacific Time, and fans are encouraged to arrive early. Admission is free for both watch parties.
Meanwhile, here's what you'll see in Vegas..
All hail, Caesar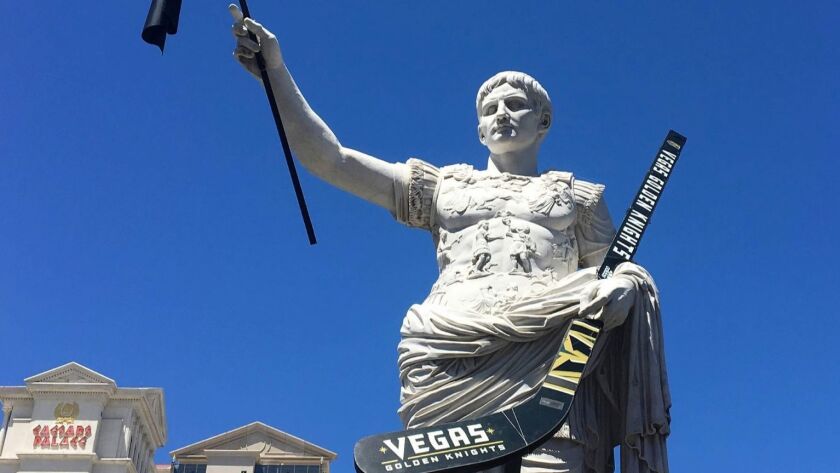 The Statue of Liberty outside New York-New York is decked out in a VGK jersey.
A couple of miles up Las Vegas Boulevard, outside Caesars Palace, old Julius himself holds a hockey stick in one hand and a team flag in the other.
Across the street, the High Roller observation wheel is illuminated in gold lights on game nights.
And Beerhaus, a short walk from the home ice at T-Mobile Arena, has been serving a hotdog called "The Underdog" all season long. Expansion teams, after all, generally are not very successful.
Game on
With the series tied at one each, the hockey contest will be back in Las Vegas. The Knights will host the Capitals in Las Vegas on Thursday, June 7.
Third-party sellers are commanding sky-high prices — think $1,000 and up — for tickets, but you don't need to be inside the arena to join in the fun.
Dressing the part
During home and away games, fans by the thousands are expected to gather outside T-Mobile Arena, where the action will be broadcast on the building's video mesh wall and on a giant screen nearby.
At the Park, a pedestrian mall, and in Toshiba Plaza, the fun begins three hours before game time and continues through the game and beyond.
Admission is free, and food and beer will be available for sale. A DJ will keep the crowds entertained between periods.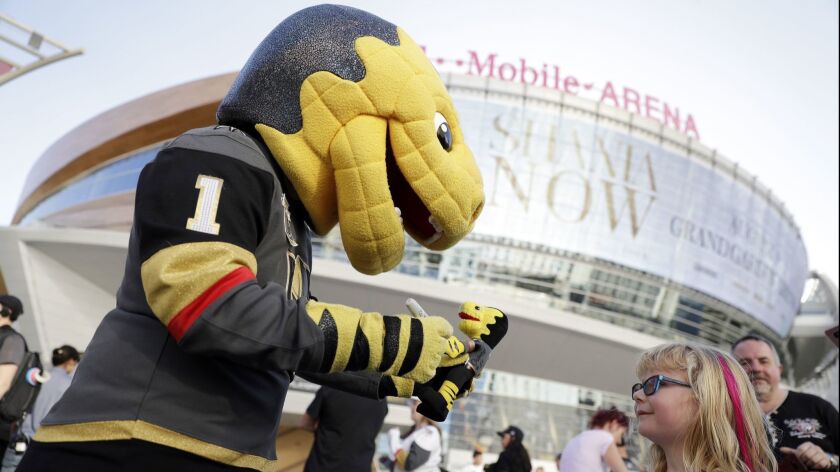 During official VGK watch parties, Chance, the team's Gila monster mascot, will pose for photos, and a drum line marches amid the cheering fans, adding to the frenzy.
For the Stanley Cup finals, the team will announce the locations of its official parties on social media and its website.
For those for whom official team clothing doesn't convey the depth of their hockey fever, Spa Bellagio can help. For $50, they will create golden glitter lips and eyes for women. Men can get a glittered beard or gold-colored hair (it washes out) for $35.
Sweet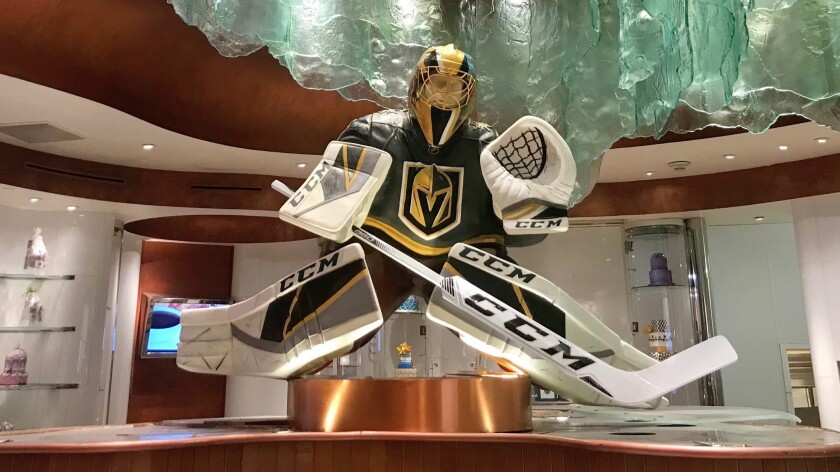 While at Bellagio, stop by Bellagio Patisserie for a selfie with a chocolate likeness of goaltender Marc-Andre Fleury, who is credited with much of the team's success.
The 5-foot-tall likeness contains 90 pounds of chocolate and 10 pounds of fondant.
Cheers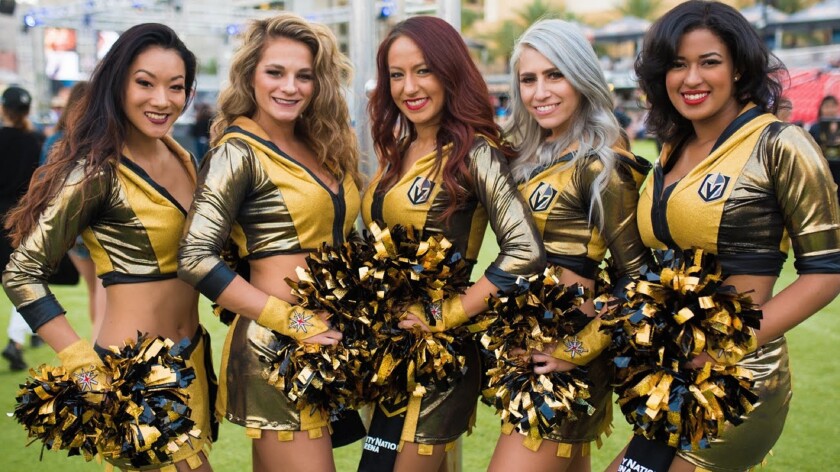 Fans also will gather for free Stanley Cup watch parties at the Downtown Las Vegas Events Center.
The team cheerleaders will be on hand, as will the official VGK merchandise truck.Fans can watch the games for free on a 72-foot screen — with a stadium-like sound system — while munching on food from nearby eateries such as American Coney Island and Project BBQ
The doors will open 90 minutes before game time. But beware: The venue is booked for a different event Monday night, so the revelry won't ramp up until Wednesday afternoon.
Toast of the town
Of course, bars across Las Vegas will be screening the games. Some even will be serving VGK-themed drinks.
For example, the Juniper cocktail lounge at the new Park MGM (formerly Monte Carlo) is offering the "Power Play" ($16).
It is a blend of Atlantico Private Cask Rum, espresso, coffee liqueur and cream, topped with edible gold and cocoa powder in the shape of the team's logo, a medieval-like mask.
An eye on the prize
At PT's Pubs, fans can quaff beer from souvenir mugs shaped like the Stanley Cup trophy.
A mug full of Budweiser or Bud Light costs $20, and refills are $3. PT's has 57 locations in southern Nevada.
---
Get inspired to get away.
Explore California, the West and beyond with the weekly Escapes newsletter.
You may occasionally receive promotional content from the Los Angeles Times.