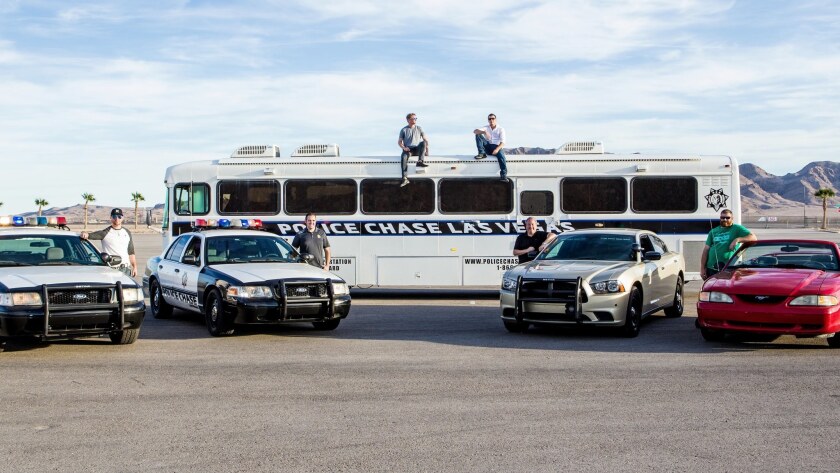 People who come to Vegas to live out their fantasies will have a different chance to fulfill their inner wishes when a new attraction opens in January.
In Police Chase Las Vegas, you can be a good guy chasing a bad guy, lights and sirens flashing, and a bad guy fleeing a good guy.
You also can try to "PIT" a suspect's car, a scenario in which "an officer essentially creates a controlled crash, whereby one vehicle makes contact with the rear quarter panel of the other vehicle, putting that vehicle into a controlled spin, thereby ending a chase," co-founder Damian Sheets said.
Prices vary according to which experience you choose, starting at $109 for the PIT experience.
Then there's a chance to be on the receiving end of the action.
Retired police cruisers will be used for the chases, which will take place on a purpose-built, 1.1-mile strip of concrete near the Speedway's NASCAR racetrack. The attraction is near the track where officers from the Las Vegas Metropolitan Police Department learn tactical maneuvers.
The squad cars and what Sheets called "bandit vehicles" are equipped with special bumpers to prevent body damage.
Retired police officers will serve as the instructors and provide training to guests before they climb behind the wheel. They'll also be seated in the vehicle, so they can intervene if someone gets reckless at speeds of as much as 80 mph.
"The passenger seat has access to a series of controls," Sheets said. "They can shut the motor down. They can take control of the steering or apply the brakes, in the event we have someone who panics or makes an error."
Police Chase, which opens Jan. 13, is accepting online reservations.
The attraction will be closed during NASCAR races and other large events at the Speedway.
Info: Police Chase Las Vegas
ALSO
Eataly Las Vegas plans December opening in Park MGM. In a first for the brand, it will stay open 24/7
How to be sure you'll get a parking space at LAX for the holidays: planning, a reservation and maybe a bit of luck
Cipriani, Catch and other restaurants make their Las Vegas debuts, and more are on the way
---