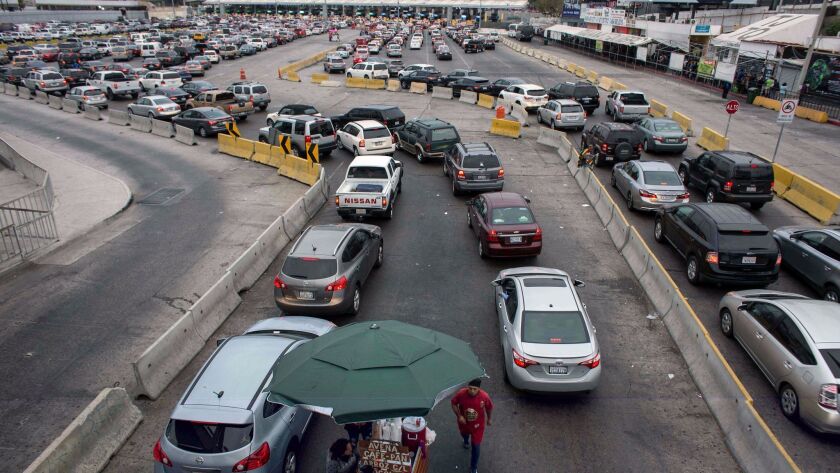 Question: I am returning from Mexico through Tijuana by car, and there is a choice of "signed" lanes, including "Público General" and "Ready Lanes." We have passports with us, but which lane is for us?
John Loggins
Rancho Palos Verdes
Answer: Loggins emailed his question to me as he was stuck in the traffic at the border.
For him, the answer is "Público General."
If Loggins had a U.S. passport card, not the traditional passport book or one of several other acceptable documents, the Ready Lane, which offers the promise of shorter waits, would be the answer.
But let's back up for a minute to see how we got to this point.
What is the Ready Lane?
Returning from Mexico by car has never been a cakewalk in terms of traffic, especially on weekends or holidays.
Enter Ready Lane, which U.S. Customs and Border Protection said began as a pilot project a little more than eight years ago. The goal: Speed up the process for people who have specific kinds of Radio Frequency Identification, or RFID, -enabled documents.
What documents are those?
Besides the aforementioned passport card, those documents include the new permanent resident green card; the new border crossing card; an enhanced driver's license, which California does not issue but Washington and several other Canada-proximate states do; and a Trusted Traveler card.
One such Trusted Traveler card is SENTRI, or Secure Electronic Network for Travelers Rapid Inspection. The SENTRI lane can be used by people who often go back and forth across the border and have SENTRI documentation.
The Trusted Traveler card you are more likely to have is a Global Entry card. That's the program that allows you to speed through customs upon return to the U.S. by air and also gives you TSA PreCheck, which includes expedited lanes for airport security. It costs $100 for five years and may be the best time- and money-saving bargain around.
Why won't a passport book work at the U.S. border?
The book and the card use different RFID technologies, the State Department said. The book is designed for borders all over the world, or, as the State Department calls it, to be "globally interoperable."
The card, State said, "was designed for limited use for compliance with the Western Hemisphere Travel Initiative," or WHTI.
What is the WHTI and why should I care?
The Western Hemisphere Travel Initiative was part of the post-9/11 effort to make borders more secure.
The first wave went into effect in 2007 and mostly dealt with air travel; Part 2 went into effect in 2009 and meant that those traveling by car needed a "WHTI-complaint travel document such as a valid passport, U.S. passport card" and more, Customs said in its FAQ.
And, it added, "Verbal claims of citizenship and identify alone are no longer sufficient to establish identify and citizenship for entry into the United States."
And why should you care about the WHTI? Because, in some cases, you need documentation you didn't need to carry before 9/11 (as in a passport or other doc to cross from Mexico into the U.S.).
And you should care because you have choices about what that documentation should be depending on how you plan to use it.
If my passport doesn't get me into the fast lanes, should I have a passport and something else?
Maybe. If you're driving back and forth across the border, consider getting a second form of compliant ID. If not, your passport is sufficient, if slower.
Do the lanes really save time?
Customs says they are about 16% faster than the general public lanes. (That's nationwide, not just at Tijuana.)
Statistics cited by the San Diego Union-Tribune explain the clog: San Diego-Tijuana "is the busiest land border crossing in the Western Hemisphere, with approximately 120,000 passenger vehicles, 63,000 pedestrians and 6,000 trucks crossing back and forth every single day."
The May opinion piece went on to say that traffic congestion and delays cost the San Diego County and Baja California economies billions of dollars, and it called for smart (or smarter) border enforcement.
Maybe I should let my passport lapse?
I wouldn't. Having a card that gets you across the border faster is nice, but it's a little bit like the secondary insurance a credit card affords on a rental car: Secondary insurance can't do everything the passport book (like your auto insurance policy) can do.
One last note: If you're going to renew your passport, do so before January.
Check your passport to see whether it's close to expiring, then plan accordingly. There was such a rush for passports in the months after WHTI that passport adjudication centers could not keep up.
As passports obtained during those tumultuous times near their expiration, there could be another big push for renewal.
December is one of the better months to renew — maybe not from a financial standpoint but from a time standpoint. Applications drop; speed increases.
It's a good gift to give yourself.
Have a travel dilemma or question? Write to travel@latimes.com. We regret we cannot answer every inquiry.
---