From the Archives: Kirk Gibson's historic Dodger homer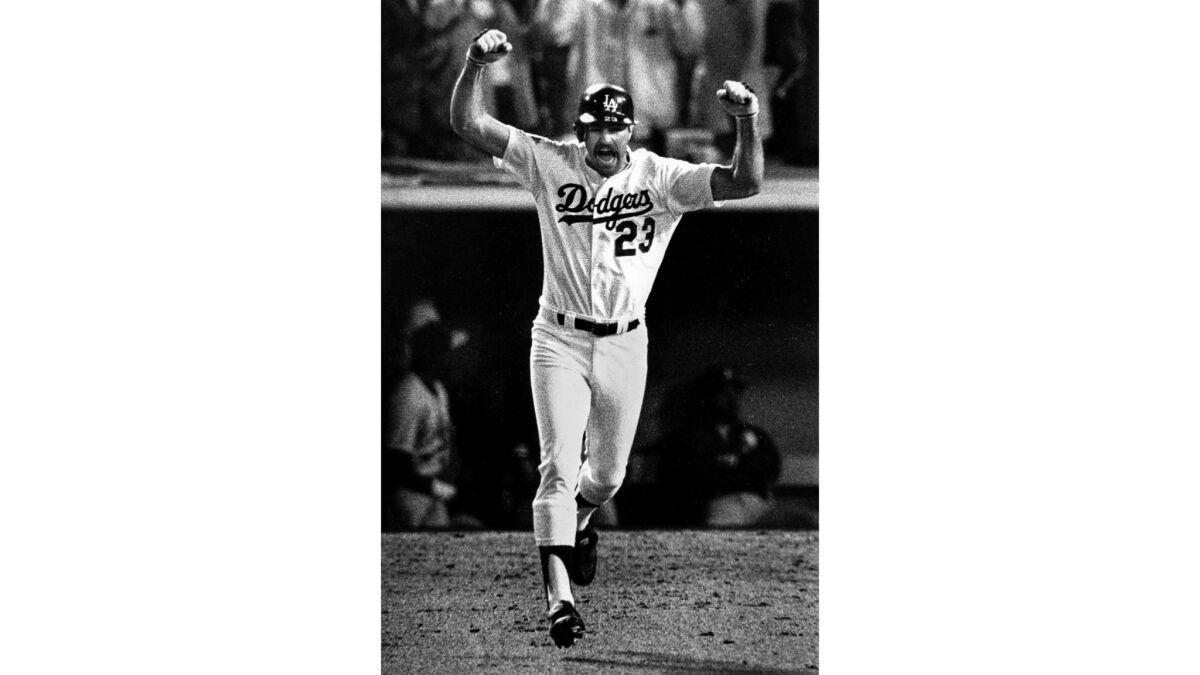 Kirk Gibson celebrates as he rounds the bases after his two-run pinch-hit homer off Oakland reliever Dennis Eckersley, giving the Dodgers a stunning 5-4 victory over the A's in Game 1 of the 1988 World Series.
The Dodgers trailed the A's, 4-3, in the bottom of the ninth when the sore-kneed Gibson hit it out of the park and then made his memorable gimpy jaunt around the bases.
The homer didn't just win that game, recalled former Dodgers manager Tommy Lasorda in a 2008 Times story, "it paralyzed the A's, and we went on to beat them in five games and win the World Series."
Times staffer Joe Kennedy photographed the game from a position near the left field bullpen. He used a Nikon with a 600-millimeter lens and exposed Tri-X film at 1600 ASA.
"We had five photographers and one messenger covering the game," Kennedy said. "Each of us decided from where to shoot. I chose left field. We were just honored to be picked [by L.A. Times editors] to shoot the game.
"When Gibson hit the homer and limped around the bases, "the images looked good in the viewfinder," Kennedy said.
Once back at the Times building, Kennedy found his film had not been processed yet, so he developed it. Prints were made and turned in.
"I had no idea how it would get used," Kennedy said. "The next day, the one picture was on A-1 and another on Sports cover. That's when I knew it was something special. The lab staff made a very large print and hung it outside [the photo department]. It was gone the next day."
"The paper had so many requests for the image, a poster was made and thousands of copies sold," Kennedy said.
Kennedy worked at the Los Angeles Times for 40 years, retiring in 2000.
---