From the Archives: When Veterans Day was Armistice Day
On Nov. 11, 1918, a special edition of the Los Angeles Times proclaimed on page one:
PEACE
World War Ends as Germany Signs Armistice!
[Extraordinary Service Bulletins by the Associated Press.]
WASHINGTON, Nov. 11, (Monday)---The world war will end this morning at 6 o'Clock, Washington time, 11 o'clock Paris time. The armistice was signed by the German representatives at midnight. This announcement was made by the State Department at 2:50 o'Clock this morning.
The announcement was made verbally by an official of the State Department in this form: "The armistice has been signed. It was signed at 4 o'Clock a.m. Paris time and hostilities will cease at 11 o'Clock this morning, Paris time."….
The Nov. 12, 1918, edition of the Los Angeles Times reported:
One hundred and fifty thousand copies of The Times containing the greatest piece of news every printed–that of the end of the war–were sold yesterday morning as fast as the great Times presses could throw them off. People literally fought for them. Repeatedly the plates were returned to the presses and more copies printed to supply the never-ceasing demand. Extra editions at intervals kept the public informed on the swift movement of events.
The city of Los Angeles came to a halt. Businesses closed as people took to the streets in celebration.
One year later, President Woodrow Wilson proclaimed Armistice Day an annual holiday. In 1954, to honor veterans of all wars, Armistice Day was changed to Veterans Day.
The first four photos in this gallery are from the Nov. 11, 1918, Los Angeles celebrations. The rest are my favorite images from the annual Armistice Day parades through 1952.
An earlier version of this post was published on Nov. 11, 2011.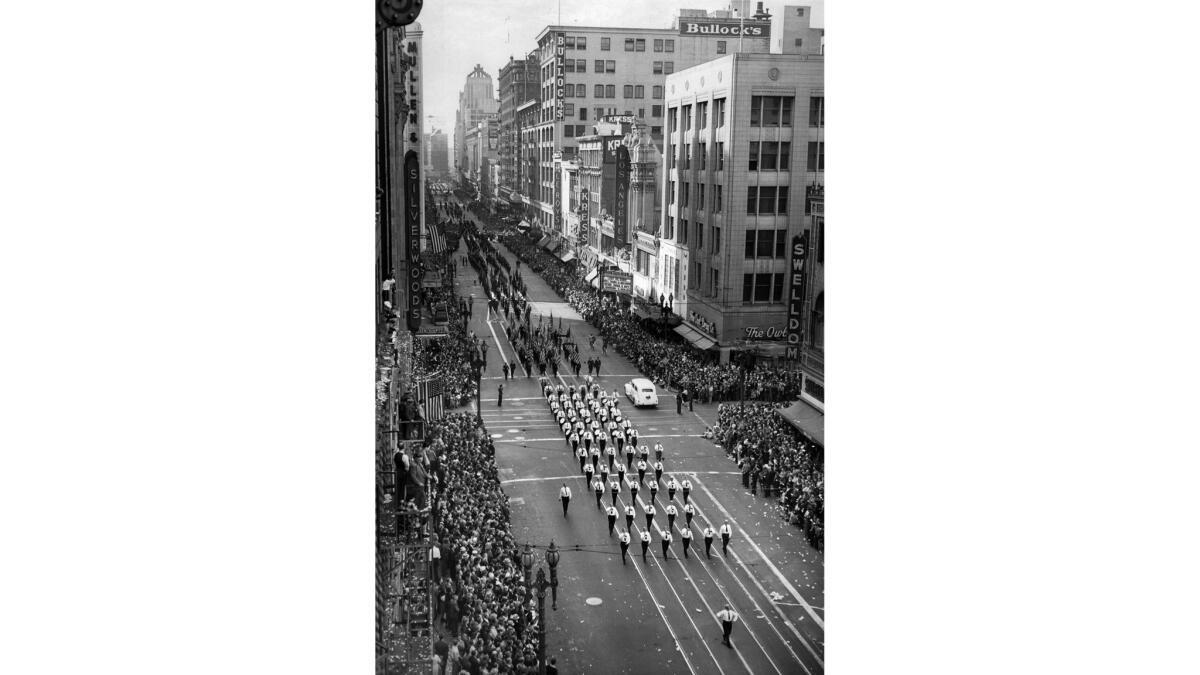 Sign up for Essential California for news, features and recommendations from the L.A. Times and beyond in your inbox six days a week.
You may occasionally receive promotional content from the Los Angeles Times.