Latinx Files: Latinidad on display at WBC
I've had very little energy all week, and although the heavy rains pummeling California are a contributing factor, the real culprit for my sluggishness is the World Baseball Classic.
I wasn't planning on it, but over the last three weeks, I became heavily invested in the quadrennial international tournament. For the first time in its history, the WBC felt more like a World Cup than a meaningless exhibition tournament ahead of the Major League Baseball season. And given El Tri's historically bad performance at the actual World Cup, I wasn't sure whether I was ready to be let down again.
But then Randy "Randiberto" Arozarena entered the picture. As I mentioned in last week's newsletter, the Tampa Bay Rays outfielder was born in Cuba but built his career in Mexico before making it to the majors. Arozarena obtained his Mexican residency just so he could represent his adopted country in the tournament, a decision many on both sides of the border are thankful for.
With Arozarena as the face of this underdog team, I started to believe again. Maybe this time it would be different. Not only would a Mexican team not disappoint, but they could very well win it all.
That feeling only grew after Mexico defeated Team USA 11-5 in pool play, a game between two countries with so much tense history between them played in the Southwest, a stretch of land that caused a war in 1848. This was about more than just baseball.
And it swelled after Mexico did the improbable and defeated Puerto Rico 5-4 in the quarterfinals, a victory secured partially by El Randiberto, who robbed Emmanuel Rivera of a likely game-tying double before giving us one of the coldest celebrations in recent baseball history.
By Monday, I was flying high and imaginandome cosas chingonas. Though Japan was the oddsmakers' favorite to win the WBC, I believed that we would win. So did countless others from the Mexican diaspora. Such was our confidence that my friend Rodrigo Nuñez, host of the "El Pochcast," put the beloved "Dragon Ball" hero Goku on the line. The anime character might have been created in Japan, but Mexicans had claimed him nonetheless. The outcome of this game would decide whom he truly belonged to, once and for all.
Then the inevitable came. Munetaka Murakami's walk-off double felt like having my heart ripped from my chest. It made my hopes crash down with a heavy thud after flying too close to the sun. Days later, I haven't fully recovered.
But my pain is MLB's gain. Not only am I now excited for the start of the upcoming season, but I'm also going to passively follow the Tampa Bay Rays, a team that's perennially at the bottom in attendance, because of Arozarena.
The Latinx experience chronicled
Get the Latinx Files newsletter for stories that capture the multitudes within our communities.
You may occasionally receive promotional content from the Los Angeles Times.
With all due respect to those who slammed the event as a meaningless exhibition and complained about the right way to play the game, it's players like Arozarena and tournaments like the WBC that are breathing new life into a sport that is tagged as too long and too boring.
They may not like it, but the future of baseball isn't pastoral.
It's loud and fun. And it's undeniably Latinx.
Just look at the Los Angeles Dodgers, who have embraced the sizable paisa portion of their fan base. If you're at a Dodger game and you don't hear "La Chona" played over the PA system, was it even a Dodger game in the first place?
And farther south, there's the San Diego Padres, a team that has become one of the swaggiest in baseball thanks to players like Fernando Tatís Jr. and Juan Soto (Manny Machado, eh, not so much).
The WBC is a blessing for MLB. That tournament packed more emotion in three weeks of baseball than MLB does over the course of 162 games. It also brought in a lot of viewership.
You only had to look at the surreal scene in Miami on Sunday when the Cuban national team played its first game in South Florida since the Castros took over. That it was against the United States added more intrigue to a game interrupted multiple times by protesters coming onto the field. That game will probably be the most attended baseball game at LoanDepot Park in 2023.
On the personal side, it felt like a friend and family affair. It gave me an excuse to call my dad, a sports fan largely ambivalent about baseball but one who will always tune in whenever there's a chance a Mexican athlete could succeed at the international level — this trait is the reason why he's become Formula One racer Sergio "Checo" Pérez's biggest supporter. And it provided the perfect banter with other Latinx friends.
Latinx identity is amorphous and it manifests itself differently for the more than 62.1 million people who claim it in this country. And for many, sports are a way to show it off. Not since the 2022 FIFA World Cup have I seen so many Latinxs be so invested in a sporting event. The WBC isn't meaningless. It's a path forward for a sport whose core audience is aging out.
Consider subscribing to the Los Angeles Times
Your support helps us deliver the news that matters most. Become a subscriber.
Things we read this week that we think you should read
— The biggest story happening in Los Angeles right now is the massive three-day strike that has shut down the Los Angeles Unified School District, the second largest in the country. The strike is being led by Local 99 of Service Employees International Union— "which represents the school system's lowest-paid workers and whose members include bus drivers, teacher aides, special-education assistants, custodians and food-service workers"— and has received the support of the United Teachers Los Angeles labor union. To keep you up to date on the latest developments, the Times has put together this handy landing page, which includes our comprehensive coverage.
— Times sports writer Jorge Castillo profiled Benji Gil, the Mexico manager who made the case during the WBC that he should be managing in the Majors.
For the record:
11:58 a.m. March 28, 2023An earlier version of this post referred to My Cultura Podcast Network as Mi Cultura Podcast Network.
— What I've been listening to: From VICE, Laist Studios and My Cultura Podcast Network comes "Party Crews: The Untold Story," a podcast about the underground party crew scene in Los Angeles during the early 2000s. The subculture was predominantly Latinx and was vilified in the media after the 2006 unsolved murder of Emmery Muñoz. The podcast is reported and narrated by the homie Janice Llamoca, who was a member of a party crew herself.
— Today marks the release of Myke Towers' third studio album, and with it, he hopes to become Reggaeton's next big star. Story by Suzy Exposito.
— Things are going from bad to worse for Pajaro residents. KQED's Farida Jhabvala Romero reports that the submerged farmlands in the region will stay fallow for at least 60 days, yet another blow for a group too familiar with economic precarity.
"They have so little but have lost so much," said Luis Alejo, chair of the Monterey County Board of Supervisors.
Indeed.
And now for something a little different...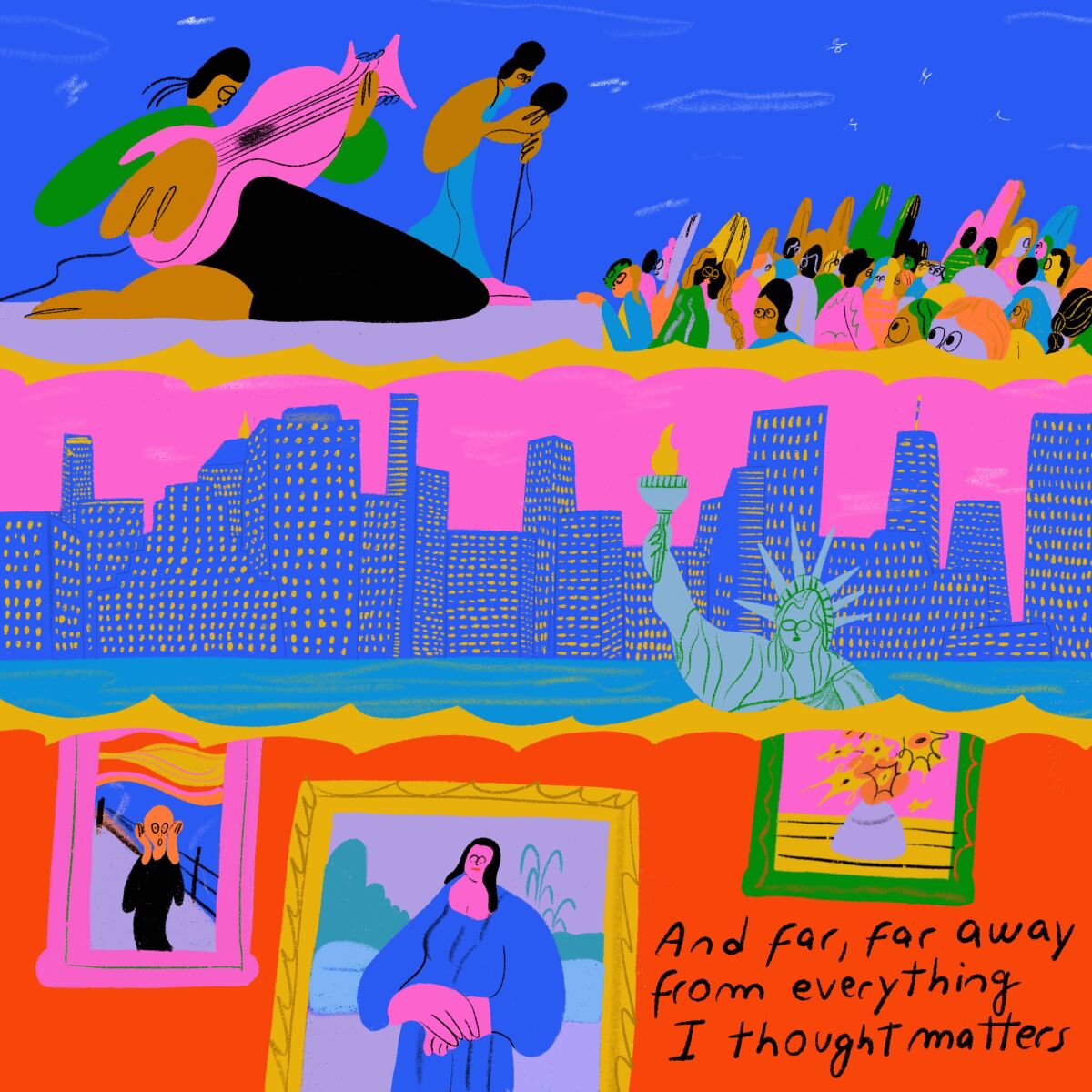 Milagros Pico is a freelance illustrator based in Buenos Aires. She finds inspiration in music, pop culture, nostalgia and moodiness, giving as a result quirky illustrations with powerful colors, strong characters, humor and irony.
"I wasn't aware of how much I was influenced by my hometown until I started living abroad, and it make me feel kind of a stupid: How come I never noticed that before? Distance helped me understand all the things I took from granted and started to cherish them."
Are you a Latinx artist? We want your help telling our stories. Send us your pitches for illustrations, comics, GIFs and more! Email our art director at martina.ibanezbaldor@latimes.com.
The Latinx experience chronicled
Get the Latinx Files newsletter for stories that capture the multitudes within our communities.
You may occasionally receive promotional content from the Los Angeles Times.