World's biggest lockdown: 1.3 billion Indians ordered to stay home to fight coronavirus
MUMBAI, India —
Indian Prime Minister Narendra Modi announced a nationwide lockdown on Tuesday, ordering 1.3 billion people to stay in their homes for three weeks in the world's biggest curfew aimed at slowing the spread of the coronavirus.
"If we don't handle these 21 days well, then our country, your family, will go backward by 21 years," Modi said in a nationally televised address.
The lockdown went into effect at midnight, shutting down flights, trains, schools, houses of worship and nearly all businesses nationwide in an effort to reduce transmission of the virus that has infected more than 400,000 people in nearly every country in the world.
India has counted slightly more than 500 infections, but epidemiologists believe that many more cases of the coronavirus have gone unrecorded because of insufficient testing and the mass migration of laborers within the country.
As the pandemic takes off across the developing world, the World Health Organization said this week that it was crucial for India to mobilize its people against the coronavirus.
"The future of this pandemic, to a great extent, will be determined by what happens in very large, densely populated countries," said Michael Ryan, executive director of the WHO's Health Emergencies Program. "So it's really important that India continues to take aggressive action."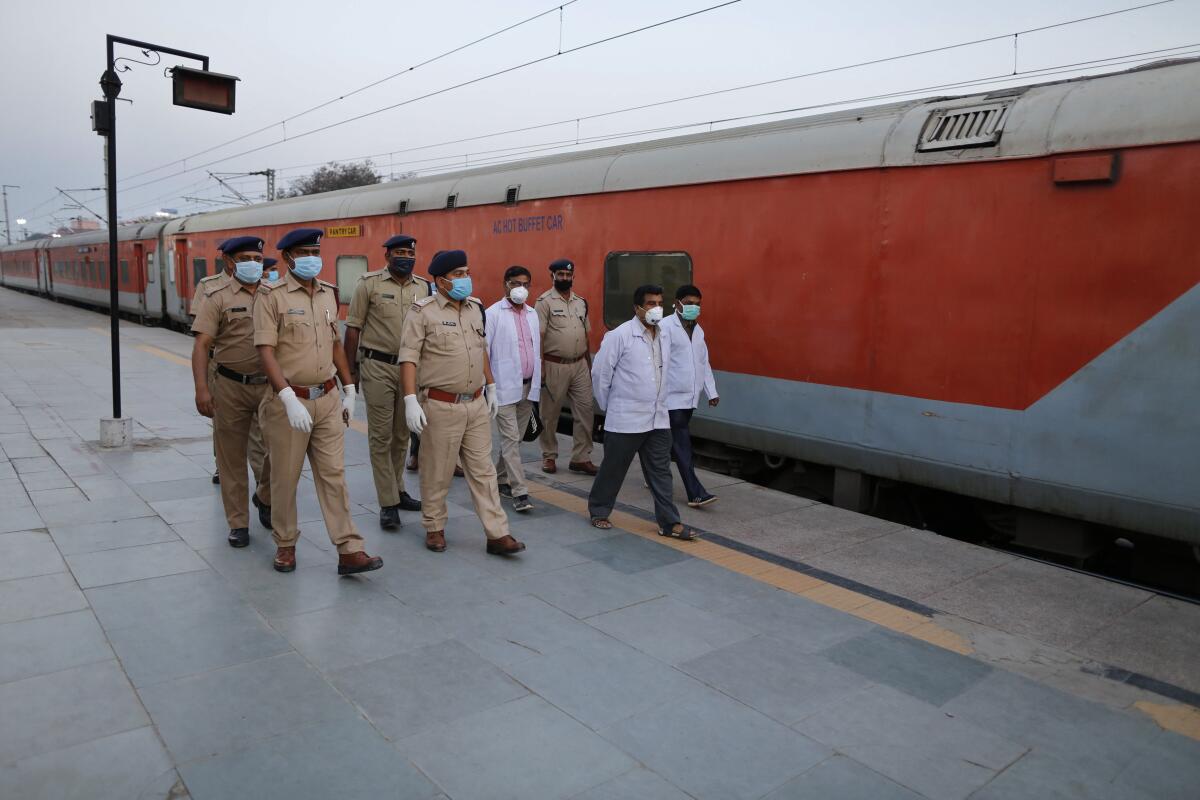 Much of the country was already observing partial lockdowns — Modi had called for a daylong "citizens' curfew" on Sunday to show support for medical workers — but the announcement on Tuesday came well after most shops had closed for the day and lacked details. Many Indians were caught off-guard as lines formed outside grocery stores and social media lit up with questions over how people would get food, cash and other necessities.
The Home Ministry eventually clarified that grocery stores, butchers, banks, pharmacies and other essential businesses would remain open, although online deliveries of goods would be encouraged. But Modi did not say how he planned to help India's vast numbers of working poor — day laborers, construction crews, street vendors — who could no longer work and were at immediate risk of hunger and illness.
Modi's announcement "left a gaping hole," tweeted P. Chidambaram, a former finance minister. "Who is going to provide cash to the poor that they need for the next 21 days?"
The lockdown came even though Indian health officials, defying the views of international experts, have denied that the coronavirus that causes COVID-19 was not being transmitted within the community. For weeks they defended an extremely limited testing regime that until recently included only recent international travelers and their immediate contacts.
As of last week, India had tested only 9.2 people per million, one of the lowest rates in the world.
California's official numbers show its coronavirus testing rate is well behind New York and other states where the virus has hit hardest.
Despite reporting its first coronavirus case Jan. 30, the Indian government did not create stockpiles and continued to export medical equipment. As India says it will expand testing, Modi pledged $2 billion for health infrastructure and equipment for frontline medical workers.
But with global disruptions to supply chains and countries worldwide racing to secure medical supplies in the pandemic, experts said India is facing crucial shortages of ventilators, testing kits, and masks, gowns and other protective equipment for health workers.
Public health experts believe the attempt to quarantine a deadly virus won't work without an effective mitigation strategy.
"This complete lockdown might reduce the transmission significantly in the short run," said Dr. Yogesh Jain, a community doctor and founder of the People's Health Movement, a public health advocacy group in rural Chhattisgarh. "It will surely bounce back with a vengeance if this is the predominant thing we do, without other public health interventions like expanding testing, isolating and treating."
At a government hospital in the northern city of Meerut, medical staff members said their supplies of surgical masks have dwindled since the epidemic began. Some were wearing the same masks for multiple days and had begun asking patients to buy them from local shops, at soaring prices.
The hospital had no N95 masks, the higher-quality masks designed to offer better protection for health workers, and medical staffers were being forced to treat suspected COVID-19 patients without recommended equipment such as facial shields.
Only patients with recent travel to badly affected countries, or with severe breathing problems, were being tested for COVID-19, probably concealing many more infections, doctors said.
"We are living in blissful ignorance," said one doctor at the hospital, who requested anonymity to protect her job. The hospital only began testing for COVID-19 this week.
"When wider sections of people start getting affected, we will see a spike in hospitalization. And it will be too late."
The government has issued notices to private hospitals to make intensive care beds and ventilators available, cancel nonessential surgeries and ensure treatment for patients suspected of having COVID-19.
But by the time those guidelines were issued last week, panic had set in for many Indians. One man who believed he was infected committed suicide at a hospital; 167 people who were being monitored for infections went missing, and many people who were under quarantine reportedly ran away from filthy isolation wards hastily erected by the government.
Rise Against Hunger India, a charity, said the shutdowns would erase the livelihoods of low-income workers who "are now under the threat of dying from hunger." The group said it planned to supply 1.2 million meals to these groups in the coming months.
In Mumbai, a seaside metropolis of more than 18 million people, the government's orders to practice social distancing were impossible in the city's densely populated slums, said Marina Joseph, associate director of YUVA, a charity that works with the urban poor.
"In one small room, three generations are living," Joseph said. "If the virus is not contained, Mumbai is a volcano waiting to erupt."
Times staff writer Bengali reported from Singapore and special correspondents Krishnan and Parth M.N. from Goa, India, and Mumbai, respectively.
Sign up for Essential California for news, features and recommendations from the L.A. Times and beyond in your inbox six days a week.
You may occasionally receive promotional content from the Los Angeles Times.