COVID-19 death toll in the U.S. surpasses 20,000, now highest in the world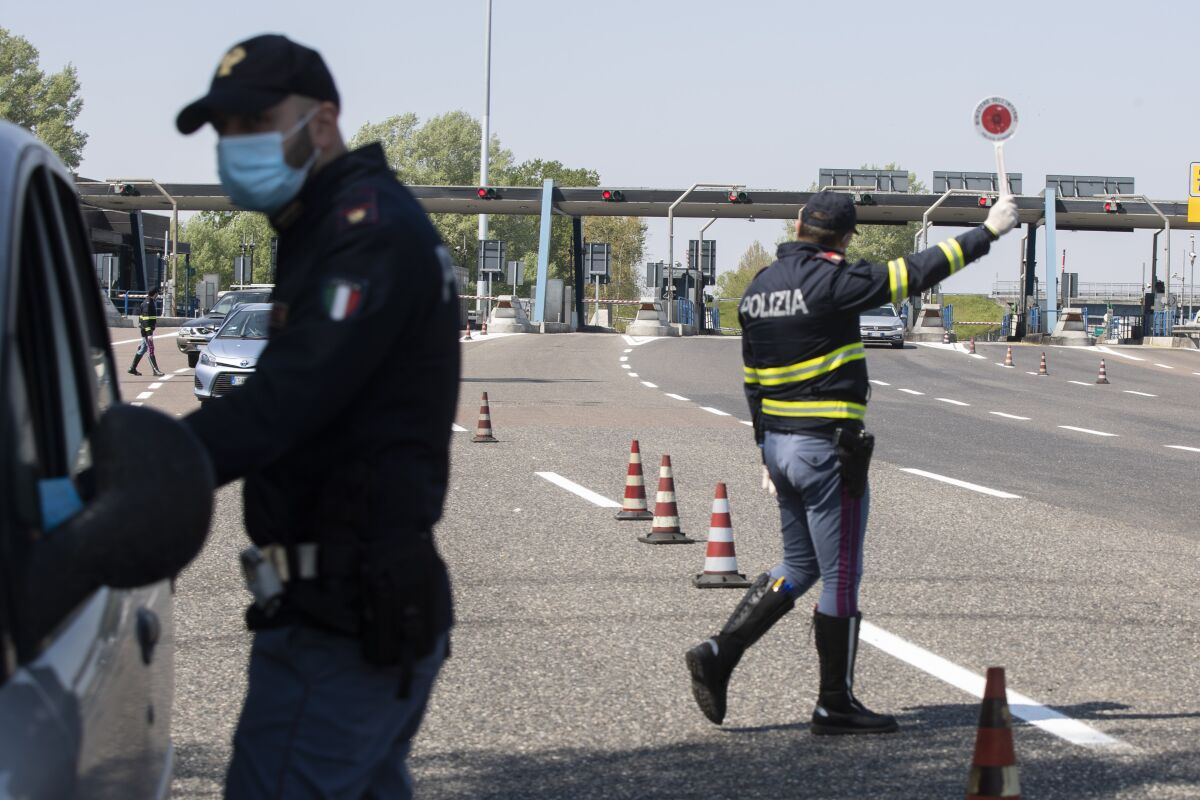 The COVID-19 death toll in the United States became the highest in the world Saturday as America surpassed Italy in reported fatalities from the pandemic.
In just six weeks, more than 20,400 people have died from COVID-19 in the United States, according to Johns Hopkins University. Italy, with a population less than one-fifth that of the U.S., has reported about 19,500 fatalities.
America's coronavirus infection caseload is also the world's highest. About 526,000 have been confirmed across all 50 states.
The death and infection totals in the U.S. and other countries are widely believed to be underreported. In China, where the outbreak originated, the population is more than four times that of the U.S., and the government has reported 3,343 deaths.
In New York, the hardest-hit state by far, at least 8,627 people have died, including 783 in the last day, Gov. Andrew Cuomo said Saturday.
A sharp drop in new hospitalizations suggests that stay-at-home orders are slowing the spread of infections. Nonetheless, more than 700 New Yorkers have died each day since Monday.
"It is stabilizing at an horrific rate," Cuomo said. "These are just incredible numbers depicting incredible loss and pain."
This week was one of the deadliest the nation has ever seen. These are the stories of front-line workers and victims across America.
As the nation's health crisis deepens, Americans are struggling with the social and economic devastation from the ongoing shutdown of schools and nonessential businesses — with no end in sight — to curb transmission of the sometimes lethal coronavirus.
New York City Mayor Bill de Blasio announced Saturday that the nation's largest public school district would remain closed for the rest of the school year. "There is nothing easy about this decision," he said.
Cuomo undercut the mayor less than an hour later, saying he would take De Blasio's "opinion" into account when he decides when to start reopening schools and businesses in the entire region in coordination with governors of neighboring New Jersey and Connecticut.
"It makes no sense for one locality to take an action that's not coordinated with the others," said Cuomo, whose legal powers as governor have given him the upper hand in his long-standing feud with De Blasio.
In New Jersey, where at least 2,183 people have died from COVID-19, the disease caused by the coronavirus, Gov. Phil Murphy said he was signing an executive order Saturday to require face coverings for everyone using public transit or picking up takeout food at bars or restaurants.
Murphy also ordered public transit agencies to keep all trains and buses below 50% rider capacity to prevent transmission of the coronavirus.
Across the nation, fears mounted over the spread of the virus. Chicago's Cook County has set up a temporary morgue that can hold more than 2,000 bodies. Chicago Mayor Lori Lightfoot has been roaming the city telling groups of people to "break it up." In Illinois, at least 677 people have died from COVID-19.
In Indiana, 24 residents of a nursing home have died. In Florida, where the large older population has made long-term care facilities a huge challenge, Gov. Ron DeSantis reminded nursing home staffs Saturday to be vigilant about health protocols.
"Infection control is always important," he said. "With this coronavirus, it's even more so."
At a nursing home in Live Oak, Fla., at least 51 people, including 30 staff members, have tested positive for the coronavirus, the Tampa Bay Times reported.
In Arizona, the coronavirus-related death toll has doubled in a week. The state reported 108 deaths and 3,393 coronavirus cases as of Saturday afternoon.
In the Deep South, the threat of strong tornadoes and severe thunderstorms on Easter was adding to anxieties over the virus. More than 4.5 million people live in the Alabama, Mississippi and Louisiana communities where dangerous weather was forecast.
With many churches closed because of the viral outbreak, some congregations planned to hold drive-in worship with people sitting in vehicles, a dangerous place to be during a tornado. Community storm shelters also presented social distancing challenges.
In Kansas, where 55 people had died from COVID-19 as of Saturday, the state Supreme Court held an emergency session by videoconference Saturday as they tried to resolve a clash between Democratic Gov. Laura Kelly and the Republican Legislature, which overturned her executive order banning religious gatherings of more than 10 people.
As COVID-19 has spread across rural America, cases have been confirmed in more than half of the 105 counties in Kansas. Four of the state's 12 "clusters" of coronavirus outbreaks have been traced to religious gatherings, according to Kelly.
In Kentucky on Saturday, a judge overturned a ban on a drive-in church that Mayor Greg Fischer imposed in Louisville.
"On Holy Thursday, an American mayor criminalized the communal celebration of Easter," U.S. District Judge Justin Walker wrote in his ruling. "That sentence is one that this Court never expected to see outside the pages of a dystopian novel, or perhaps the pages of The Onion."
Walker called the mayor's order "stunning," noting that it did not cover drive-through restaurants or liquor stores.
The Associated Press contributed to this report.
---
Must-read stories from the L.A. Times
Get the day's top news with our Today's Headlines newsletter, sent every weekday morning.
You may occasionally receive promotional content from the Los Angeles Times.