(Rafiq Maqbool / Associated Press)
MUMBAI, India —
When the first COVID-19 case was detected in Dharavi, a crammed labyrinth of one-room shacks in the heart of India's financial capital, epidemiologists feared the disease would spiral out of control.
Inside one square mile live nearly 1 million people, many of whom survive on daily wages and share public bathrooms. Families sleep in eight-by-eight-foot rooms. People squeeze past one another in alleys. Social distancing is impossible.
But nearly three months later, authorities in Mumbai appear to have pulled off a miracle — or at least found an unexpected reprieve.
After recording 491 COVID-19 cases in April and 1,216 in May, Dharavi saw only 274 cases and six deaths in the first two weeks of June. Epidemiologists say one of Asia's largest slums — best known as the setting for the Oscar-winning film "Slumdog Millionaire" — has contained the virus even as it surges elsewhere in Mumbai and across other parts of India.
How this happened — a story of dogged legwork, proactive thinking and even bravery by officials, doctors and volunteers — could offer lessons in managing the coronavirus for other poor, densely packed communities around the world.
"Dharavi had put in place excellent contact tracing, isolation and quarantining measures," said Ramanan Laxminarayan, founder of the Center for Disease Dynamics, Economics & Policy in Washington. "It is possible that the compact geography enabled a greater level of coordination than in other places. But it is still too early to declare victory."
Dharavi has reported more than 2,000 cases and 79 deaths overall, far lower percentages than the rest of Mumbai, a sprawling megacity of some 20 million people that has become the epicenter of the disease in India.
The coronavirus has overwhelmed Mumbai's public health system, with maxed-out hospitals forced to turn away patients. India's nearly half a million infections represent the fourth highest total in the world, increasing pressure on Prime Minister Narendra Modi to stem the latest outbreaks and further loosen lockdown restrictions to fix the virus-racked economy.
Since the first case in Dharavi was detected April 1, in a 56-year-old garment shop owner who died the same day, city officials zeroed in on five zones that they deemed high risk due to initial infections and patients' histories. The city assigned 2,450 health workers to Dharavi alone — about 30 of whom would eventually test positive for COVID-19.
Most of Mumbai's private clinics had closed due to shortages of protective gear. But in Dharavi, the city teamed up with private doctors, who are the area's main healthcare providers and have long relationships with their patients, including migrant workers, laborers and shopkeepers.
"Instead of people reporting it, we started chasing the virus," said Kiran Dighavkar, an assistant commissioner of the Mumbai ward that includes Dharavi.
About 100,000 migrant workers and their families had left Dharavi after a nationwide lockdown was announced, thinning the population somewhat. In the second week of April, officials and private doctors screened 47,500 people in the high-risk zones. Of those who reported symptoms, 20% were found to have contracted COVID-19 and were immediately quarantined.
"That gave us a head start," said Anil Pachanekar, a private doctor and head of a local physicians' association. "If [those cases] had slipped through, it would have wreaked havoc."
Wearing full-body protective kits in Mumbai's relentless heat and humidity, officials and doctors crisscrossed the narrow, crowded lanes of Dharavi, knocking on doors and testing people in their houses starting at 9 a.m. every day.
"Once you wear the protective gear, you can't even sip water or take a [bathroom] break," he said. "You sweat like never before."
The workers also confronted paranoia surrounding the disease.
"When we went around Dharavi, we also started educating people about it," he said. "We told them it is not a crime to be tested positive for coronavirus."
For the 60-year-old Pachanekar, who has practiced in Dharavi for 35 years, the grueling work also brought risks for his family. He lives with his wife and two adult sons, both of whom have undergone kidney transplants due to congenital ailments, making them more vulnerable to the coronavirus.
"I was scared of passing it on to them," he said. "But I did what I had to do. This is a war against coronavirus, and we can't win it if soldiers sit at home."
In the meantime, city officials began converting schools, marriage halls and community centers into quarantine facilities with food, regular checkups and free healthcare and testing. In all, 9,500 people have been placed under quarantine, Dighavkar said.
Around April 20, the city stopped door-to-door screenings and asked 350 private doctors to reopen their clinics. By then, the panic over the disease had subsided and people were beginning to feel more comfortable visiting doctors to be tested if they developed symptoms.
A line of patients formed outside Pachanekar's clinic on a recent day as patients waited to be screened. Lilavati, a 50-year-old woman whose face was covered by a mask, was anxious about a pain in her stomach.
She waited for about 20 minutes until her name was called, and Lilavati, who like many Indians has only one name, grabbed a plastic bag filled with her previous medical reports and walked into the office.
Ten minutes later, she emerged with a look of relief. Pachanekar had told her the ailment was minor, and unrelated to COVID-19.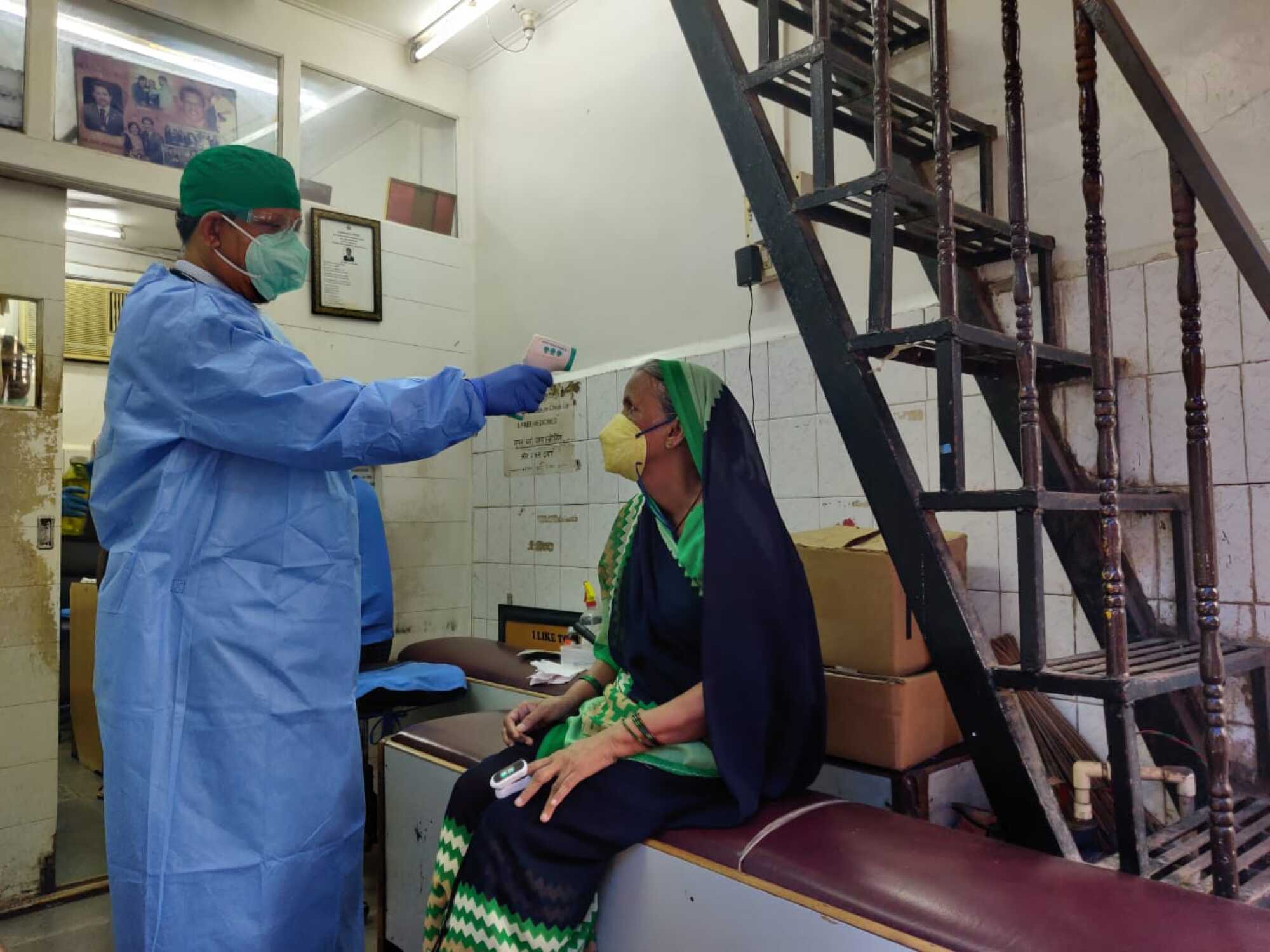 Times are such that even slight symptoms send people rushing to their family doctor — a good sign, Pachanekar said.
"It means people are not afraid to come forward and report," he said. "When people start hiding their illness, that is when you have to worry. Particularly in a place like Dharavi."
Once someone tested positive, officials sealed off the patient's house and neighboring ones. Volunteer "COVID warriors" ensured the containment zones got their supplies of essential groceries and medicine.
"We also checked if the public toilets had been sanitized properly," said Simon Raja, a 34-year-old social worker whose house also became a containment zone when a man living across from him tested positive in May.
With India's lockdown easing, officials warn the battle isn't yet over. The onset of the annual monsoon rains poses fresh challenges, including possible outbreaks of malaria and dengue fever that could further strain the health system. And it remains to be seen whether the control measures can be sustained.
"Test, trace, contain and repeat" — those have been the keys to Dharavi's success, Laxminarayan said. "And clearly the lack of ability to socially distance didn't come in the way of medium-term success, although the jury is still out on what the long-term situation will be."
Dighavkar said the free screenings and quarantine centers would continue, and that he was less worried about the caseload rising than about identifying infections early.
"Our focus should be on treatment and mortality rate, not the number of cases," he said. "I don't ask my staff how many people tested positive today. I ask them if anyone died today."
Special correspondent Parth M.N. reported from Mumbai and Times staff writer Bengali from Singapore.
Sign up for Essential California for news, features and recommendations from the L.A. Times and beyond in your inbox six days a week.
You may occasionally receive promotional content from the Los Angeles Times.