Gunman kills 10 at Buffalo supermarket in attack called a racially motivated hate crime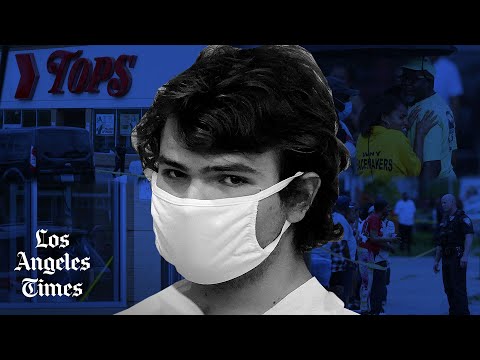 The suspect, an 18-year-old white man from Conklin, N.Y., is in custody. The gunman wore body armor and livestreamed the massacre.
A white gunman livestreamed a racially motivated mass shooting online, showing himself killing 10 people and wounding three others Saturday at a Buffalo, N.Y., supermarket in a historically Black neighborhood.
The suspect has been identified as Payton Gendron, 18, of Conklin, N.Y.
According to witnesses and law enforcement, the gunman was dressed in body armor and armed with a high-powered rifle as he livestreamed the massacre. Investigators were reviewing a hate-filled manifesto the suspect apparently posted online.
U.S. Rep. Brian Higgins, whose district includes parts of Buffalo, said the gunman had a racial epithet on his rifle.
"It was straight up, a racially motivated hate crime," Erie County Sheriff John Garcia told reporters.
The FBI is investigating this "both as a hate crime and racially motivated violent extremism," said Stephen Belongia, special agent in charge in Buffalo.
He said the investigation was the No. 1 priority of the Department of Justice.
Of the 13 victims, 11 are Black and two are white, according to Buffalo Police Commissioner Joseph Gramaglia.
The suspect is in custody and was arraigned Saturday evening, charged with murder in the first degree, the highest murder charge in New York state.
Gendron, wearing a white mask and white paper smock, pleaded not guilty through a deputy public defender in a Buffalo courtroom.
At a news conference, Erie County Dist. Atty. John Flynn said a felony hearing would take place in five days. He said his office was considering terrorism charges, as well as "other murder charges," and was working with the federal government "so that they can perhaps file charges as well."
"I assure everyone in this community, justice is being done right now and justice will be done," Flynn said.
Buffalo Mayor Byron Brown said the suspect had traveled "hours" from outside the city.
"The shooter was not from this community. In fact, the shooter traveled hours from outside this community to perpetrate this crime on the people of Buffalo," he said.
Conklin, the suspect's hometown, is roughly 200 miles southeast of Buffalo.
The mayor said it was a day of "great pain" for the city.
According to police, the gunman arrived at the Tops Friendly Markets location about 2:30 p.m. and exited his vehicle. He shot four people in the parking lot. Three of them died.
He then went inside the store, where a security guard who was a former Buffalo police officer confronted him.
"Because he had heavily armored plating on, the bullet had no round. The suspect engaged our retired officer and he was shot and deceased at the scene," Gramaglia said.
The gunman then continued shooting as he made his way through the store, then returned to the front, where police officers convinced him to drop his weapon.
He was arrested and taken to Buffalo police headquarters.
About 20 people saw the livestream, which lasted 30 seconds, on the broadcasting app Twitch, according to law enforcement. One of the viewers immediately alerted authorities. The Twitch page has since been taken down by the provider.
In one segment of the video, the shooter is heard saying to himself and his followers, "You just got to go for it," as his car approached the Tops supermarket on Saturday afternoon.
New York Gov. Kathy Hochul described the mass killing as "a military-style execution targeting people who simply want to buy groceries in a neighborhood store."
"It strikes us to our very hearts to know that there is such evil that lurks out there," she said at a news conference, adding that it was her "sincere hope" that the suspect would "spend the rest of his days behind bars."
Grady Lewis, an eyewitness to the shooting, told Buffalo's WKBW news that the scene was "horrible." He saw people running and witnessed the gunman shooting at people.
He said the gunman was "fully prepared and ready to go."
The Tops supermarket is on Jefferson Avenue in a historically Black neighborhood of Buffalo. It is blocks from the Buffalo Black Achievers Museum and the Frank E. Merriweather Jr. Library, which was named for the publisher of the Buffalo Criterion, the oldest African American weekly newspaper in upstate New York.
Darius G. Pridgen, Buffalo City Council president and senior pastor of True Bethel Baptist Church, told CNN that the gunman "came to one of the most historic streets in the city of Buffalo, in an historic area where we have the Apollo theater — and [he] pulled up, and [he] pulled out a weapon and [he] aimed and started shooting."
"My message is to make sure that we recognize that this is an individual," Pridgen said. "This was not a white man from our community. This was not a white man from Buffalo. This was a white person who was evil."
Others weighed in, deploring the lack of gun control laws they say leads to this kind of mass shooting.
"The simple fact is that our leaders failed Buffalo," said Noah Lumbantobing, spokesman for March For Our Lives, a student-formed anti-gun organization based in Brooklyn. "This unfathomable tragedy should have never happened.… This act of violence was only a matter of time, and unless our leaders take drastic action, it is only a matter of time until the next senseless mass shooting."
Just hours after the Buffalo attack, a shooting was reported outside Grand Central Market in Los Angeles. One person was killed and others were sent running from the popular food hall.
Flags were already flying at half-staff at Dodger Stadium (for COVID deaths) when the announcer instructed the crowd to stand and remove their hats for a moment of silence for the victims and their families of the tragic violence in Buffalo, adding that hate has no place here.
Times staff writer Libor Jany and B.J. Terhune contributed to this report.
Sign up for Essential California for the L.A. Times biggest news, features and recommendations in your inbox six days a week.
You may occasionally receive promotional content from the Los Angeles Times.