Pence subpoena could set up fight over executive privilege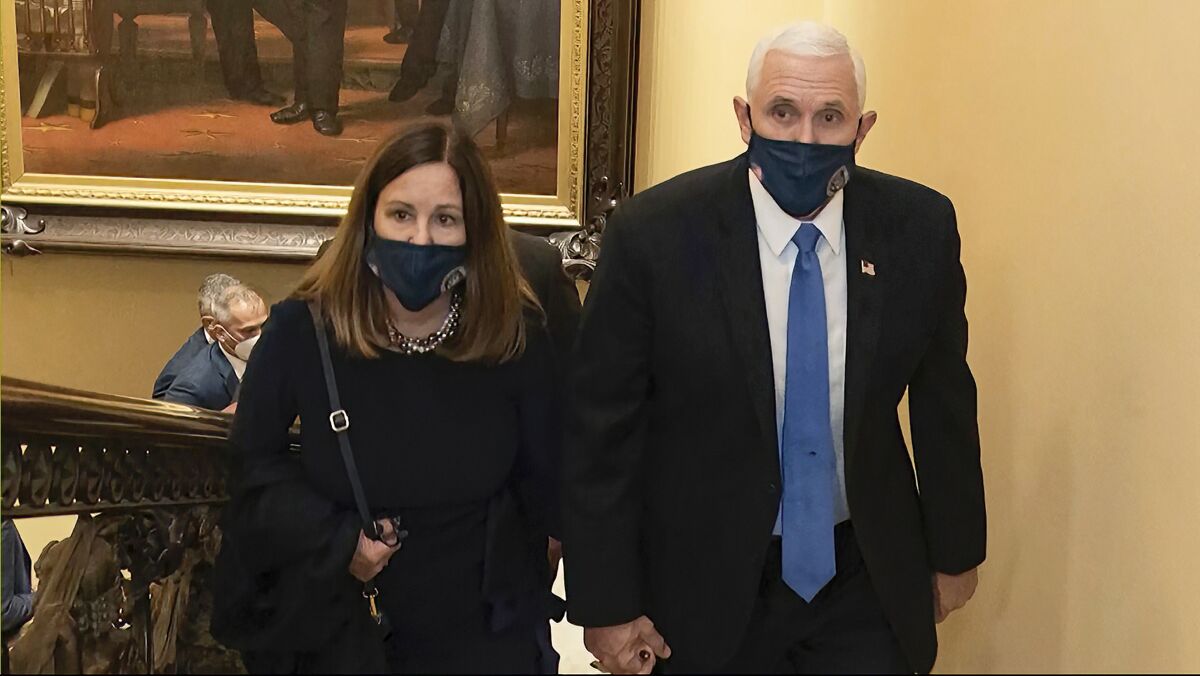 WASHINGTON —
The subpoena to former Vice President Mike Pence is a milestone moment in an ongoing Justice Department special counsel investigation. But it doesn't guarantee he's going to be testifying before a grand jury anytime soon.
Pence is just the latest member of former President Trump's administration to be subpoenaed in the investigation into efforts to overturn the results of the 2020 presidential election, but the push for Pence's testimony is unique because he's the highest-ranking official known to have been summoned.
The subpoena, the most aggressive step to date taken by special counsel Jack Smith, sets the stage for a potential dispute over executive privilege, creating a dynamic that could test — or at least delay — the Justice Department's ability to get from Pence the testimony it believes it needs.
Spokespeople for Pence have not said publicly whether he intends to comply with the subpoena or will instead try to limit his grand jury appearance or avoid it altogether.
Trump also hasn't said whether he plans to assert executive privilege to prevent Pence's cooperation. But some legal experts say such an effort would face significant hurdles.
"This will be fairly straightforward because the Department of Justice will be able to make a very compelling showing for the testimony," said W. Neil Eggleston, who was a White House counsel in the Obama administration.
The flaws of non-ductile concrete construction are found across California, with many buildings having not been evaluated or retrofitted and at risk of collapse in a serious earthquake.
Spokespeople for Pence and for Smith declined to comment on the subpoena, which a person familiar with the matter said came after negotiations between the two sides. A lawyer for the former vice president did not return emails seeking comment.
Pence has been represented by veteran attorney Emmet Flood, who over decades in Washington has navigated other high-profile political figures through executive privilege disputes.
Investigators are interested in Pence for obvious reasons. He had only a ceremonial role in overseeing the election, but Trump hectored him for weeks in an effort to stay in power, falsely insisting that Pence could simply reject the results and send them back to the battleground states Trump was contesting.
Some of the Trump loyalists who stormed the Capitol, where Pence was presiding over the Jan. 6, 2021, electoral vote tally, chanted, "Hang Mike Pence!" as he was steered to safety.
Since then, Pence, who is considering a 2024 presidential bid against Trump, has distanced himself from the former president.
"President Trump is wrong" and "I had no right to overturn the election," he said last year.
Still, Pence opted against testifying voluntarily before the House committee investigating the Jan. 6 insurrection, and was never subpoenaed to appear.
Whether he views cooperation with the grand jury differently is unclear, as is whether he and his lawyers will try to avoid being forced to discuss private conversations with Trump.
If Pence does ultimately testify, a subpoena might give him a degree of political cover to avoid further alienating the Trump supporters he may need for his own election bid by allowing him to say that he was compelled to cooperate and did not do so voluntarily.
If he does not wish to comply, he may look for Trump to intervene by invoking executive privilege, a doctrine meant to protect the confidentiality of the Oval Office decision-making process. Invoking that privilege could result in closed-door arguments before the chief district judge for D.C., Beryl Howell.
Even then, though, the prospects for success are uncertain at best, in part because the privilege is not absolute and courts have held it can be overcome if the evidence being sought is deemed necessary for a criminal trial or a grand jury proceeding.
The Supreme Court made that clear in a 1974 decision that forced then-President Nixon to turn over damning Oval Office recordings. The ruling said that using the principle to "withhold evidence that is demonstrably relevant in a criminal trial would cut deeply into the guarantee of due process of law and gravely impair the basic function of the court."
Trump has also been unsuccessful in asserting executive privilege at times when the Biden administration disagrees.
For instance, the Biden White House repeatedly rejected Trump's efforts to use executive privilege to prevent the National Archives and Records Administration from producing presidential records about Jan. 6 to the House committee.
In January 2022, the Supreme Court also rebuffed Trump's efforts to withhold the documents.
Some Trump administration officials have already testified before the grand jury, including former White House Counsel Pat Cipollone and Cipollone's top deputy, as well as Pence's onetime chief of staff, Marc Short.
Former Trump administration national security adviser Robert O'Brien has also been subpoenaed by the special counsel as part of the Jan. 6 investigation and a separate probe into the discovery of classified documents at Trump's Florida estate, according to a person familiar with the matter who discussed it on condition of anonymity.
"It's a little uncomfortable that that evidence is being sought from his vice president. But the law has not generally differentiated among people in a White House," Eggleston said.
Other potential complicating factors include the fact that the episodes investigators presumably want to question Pence about — such as Trump's efforts to influence the counting of the votes — don't concern conventional presidential duties typically thought to be shielded by executive privilege, said Daniel Farber, a presidential powers expert and UC Berkeley Law professor.
Pence also wrote in detail about many of those episodes in a book published last year, "So Help Me God." That includes descriptions of a Trump pressure campaign aimed at getting Pence to reject the election results, as well as numerous conversations ahead of Jan. 6 in which Pence says he told Trump that he did not believe he had the power to do what Trump wanted.
"I think there are arguments that Pence can make or ... Trump could make," Farber said. "And of course, you can never 100% predict what the courts will do. But it doesn't seem like an especially strong argument."
Life is stressful. Our weekly mental wellness newsletter can help.
You may occasionally receive promotional content from the Los Angeles Times.